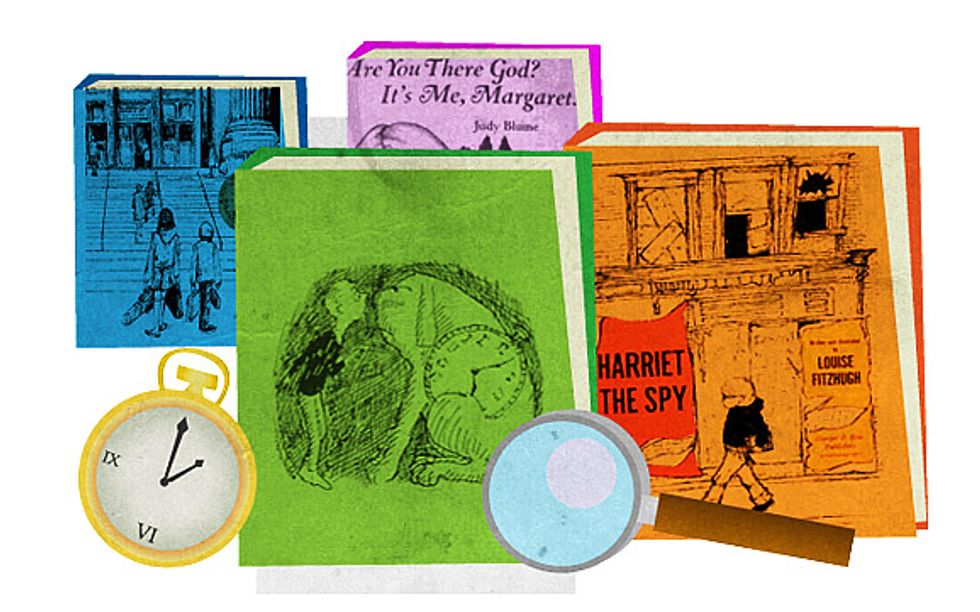 ---
What your childhood reading says about you
Lizzie Skurnick, a writer for Jezebel.com and author of 10 Sweet Valley High books, has just published a collection of essays on childrens' and young adult books,
Shelf Discovery: The Teen Classics We Never Stopped Reading
. The book is organized into chapters based upon themes-"Still Checked Out-YA Heroines We'll Never Return," "She Comes By It Supernaturally: Girls Who Are Gifted and Talented," and "Panty Lines: I Can't Believe They Let Us Read This." Within each chapter are short essays on various kids' books, set up as "book reports," or "extra credit."Skurnick analyzes the appeal of Judy Blume's Margaret, Harriet the Spy, Claudia from
From The Mixed-Up Files of Mrs. Basil E. Frankweiler
, and other heroines. The allure of old-fashioned girls sparks devotion in some-"Of all the forms of fetish pornography running rampant in society today, the deepest and most invidious must be that found in all of the stories of young orphaned girls plunked down in splendorous circumstances who proceed to go about returning all the inhabitants thereof to a state of beruffled, wool-stockinged happiness." Others consumed an oddly large number of rape-themed stories-"Without exaggeration, I can say with confidence that any child of the 1970s and 1980s can confirm, in a sizable swath of mainstream TV, they raped everyone."Skurnick writes in jaunty, wink-wink prose punctuated with a heavy dose of all caps. It can get a bit cutesy, but the book offers a non-threatening, girlfriend's-gabbing-over-wine atmosphere of nostalgia for the wistful tween days, when we lay around feeling ugly and fat, reading our first sex scenes. (Ralph shows up throughout the book. You know,
that
Ralph).Skurnick's teen classics are not mine, save for the gold standard, Judy Blume's
Are You There God? It's Me, Margaret
, which, according to guest columnist Meg Cabot, is still popular with many girls, including underprivileged South African girls with whom she spoke (and the startlingly frank
Forever
is wonderfully limned by Tayari Jones). My favorites from tween and teen days sync with my tomboy tastes at the time, as well as my lifelong amusement at puns.
The Phantom Toolbooth
is the only answer I have ever been able to give to the question "What is your favorite book?" (Really, should anyone be able to answer this definitely after age 12?).
Encyclopedia Brown
and
Hitchhiker's Guide To The Galaxy
(sorry to say) were also high on my list at various points, too.Girls identifying with characters from childhood books has become a popular theme since Sonia Sotomayor announced she loved Nancy Drew, which was quickly followed by a slew of other famous women coming out to pledge their Nancy Drew love, too.Let's face it: Declaring your favorite childhood books is a way of staking identity, a code for telling others who you really are. Plucky; Smart; Clever; Independent, says Sotomayor. Neither Girly-Girl nor Middlebrow I say by mine. Boys are not immune to this shortcut to self-expression, either (Adventurous Jack London, anyone?)So which is your favorite from those drowsy days when you did not worry about bills? I cannot imagine many will chose the horridly earnest "problem novels" so popular in YA lit these days. But prove me wrong, especially those of you for whom the tween days are still fresh. Which titles did you brag about having finished in front of your lockers? Which do you mention over beers at a dive bar today, to impress a date? And tell me-or tell your shrink-what do you think they say about you?