The Internet Reacts To White House Press Secretary Sean Spicer's Resignation
PERIOD.
07.21.17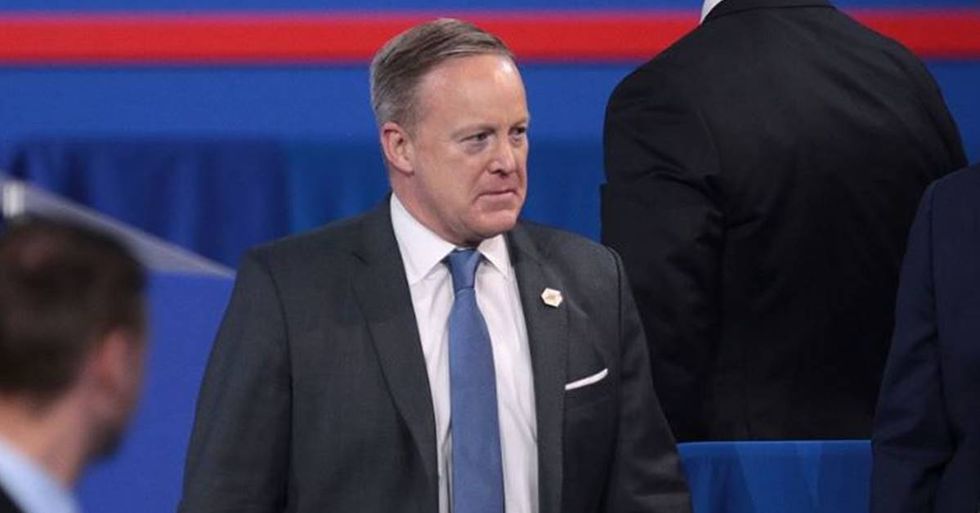 Photo by Gage Skidmore/Wikipedia Commons.
In his first briefing as White House press secretary, Sean Spicer made it clear the Trump administration was not going to play by traditional Washington rules. He began with a lie that was big, bold, and obvious and delivered it with unfettered confidence. Even though photographic evidence clearly showed that attendance at President Trump's inauguration was much smaller than both of Barack Obama's, Spicer didn't let the facts get in the way. "This was largest audience to ever witness an inauguration, period," Spicer said.
---
Over his six months on the job, Spicer had to back up and defend the Trump administration's biggest lies to the American public. He said President Obama wiretapped Trump Tower. He claimed the Muslim ban was, in fact, not a "ban," and that Paul Manafort had a "limited role" in the Trump campaign. One of his biggest gaffes was saying Adolph Hitler "didn't even sink to using chemical weapons."
Although it's only been six months, Sean Spicer's resignation from the Trump administration feels like the end of an era. Here's how the Internet is saying goodbye to Spicey:
R.I.P. Sean Spicer as White House Press Secretary, 2017 - 2017 pic.twitter.com/y7QmJAroYH

— The Daily Show (@TheDailyShow) July 21, 2017\n
\n
Sean Spicer quits.
Goodbye to a Press Secretary who was so out of his depth you would need a submarine to find him.pic.twitter.com/2170htYFAo

— James Melville (@JamesMelville) July 21, 2017\n
\n
I'm going to miss you my spicy little baked potato. @seanspicer pic.twitter.com/zNlQUa9mn9

— Chelsea Handler (@chelseahandler) July 21, 2017\n
\n
Actual footage of Sean Spicer leaving. pic.twitter.com/wdOpA7c7zn

— Zach Braff (@zachbraff) July 21, 2017\n
\n
Sean Spicer quit, members of the Trump family under investigation, not one major legislation passed, meanwhile Trump is at home like... pic.twitter.com/rFzXilDuXB

— Simar (@sahluwal) July 21, 2017\n
\n
Goodbye, Sean Spicer. Rest in covfefe.

— God (@TheGoodGodAbove) July 21, 2017\n
\n
Wishing Sean Spicer the best of luck in all future endeavors.

We'll always have those six months of you lying to us every single day.

— John Dingell (@JohnDingell) July 21, 2017\n
\n
Sean Spicer leaving the White House: pic.twitter.com/g3t87dUEiO

— Mouthful of Platinum (@mouthofplatinum) July 21, 2017\n
\n
Sean Spicer packed up his podium and hit the road pic.twitter.com/ihaaLShIPs

— JacobTellefson (@jacob_tollef) July 21, 2017\n
\n
Sean Spicer has announced he's resigned, which probably means he hasn't resigned.

— MꙬse Allain (@MooseAllain) July 21, 2017\n
\n
Sean Spicer gave us the confidence that you can can still keep a job for several months after saying Nazis never used chemical weapons

— Mason Daniel (@BuddyBoyBaxter) July 21, 2017\n
\n
Dear @SeanSpicer Please write a book. Immediately.

— Jimmy Kimmel (@jimmykimmel) July 21, 2017\n
\n
Articles