Articles
Iron Chef America Goes Organic (and Obama), Finally
Last night on Iron Chef America, the greatest reality food show in history (after Top Chef, of course), they took us to the White House to meet...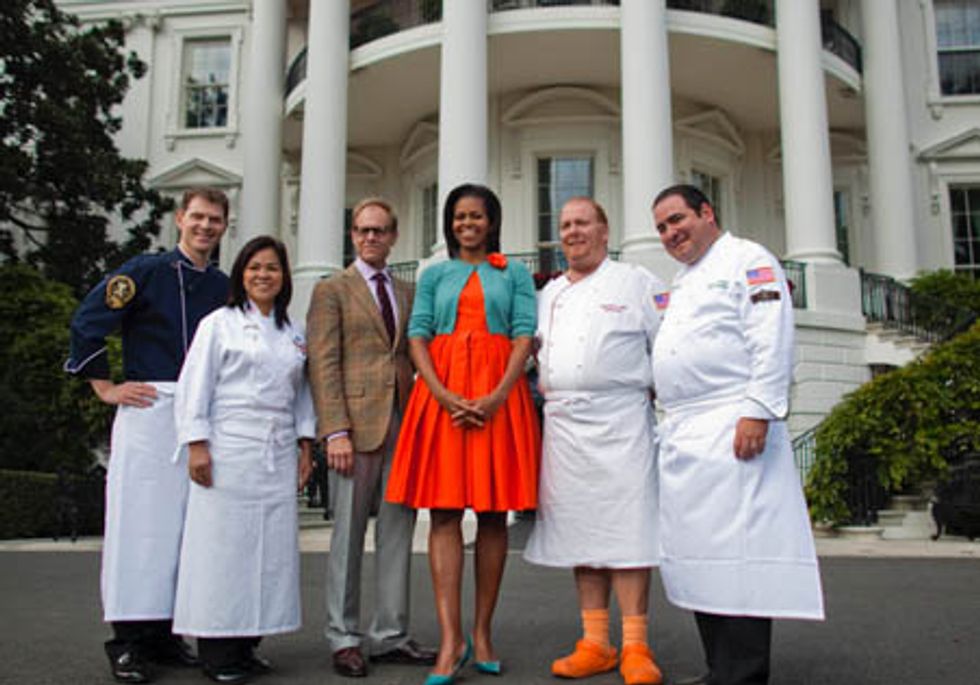 ---
Last night on
Iron Chef America
, the greatest reality food show in history (after
Top Chef,
of course),
they took us to the White House to meet Michelle Obama
. There, chefs Mario Batali, Emeril Lagasse, Bobby Flay and private chef to the president
Cristeta Comerford
were presented with the secret ingredient, around which they'd have to plan five courses-only instead of one ingredient, they had a whole garden to work with. An organic garden, no less.I've rarely seen a media blitz like the one the Food Network did for this special episode. There were bus ads, and billboards, and countless TV spots, all for a "White House" episode that had all of five minutes with the First Lady. No matter-it's actually really great that this episode was hyped to all hell: For once, the ingredients were all sustainably harvested, the produce was organic, and the meat was local and humanely raised. And best of all, the dishes were fun, inventive, and looked utterly delicious.As a Food Network devotee, and someone who takes the purveyance of my food rather seriously, it always bothers me how reticent they've been to acknowledge the changes that have gone on in the food world over the past half-decade. At a time when obesity is through the roof and unsustainable farming is ruining land and water, it's always struck me as a little irresponsible-and out of synch with the times-that they never touch on this stuff. It's not like the chefs the network hosts don't value local and organic-I'd be shocked if most of them didn't use such ingredients almost exclusively, if for no other reason than the fact that they taste better than conventionally grown food. Batali does;
he even told us as much
.At the same time, the network is unabashedly, and admirably, populist. This isn't a foodie network, or a station for rich gourmands: It's for people who love food, are on a budget, don't have a ton of time to make dinner, but like play around in the kitchen.Which brings us back to the Obamas's garden. The whole point of that garden was to say to America that eating healthfully and organically should not be prohibitive and elitist. So while I'm quick to admit that seeing superstar chefs cook organic is not exactly the kind of instructive example we need to push more people to eat organic or local, it was pretty great to see a ratings sucker like
Iron Chef
take that on-whether they did the show because they wanted Obama-inspired ratings (likely), or because they wanted to make a point about smarter farming (less likely). Either way, it's a move worth applauding.