Articles
New Orleans: Neighborhood Guide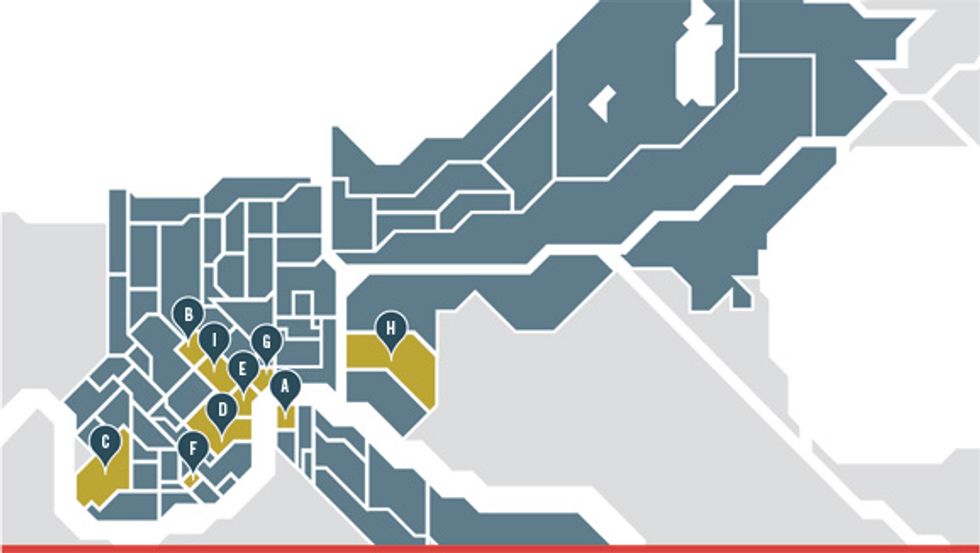 GOOD's Guide to NOLA Basics originally appeared in GOOD Magazine's New Orleans Issue. Read more from the magazine here.
---

A. Algiers
One of New Orleans's oldest neighborhoods, Algiers lies across the Mississippi from the rest of the city, connected by bridges and the Canal Street Ferry. Visitors often take the ferry, known for its spectacular views of the city, to Algiers Point, a historic district with a variety of houses, churches, and many other specimens of 19th-century architecture.
B. Bayou St. John
The waterway that runs through this community is rumored to have been the site of many a voodoo ritual by Marie Laveau, New Orleans's best known practitioner of the dark art. It's also home to the New Orleans Museum of Art and the sprawling 1,300-acre City Park.
C. Carrollton
Located near Tulane and Loyola universities, Carrollton was its own city until it was annexed by New Orleans in the 1800s. Built on higher ground than the rest of the area, this neighborhood of streetcars, boutiques, and Victorian architecture managed to emerged from Katrina with less damage than the rest of the city.
D. Central Business District
This mixed-use neighborhood may be all business during the day, but at night it melds the panache of the cabaret with the high-culture sounds of the Louisiana Philharmonic Orchestra.
E. French Quarter
The lively French Quarter, home to Bourbon Street, has become synonymous with the city as a whole, a place where visitors mingle amid historic restaurants and tourist traps. Sometimes called the Vieux Carré, it's the oldest part of the city, filled with architecture dating from the city's Spanish period.
F. Garden District
True to its name, the Garden District is lush and green, but the dynamic community is also home to some of the first expressions of Greek Rival architecture in the city.
G. Marigny/Bywater
Just down the river from the French Quarter lies Faubourg Marigny, an artist's community that was once the plantation of Bernard Xavier Philippe de Marigny de Mandeville. The Creole playboy developed the land in 1806, and today the neighborhood's Marigny Triangle hosts some of NOLA's best jazz.
H. Ninth Ward
The neighborhood that bore the brunt of Hurricane Katrina was left with a displaced culture, but creative people are looking to restore the Ninth Ward as a premier cultural hub of New Orleans. Habitat for Humanity's Musicians' Village is doing its part by providing homes to many of the city's celebrated artists.
I. Treme
One of America's oldest black neighborhoods, Treme wears its cultural heritage on its sleeve. Many credit Treme's Congo Square—a plaza where slaves gathered on Sundays to eat, make music, and dance—as the birthplace of jazz.