Articles
Brits and Canadians both doing what they do best.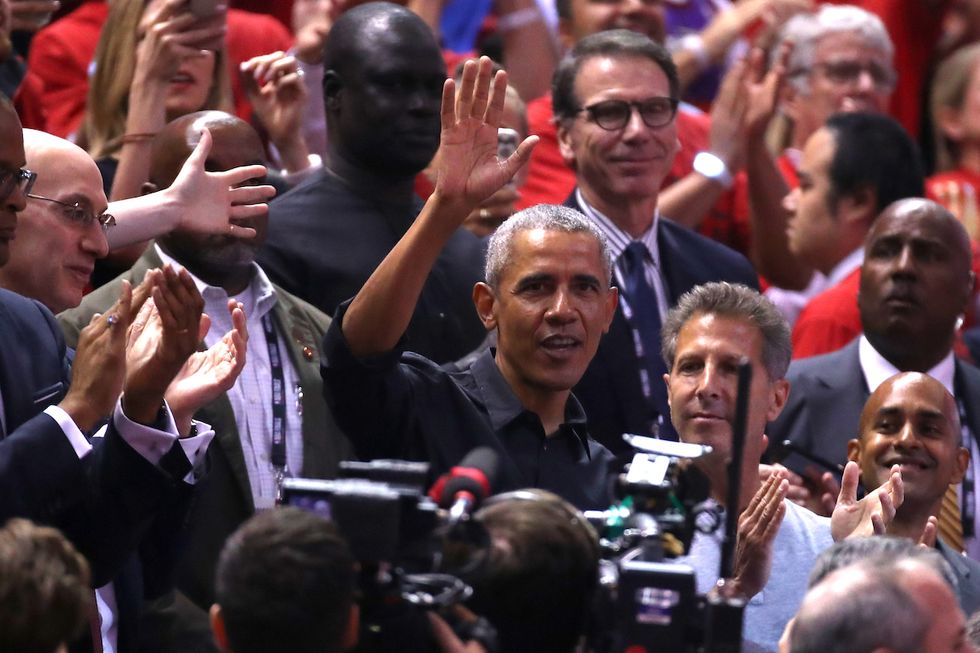 Since leaving office in 2017, Barack Obama has become more popular in the eyes of the American people. In a 2018 Gallup poll, he ranked fourth among the last ten presidents with a 63% approval rating behind John Kennedy, Ronald Reagan, and George H.W. Bush.
---
Richard Nixon ranked lowest at 28%.
On Sunday night, at Game 2 of the NBA Finals between the Golden State Warriors and Toronto Raptors, Obama proved he's also pretty popular in Canada. Obama attended the game with NBA commissioner David Stern and when he was announced on the video monitor, he received a standing ovation and an "MVP" chanted usually reserved for star players.
Presidential welcome. #WeTheNorth | @BarackObama https://t.co/2F3iHQ9oHx

— Toronto Raptors (@Toronto Raptors) 1559528015.0
Obama has never been shy about his deep love for basketball. Every year his picks for the NCAA's basketball tournaments were big news in the sports world and, while in office, he had the White House tennis court transformed into a basketball court.
While Obama received a standing ovation in Canada, the current president isn't faring as well in England.
President Trump was called a "fascist" by London's mayor Sadiq Khan and people all over the town have been trolling him by projecting his poor approval numbers and a picture of a U.S.S. John McCain hat.
Currently being projected on the Tower of London during President Trump's visit to the UK. Photo: @ByDonkeys https://t.co/UchJZwjTjp

— Travis Akers (@Travis Akers) 1559572269.0
In addition to the image of President Obama's and Trump's respective UK approval ratings being projected on the Tow… https://t.co/yJajUbQvpu

— Travis Akers (@Travis Akers) 1559573581.0
Protesters unfurl banners at Vauxhall Bridge in central London in protest over President Trump's arrival in UK… https://t.co/Ztz9FigSi8

— BBC News (UK) (@BBC News (UK)) 1559579869.0
Seen today in central London. London is ready for Trump! #TrumpUK #TrumpUKVisit https://t.co/GWFfarDqUy

— Dennis (@Dennis) 1559559385.0
@realDonaldTrump @SadiqKhan Welcome to London, Mr. Trump! https://t.co/Q2yXXuqf6n

— Leslie (@Leslie) 1559549995.0

A teen also mowed an NSFW photo into a field directed at Trump beneath the flight path to Heathrow airport.