Articles
Project: Create an Infographic About the Haiti Earthquake
Since our first two infographic projects (on making sense of the financial mess and CEO compensation) went so well, we've decided to make it a...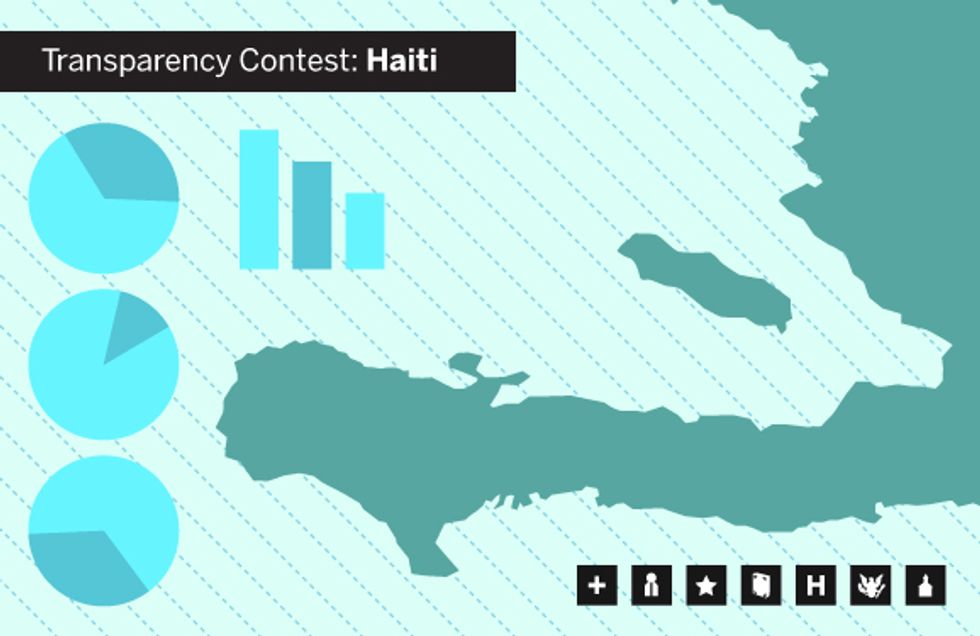 Since our first two infographic projects (on making sense of the financial mess and CEO compensation) went so well, we've decided to make it a recurring feature. This will be the first in a monthly series of infographic design contests here at GOOD. The topics, judges, and prizes may vary from month to month, but we'll always be asking the brilliant creative members of our community to help in our quest to make the world's data more accessible. Here's this month's project:
UPDATE:
The project's submissions are in. You
can view them all here.
the OBJECTIVE
Highlight the scope of the Haiti earthquake, as well as the aid given to help recover from the disaster.
the ASSIGNMENT
Create an infographic that explores some or all of the following: the toll of the earthquake, why the earthquake was so devastating, the recovery efforts, and the world's donations of money and aid. We're offering this contest in collaboration with
Design for Haiti
(a new site by Aaron Perry-Zucker, the man behind
Design for Obama
and the accompanying book
Design for Obama—Posters for Change: A Grassroots Anthology
), which is collecting information graphics about Haiti. The judging will be done by Perry-Zucker and the editors of GOOD.
the REQUIREMENTS
Send us an e-mail at projects[at]goodinc[dot]com with your infographic or post it to
GOOD's Community Blog
with the tag "February 2010 Transparency Contest." It can be in any image format, but it should be high enough resolution that it can be printed at 300 dpi. Make sure to include your sources, and a brief (one- or two-sentence) introduction to your concept. We'll take submissions now through
February 9
. The winning entry will be announced on February 16, featured on our homepage and on the
Design for Haiti
site, and printed in the next issue of GOOD. We'll send a GOOD T-shirt and a free subscription (or gift subscription) to the winner.
RESEARCH and INSPIRATION
Reliefweb has
a constantly updated spreadsheet
of where aid is coming from and to which organizations it's going. You can
download the Google Earth satellite images
of the damage from the quake. For comparison's sake, the
Guardian's Data Blog offers this list of the deadliest earthquakes of the century
. Here is a map of Haiti (
full
and
half
) built by Capac Roberts using Google Earth. The Earthquake Geospatial Research Portal also
has lots of maps and images.
Feel free to supplement this with any data you find yourself. And please, help each other. No one will get extra credit for using special data, so if you find something cool or helpful, please post it in the comments.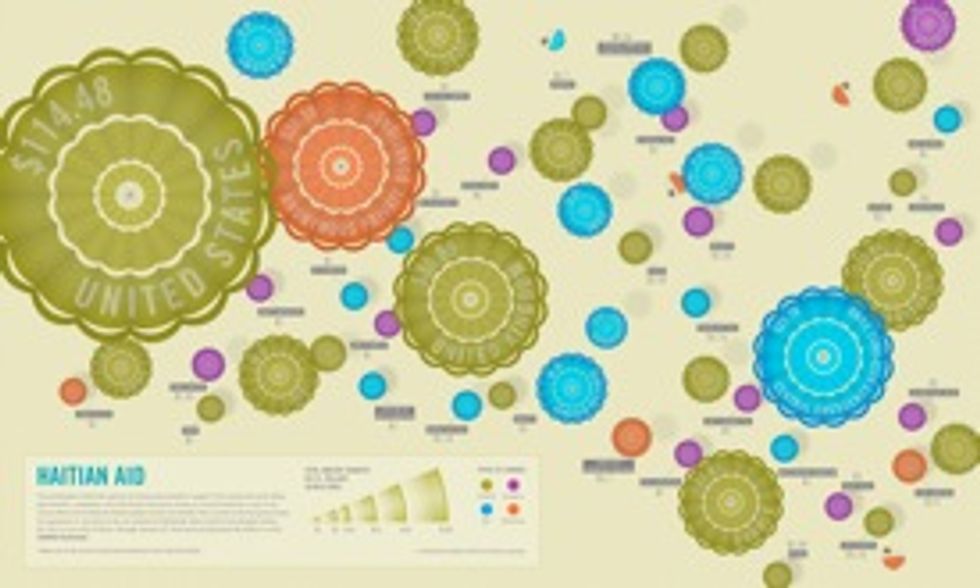 ---
For inspiration, Take a look at
our Transparency archive
to see what we've done in the past, including
yesterday's piece on aid to Haiti
. You can also check out
our Ffffound page
, where we curate a selection of infographics from around the web. Make sure to take a look at
Design for Haiti
, as well.
A little more about Design for Haiti:
Design for Haiti uses the same platform as Design for Obama, which allows users to upload, share, download, and print high quality posters. They are seeking two types of images: promotional graphics that call attention to an action (i.e. "help" or "donate") and infographics that create a better understanding of the situation.