Articles
Returning to the Neighborhood of Make-Believe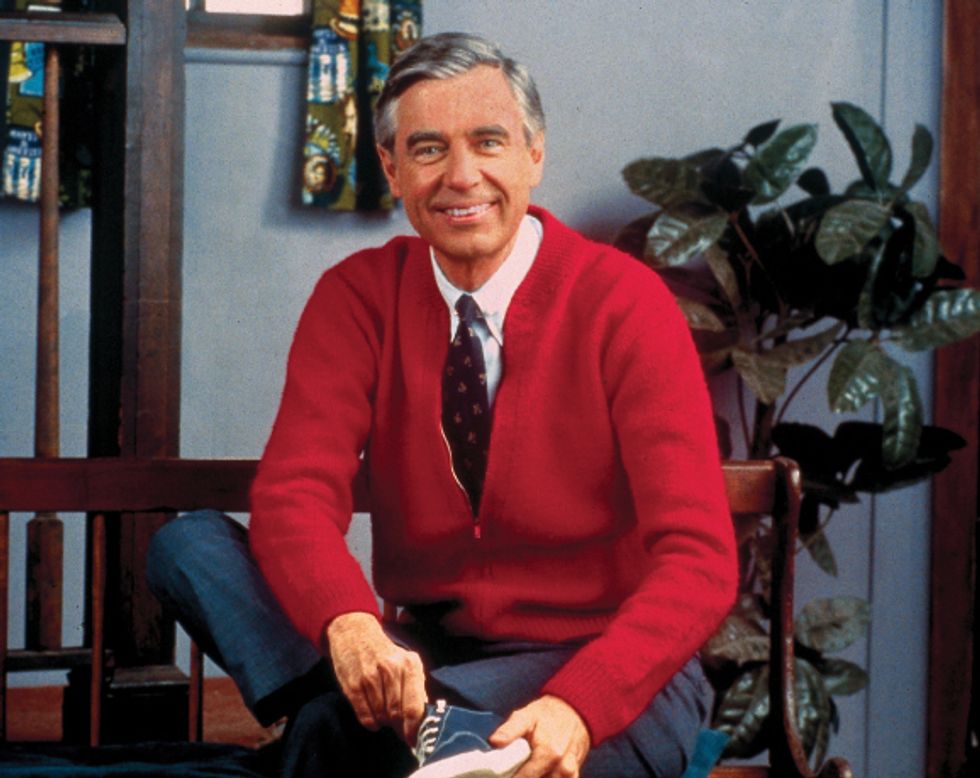 ---
An appreciation of Fred Rogers
On the continuum
of awesome compound words, "make-believe" ranks very near the top. I learned the term courtesy of Fred Rogers not long after I'd learned to speak, and the concept of finding deep, lasting truth in imagination has since become a guiding principle in my life.
With the exception of my parents, no one played as prominent a role in the early stages of my cognitive and emotional development as Rogers. During my formative years, I saw him more regularly—and paid greater attention to him—than any other adult on the planet. For one magical half hour each day, I would sit cross-legged and rapt, my gaze transfixed on the screen of our bulky Zenith television, where a besweatered man told stories, sang songs, and played with puppets. That this program could somehow compete with the bombs and lasers of the cartoons in competing time slots continues to amaze me. That Rogers spoke directly to me, from his living room into mine—and with remarkable lucidity—about the emotional challenges of childhood, remains one of the greatest gifts I've ever received.
Born at a time when young people were learning to distrust anyone over 30,
Mister Rogers' Neighborhood
was an idyllic setting, but it was by no means a retreat from reality. On the contrary,
Neighborhood
's magic was precisely that it taught us to confront the fears, insecurities, and anger that we all faced as children—from parents' divorces to personal loneliness to the inevitability of death. "The world is not always a kind place,'' Fred Rogers once said. ''That's something all children learn for themselves, whether we want them to or not, but it's something they really need our help to understand.''
While helping children find that understanding, the lifelong vegetarian who swam daily and never drank or smoked ended up with the longest run of any figure in public television. Rogers was a Presbyterian minister, but he infused an almost Zen-like calm into everything he did—from the way he removed his dress shoes and tied his sneakers to the smile that accompanied the zip of his cardigan. From 1968 to 2001, Rogers, who died in 2003, took children on daily trips to the Neighborhood of Make-Believe, where King Friday, Daniel Striped Tiger, X the Owl, and Henrietta Pussycat came to life. He also entertained visits from Yo-Yo Ma, toured a zoo's penguin environments, and taught us how yellow crayons are made. His awards and accolades are too numerous to list here, but among them are the Presidential Medal of Freedom, four Daytime Emmys, and the lifetime achievement award of the Academy of Television Arts & Sciences.
Rogers articulated his mission before Congress to Senator John O. Pastore in 1969, when national budget cuts threatened to end PBS's broadcast of the show.
"I give an expression of care every day to each child to help him realize that he is unique," he told Congress. "If we in public television can only make it clear that feelings are mentionable and manageable, we will have done a great service for mental health."
When Pastore responded that Rogers' words gave him goose bumps, and that he "just earned the 20 million dollars" for PBS's budget, he said so because Rogers had made him believe in the power of speaking honestly and compassionately to children about the challenges of life and the necessity of working together. Today, his show can still be seen on some PBS channels and occasionally on the Mister Rogers website. Let's hope he keeps making believers out of future generations.
Photo by Walt SengThis article originally appeared in GOOD Issue 19: The Neighborhoods Issue. You can read more from the issue here.