Articles
Splish Splash: The Six Best Public Pools In L.A.
There's a heat wave predicted for L.A. this weekend, so why not seek out liquid recreation at one of these fine public pools?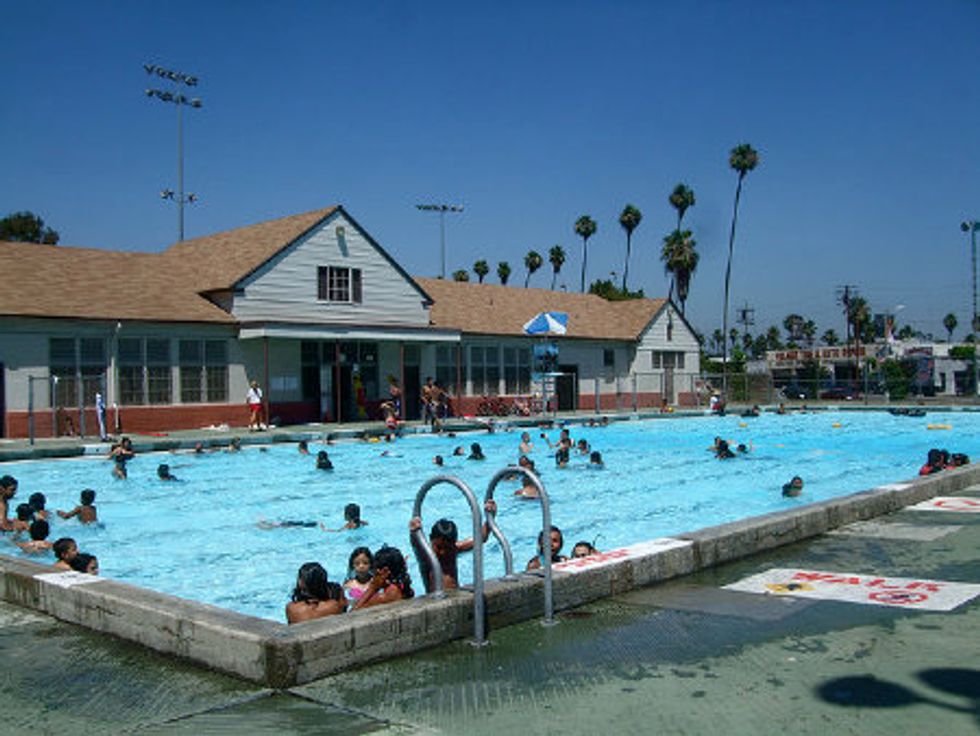 With a
heat wave
predicted for this long summer weekend, it's only natural that you'll be seeking out some liquid recreation. Instead of trying to crash a hotel's list-only pool party, why not try one of L.A.'s public aquatic centers? Earlier this week, Los Angeles
seasonal pools
opened for the summer, and for a steal: Most city-run pools are accessible for the low, low price of $2.50 per swim ($2 with a Los Angeles library card). Just be sure to check the schedules ahead of time for when pools are open—you won't want to arrive to find yourself left high and dry.
Argue Swim Stadium: Dive in to this massive Exposition Park stadium that was originally built for the 1932 Olympics. The entire facility has been recently renovated with two pools, one for laps, one for play. 3980 Bill Robertson Ln., Los Angeles
---
Pacific Community Pool: This brand-spanking-new spot in Glendale features an almost 5,000-square-foot pool with six 25-yard lanes. Another bonus: It's green. Solar panels fuel 40% of the facility's energy and toilets use recycled water. 509 S. Pacific, Glendale
Annenberg Community Beach House: We've already touted the poshest public pool in the city, but at up to $10 per person that's a hefty price per lap. Our tip: Go for Dollar Splash Mondays, when admission is only $1. 415 Pacific Coast Hwy, Santa Monica
Glassell Park Pool: A favorite with locals, this no-frills lap pool with bare-bones locker rooms hardly ever gets crowded, offering plenty of room for both low-key exercise and aimless wading. 3704 Verdugo Rd., Los Angeles
Culver City Municipal Plunge: Maybe the best public pool in the L.A. area is Culver City's "plunge." It's $4 for adults, but you get nicer-than-average locker rooms and a rarity in public pools: a diving board. 4175 Overland Avenue, Culver City
Hansen Dam Aquatic Center: Way out in the Valley is a legendary public pool that's absolutely worth the sweltering drive. This 1.5-acre swim lake is more like a water park, complete with a picnic area and water slide. 11798 Foothill Blvd. Lake View Terrace
Live in Los Angeles? Join GOOD LA and you'll get one good L.A. story (like this one!) in your inbox each day. You can also follow GOOD LA on Facebook and Twitter.
Photo of the Highland Park Pool via Flickr (cc) by waltarrrr