Articles
Sponsored Post: How Corporations are Harnessing the Power of Renewable Energy
Many of the world's largest businesses are looking into new ways to offset their carbon emissions.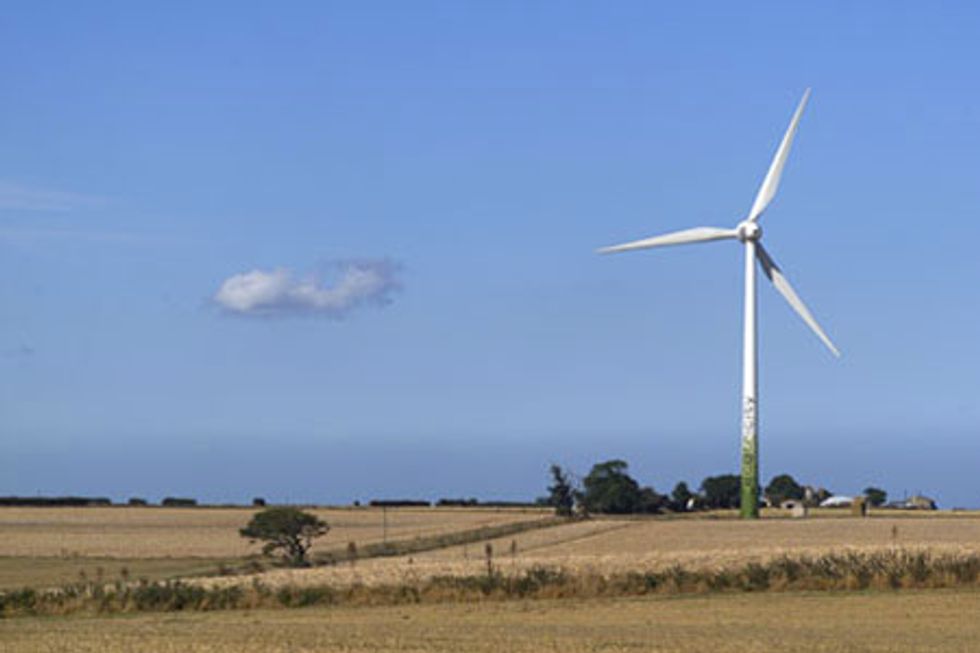 This post is in partnership with UPS
---

Many of the world's largest businesses are looking into new ways for offsetting their carbon footprint. As soon as this summer, there could be a new trade certification–similar to Fair Trade or Certified Organic—called WindMade. Organizers working on initiative think it could help consumers support the wind industry and encourage companies to buy into wind power, which industry representatives say is on track to provide a fifth of America's electricity by 2030.

"The beauty of the WindMade effort is that it will provide a simple way to tell whether your purchasing dollars are buying even more wind," says Peter L. Kelley, a spokesperson for the American Wind Energy Association. "That's missing from the marketplace right now."

A committee of partnered organizations—including the World Wildlife Fund, and the United Nations Global Compact—hope to unveil a finished set of qualifications June 15.

Electrical engineer Ken Whiteman got interested in using wind power nearly a decade ago, during his search for a way to go carbon neutral while running his own ecommerce business. Whiteman discovered his biggest carbon footprint came from sending packages to customers. But he couldn't find good answers about how to fix the problem.

"As I dug into it, it was a pretty murky area, and I decided it needed more clarity," says Whiteman, a former superconductor engineer. Whiteman formed GreenShipping.com, to help consumers and small businesses to figure out shipping emission costs. After calculating emissions, GreenShipping helps businesses go carbon neutral by purchasing offsets from Bonneville Environmental foundation—a U.S.-based renewable power nonprofit that has won awards for reinvesting revenue into long-term environmental projects.

Recently GreenShipping.com began carbon accounting for larger companies like Wal-Mart and TheNorthFace.com, to help them focus on opportunities for reduction. Whiteman says even his own company has reduced shipping costs by 30 percent.

And much larger companies than GreenShipping and its clients are committing to the idea of offsetting carbon footprints. "For Earth Day 2011, Overstock.com launched carbon neutral shipping on all of its Worldstock products at no additional cost to the consumer," says Jordana Fyne of CarbonFund.org, a company that helps businesses lower their carbon emissions. "The money generated from the Overstock shipping donation will be put toward renewable energy and reforestation projects in the U.S."

Also, UPS now offers carbon neutral shipping in 35 countries and airline company JetBlue offers offset packages that reinvest in renewable projects. The airline also offsets crewmembers' flights with renewable energy and reforestation annually, working with CarbonFund to invest in the Capricorn Ridge Wind Project and the New York Landfill Methane Project.

In addition to carbon offsets, global companies have also been investing directly in wind power. Sony and Mitsubishi have both invested heavily in renewables, and other American companies like Kohl's and Whole Foods are becoming leaders in their own green power purchases, which include everything from on-site generation with solar roofs to investment in biomass and small hydro technologies.

Semiconductor manufacturer Intel started a capital fund in 2001 specifically dedicated to environmentally friendly initiatives. "We found that we could get highly involved in renewable energy by buying Renewable Energy Certificates (RECs) and buying green power," says Marty Sedler, director of global utilities and infrastructure at Intel. A 60-megawatt Intel facility in Ireland (where there is an European carbon offset market) buys all of its power from a third party provider that uses a combination of renewables and offsets to provide electricity.

Ten years after starting their capital fund, Intel won the top Green Power Leadership Award from the Environmental Protection Agency for purchasing some 1.4 billion kilowatts worth of RECs. The company's investment in solar and wind power last year accounted for over 50 percent of its U.S. production.