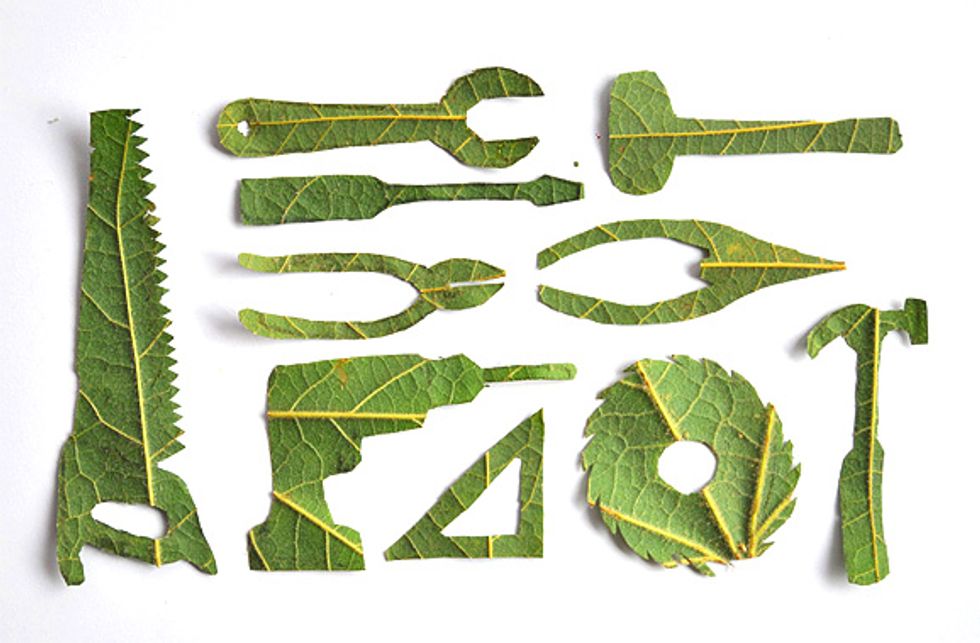 Ever since the environmentally friendly building supply store Green Depot opened in New York, we have wondered: Is it worth it-financially, environmentally, and for your own health-to make your renovation more sustainable? A homeowner and his contractor weigh in.
On the television program
Renovation Nation,
host Steve Thomas travels to beautifully appointed eco-friendly homes, presenting each one as the logical sustainable choice. In the real world, however, it's not that simple. Those homes cost more. Way more.That's why my contractor Mike Borcina loves to mock the green movement. Contractors, Borcina explains, balance a customer's desire for real sustainable building with increased labor costs. It's often cheaper to send perfectly good materials into landfill than to take the time to prepare them for re-use. We know this, but what should we do about it?Given his choice, Borcina would way rather not use the toxic product. "Years ago, when I came up and got all my habits, these things weren't important," he says. "Now whether or not we like them, we should be using them. We have to. It needs to be done."And lately, he's even gotten excited about green building. Last Christmas, he called me from Thailand. The off-the-grid village he was staying in was powered by rooftop solar panels. Two months back, he pulled kitchen cabinets out of another client's house to give to me. Clearly, Borcina is getting on board.But following sustainable principles while renovating a home can still cost whole lot more. How much more? To find out, we visited Manhattan's sexy new Green Depot and compared their products to conventional choices at Home Depot, their more conventional competitor. Here's what we found.
Green Depot FSC 3/4-inch plywood ($0.72 per square foot) Vs. Home Depot 3/4-inch plywood ($0.65 per square foot)
Conventional plywood contains formaldehyde, which according to the EPA, "causes cancer in animals and may cause cancer in humans." Green Depot wood is Forest Stewardship Council certified and formaldehyde free.

---
Adam's Pick:
I'd choose the Green Depot product. Formaldehyde scares me. Simple as that.

Mike's Pick:
Green Depot. I always buy the best plywood. I'd spend an extra 3 to 5 percent to make it greener.
AFM Safecoat® Zero-VOC Custom Color Paint ($45 per gallon) Vs. BEHR PREMIUM PLUS Interior Semi-Gloss Enamel Paint ($23 per gallon)
Volatile organic compounds are the chemicals in paints that produce that dizzying smell. The Green Depot's Safecoat series contain none, so homeowners can use their paints with the windows closed.

Adam's Pick:
My wife and I just used Safecoat to paint the bathroom and it did drip a little more than the higher VOC paints. That said, we enjoyed using a product with no discernible smell. It's odorless and free of toxics.

Mike's Pick:
If that gallon of paint doesn't cover as well, it's going to cost you more money in labor. Are you willing to live with that? I have used an environmentally friendly paint and they don't cover as well.
Warmboard Radiant Heat Subfloor ($229 for 32 square feet) Vs. Home Depot Suntouch ($330 for 35 square feet)
Green Depot's Warmboard uses water-based radiant heat, which is more efficient and cleaner. Because it requires a plumber to run piping through it, the installation costs are very steep. However, it's the all-around cleaner choice because it doesn't send dust and dirt into the air we breathe.

Adam's Pick:
I'd pay extra on labor to save money and long-term costs. Also, the metal coating on top of the sub-floor conducts heat more efficiently.

Mike's Pick:
It seems like a good idea. It's load bearing and you can use it as a subfloor. It makes a difference with sound as well. The only question is, would a client be willing to pay money up front for long-term [benefits]?
Green Depot Icestone ($119 per square foot, installed) Vs. Home Depot Silestone ($56–94 per square foot, installed)
Brooklyn-based Icestone assembles their countertops from glass waste: they contain 70 to 75 percent recycled glass content. They're pricey, though. Silestone, meanwhile, may be produced in an emission-free way, but it's often combined with petroleum-based resin.

Adam's Pick:
Icestone is a beautiful product; I just think it blows our budget. I can get remainders of Silestone for as little as $50 per square foot and still score points for keeping waste out of a landfill.

Mike's Pick:
I think Icestone is a great deal, it's a great product, and it's a great look. I think it's terrific, actually. It's green, it's different, it's strong, and it's interesting.
Green Depot Oak Tongue and Groove Flooring ($7 per square foot) Vs. Home Depot Flooring Armstrong Oak Flooring ($4 per square foot)
The Green Depot brand comes from sustainably harvested trees. The Home Depot brand is affordable and likely easier to refinish, but come without the eco cred.

Adam's Pick:
I am going to go with the regular hardwood floors from Home Depot here. I can't justify spending this much on flooring, no matter how well the trees were treated.

Mike's Pick:
Home Depot. The installation is the same; the product doesn't matter to me. The [Green Depot] cost is exorbitant. That's 125 percent more expensive than the Home Depot price.
Adam's contractor Mike is from Tiberias Construction in Manhattan, and is a swell guy.