Articles
Teacher Spotlight: Terry Dougherty
The GOOD Guide to Finding the Teachers of Tomorrow: Winner of the 2011 Great American Teach-Off, Terry Dougherty talks about the future of education.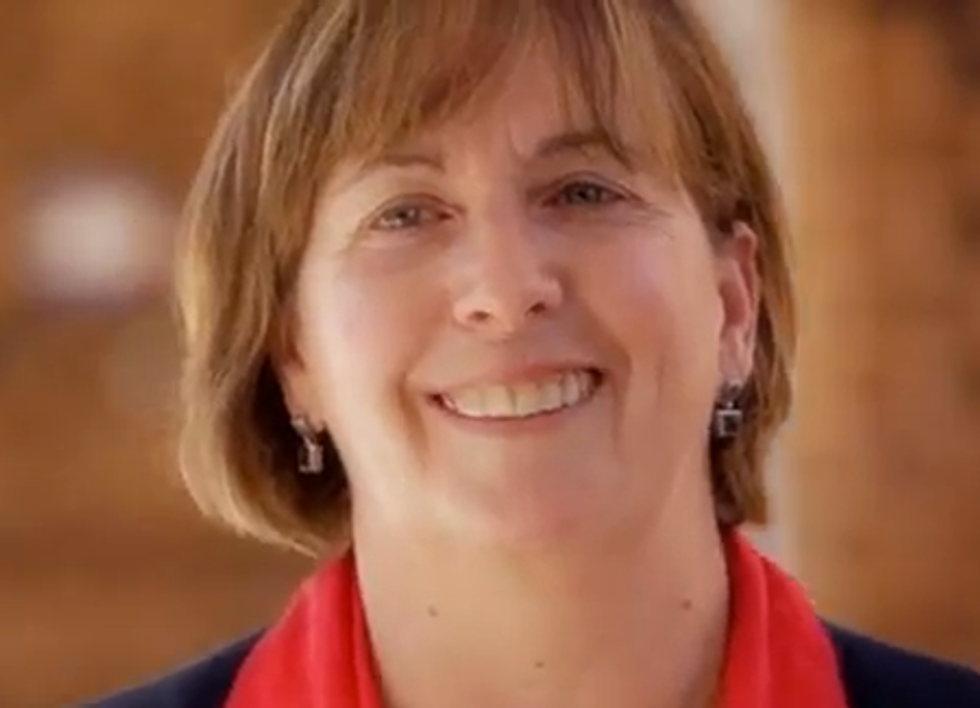 This post is in partnership with University of Phoenix

---
Winner of the 2011 Great American Teach-Off, Terry Dougherty of Galloway Township, New Jersey, teaches the third grade at Roland Rogers Elementary School. She started the program "Free Military Child Tutoring – They are Heroes Too!" in order to help children of military families better transition to their new schools.
GOOD: How do you see the classroom atmosphere changing in the next five to ten years? How can teachers adapt to these changes?
TERRY DOUGHERTY: Today's digital and information age has created a demand for educators to adapt and integrate technology to enhance learning and to create assessment tools to direct further instruction.
Teachers need to be willing to continue learning about the opportunities technology offers to improve the learning experience and student success. Teachers understand the importance of being flexible and open to new teaching methods and remember the only constant in life is change.
There is definitely a balance between what students learn from another human and what might be learned from or aided by technology. For example my students are involved in a wonderful program called WeGiveBooks.org. We were able as a class to pick a campaign we wanted to support. Then for every book the children read online one is donated. That's a great lesson on changing our world through service using technology. I balance that with making sure I then read with them as a class. They need that modeling and interaction with each other.
GOOD: What's the best advice you can give to first year teachers who are planning to stay in education for the long term?
DOUGHERTY: First year teachers should seek support from a veteran teacher that can provide scaffolding and who is a positive person. You will learn from them and they will be grateful to learn from you. Thankfully my district has a Teacher Mentoring program.
I make it a point to go to at least one extracurricular activity for each student such as football and soccer games, dance and piano recitals, wrestling matches, and hockey tournaments. I stand with the parents, grandparents, and siblings and they give me a totally different insight about my student.
Our school also offers a sports and dinner night where the children come back to school with their parents and we all eat together while the teachers serve the meal. We built an incredible school/home community with The Great American Teach-Off by working toward a common goal.
Finally begin your career by developing a balance between work and home. Trying to accomplish everything is not possible and will drain you. Don't forget to have a sense of humor.
GOOD: With technology changing so quickly, what are the ways teachers can stay innovative in the classroom?
DOUGHERTY: Teachers need to constantly stay updated on new best teaching practices that are research based. Observe other teachers in your building who you believe are being innovative. Find out if your district is in partnership with any training centers and attend the classes. My district, Galloway Township, NJ is in partnership with the Educational Technology Training Centers (ETTC).
I'm careful not to assume all of my students have access to a computer. There are times when there may a computer in the home but they are not allowed to use it or older siblings monopolize it. Those are the children I make sure are using the computers I have in my classroom first. I purchased two iPads with the grant money so the children are able to use those too.
Third graders love to be moving so I came up with the "Read and Ride" program. I brought an exercise bike into school and put it in my classroom. The children take turns cycling while they read. They love it!
My students love when I or anyone reads to them. I have a program in my class called "The Mystery Reader." Parents sign up in the beginning of the year to come in on a Friday and read to the children. They bring their child's favorite book. The children do not know who is coming until they arrive.
GOOD: Where should schools be looking to find teachers of tomorrow?
DOUGHERTY: Teachers now have the opportunity to interact and share ideas across the world. Teachers of tomorrow value technology and global interaction. They also see the benefits of service learning involvement in their communities that helps them to become more sensitive to their students' developmental and social-emotional needs.
To read more thoughts from classroom teachers about the future of education, read the GOOD Guide to Finding the Teachers of Tomorrow.