Teacher Spotlight: Jessica Templeton
The GOOD Guide to Finding the Teachers of Tomorrow: Jessica Templeton, a third grade teacher in Denver, talks about the future of education.
02.19.12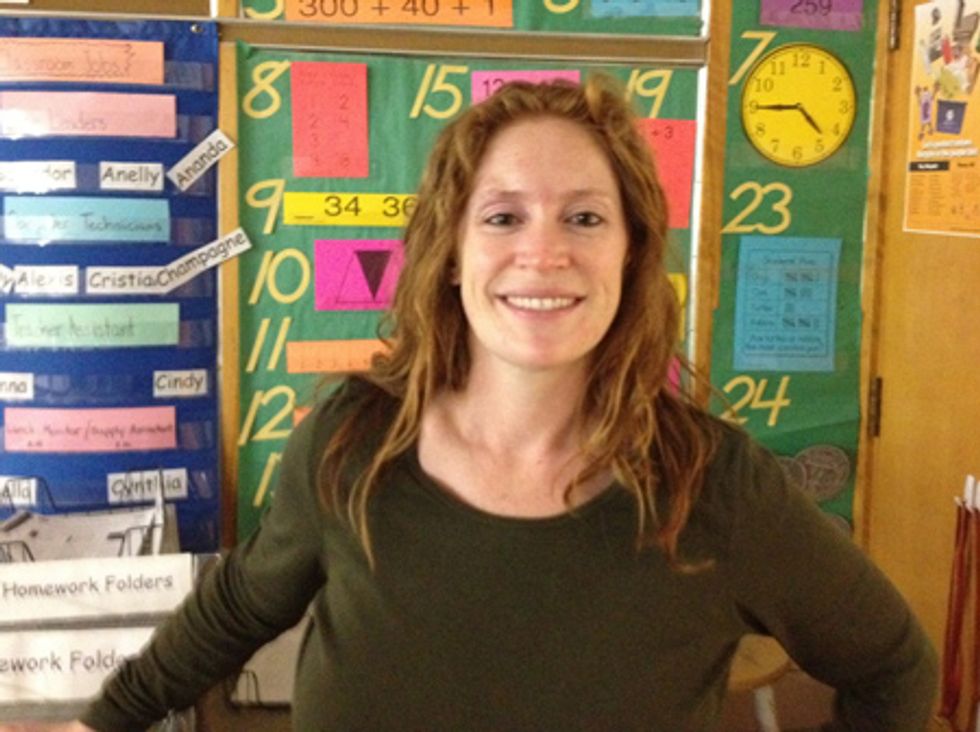 This post is in partnership with University of Phoenix
---
Jessica Templeton grew up in Denver, Colorado and has returned to her roots as a third grade teacher at Gust Elementary School. She's been teaching third grade for 12 years and believes all students are able to succeed.
GOOD: How do you see the classroom atmosphere changing in the next five to ten years? How can teachers adapt to these changes?
JESSICA TEMPLETON: With information becoming more and more easily accessible, it seems that the classroom is becoming less about accessing information and more about applying information in new situations. Students need to be able to work together to collaboratively problem-solve and work through challenging scenarios.
GOOD: What's the best advice you can give to first year teachers who are planning to stay in education for the long term?
TEMPLETON: While I truly believe that teaching is the most rewarding job in the world, it can also be very difficult, exhausting, and disheartening at times. The best advice I can give to first year teachers who are planning to stay in education: love what you do, maintain your focus on the positive changes you are making, and always, ALWAYS keep your sense of humor.
GOOD: With technology changing so quickly, what are the ways teachers can stay innovative in the classroom?
TEMPLETON: Teachers need to always be proactively searching for ways to innovate and apply new technologies in their classrooms. And definitely, apply for as many grants as you can!
GOOD: Where should schools be looking to find teachers of tomorrow?
TEMPLETON: I personally took a traditional undergraduate route to become a teacher. Currently, I am a mentor teacher for teaching candidates in an alternative licensure program.
I truly believe that both routes create amazing teachers and think it is less important for schools to focus on where to find teachers and more important to focus on what they are looking for in new teachers. Teachers of tomorrow need to be passionate, innovative, and always willing to reflect on, modify, and improve their teaching practice.
GOOD: How can your peers or your school help support innovation in the classroom?
TEMPLETON: I feel incredibly fortunate to work with people who inspire me each and every day to become a better teacher. I think that if colleagues challenge, support, and work together in a culture of mutual respect, that environment, in and of itself, will support innovation in the classroom.
GOOD: What do you think is an essential quality to a successful teacher and how can we help nurture this quality?
TEMPLETON: I think the most important quality of a successful teacher is the ability to continuously reflect on and improve your teaching in order to meet the ever-changing needs of the students you serve.
GOOD: We've focused on technological or pedagogical ways that teachers innovate, but what is it about teacher-child relationships that'll endure well into the 21st century?
TEMPLETON: As mentioned before, I think the ability and desire to always reflect on and improve your teaching practice is the most valuable quality any teacher can possess. We live in a dynamic world that seems to be changing at an ever-increasing rate and we need to be flexible, willing, and ready to change and grow along with it in order to best prepare our students for the world in which they will live.
To read more thoughts from classroom teachers about the future of education, read the GOOD Guide to Finding the Teachers of Tomorrow.

Articles