Articles
The Avon of Africa: How Micro-Entrepreneurs Can Fight Poverty
Joy Twinomusasizi found dignity, income and the chance to help her community thanks to an organization that supports micro-entrepreneurs.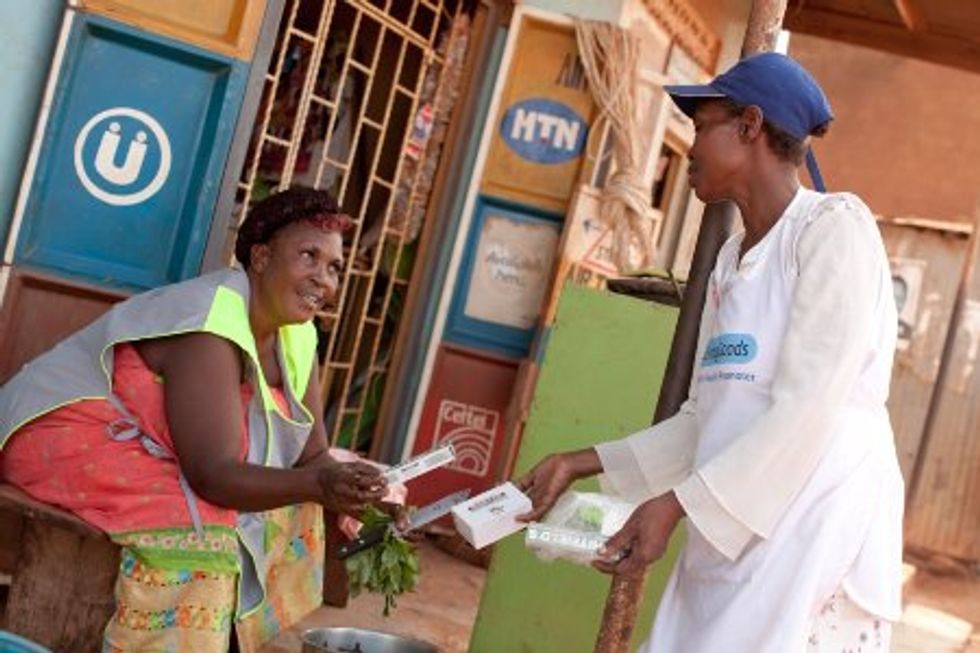 Joy Twinomusasizi earns a living selling essential health projects at affordable prices. See more pictures of Joy and Kampala, Uganda in our slideshow .
It didn't rain last night, but driving over the muck and debris, it's hard to tell. The streets were so waterlogged that we eventually had to get out of our car and walk.
---
Kawempe is a slum situated in the lowest point of Kampala, the bustling capital of Uganda. When it rains, all the water ends up here. As does all the human waste.
Winding through this vast network of small home requires the balance of a dancer. You must squeeze through alleys and dodge puddles of muck and sewage. Children dart past, kicking a dirty soccer ball made of rags, laughing and poking fun at one another.
Irene Nakamya is one of 268,000 people that call Kawempe home. "When it rains at night, we don't sleep," she tells us as she bounces her 7-month old Faith on her knee.
"That's our bed, over there," Irene says, pointing to a large foam mattress slumped over two chairs to dry in the sun.
Irene tells us it rained on Saturday. Today is Tuesday. Her mattress is still soggy.
Joy Twinomusasizi, a 40-year-old health care promoter for Living Goods, an organization that promotes anti-poverty entrepreneurship in developing nations, has plenty of stories about living in Kawempe.
Years ago, Joy's husband was stationed in the army. He died fighting in Rwanda, leaving her widowed with a toddler, with a baby and pregnant. Thus began the period of her life she calls "survival." If you're living on one dollar per day, thriving is nearly impossible.
Joy walked 10 kilometers to a charity offering scholarships for the chance to enroll her three kids in school. Her walking paid off, but only for one child. A kind neighbor who was HIV-positive forged his test results in her name so she could register at a clinic for free food. She traveled around Kampala and registered herself at five clinics.
"I have always been skinny, so everyone believed that I had HIV," she said, raising her forearm and gently circling her wrist with her index finger and thumb, so they touched in the middle. She was ashamed, but with three young children, she was desperate.
Recalling those memories isn't easy for Joy. Before long, big wet tears begin rolling down her cheeks. She methodically uses her wide thumbs to wipe them away. One on each side, in a steady rhythm. Like fat drops of rain on a window, I think. She doesn't sniffle or heave. They just pour out.
Living Goods was founded in 2007 by American entrepreneur Chuck Slaughter. He read an article in The New York Times about microfinance and became inspired to turn his business acumen towards social enterprise.
Every three seconds a child dies in the developing world because of a lack of access to basic health products, simple medicines that cost less than a cup of coffee. Approximately 270 million people in Africa lack regular access to essential medicines. Furthermore, medicine in Africa is often sold for 350 percent of manufacturing cost due to fragmented resale markets and a nonexistent supply chain.
Slaughter was inspired to create Living Goods after learning that Avon, the door-to-door cosmetics sales company, started in rural America in 1876, when villages lacked access to quality goods and women had few job opportunities. Avon is now a $10 billion business thriving in over 100 countries. Slaughter decided that he wanted to apply the Avon model to healthcare in Africa.
Living Goods trains female leaders to be community health promoters, going door-to-door selling essential health products at affordable prices. Women like Joy earn commissions off every sale, and each micro-entrepreneur serves an area of 700 people. They provide expectant and new mothers with sound advice, house calls, and referrals. Because Living Goods operates a strategic network of branches, they have a streamlined supply chain, selling their drugs up to 40 percent below market price.
Since opening its first branch in 2008, Living Goods and its joint venture partner , the health NGO BRAC, have opened 29 branches throughout Uganda, employing over 650 female entrepreneurs. In the next five years, Living Goods aims to grow its network to over 5,000 franchised agents serving over 3 million poor consumers across multiple countries. This is the beginning of a company built off American entrepreneurship and scaled successfully across Africa.
Joy earned the job at Living Goods because she was nominated as a leader in her community, an older mother whom people trusted. She applied, took the health test, and was accepted. The job has changed her life, she says. "[Before,] I lived in a tiny room and could not look at myself. I could just go to the market and not think about myself. Nobody knew me."
"Now I have a name," she continues. "Now they call me 'musawo.' Musawo is a Ugandan word for someone who treats people. I would like to keep that dignity when I go out of my home. I changed my life totally to fit with that name," Joy says assertively, eyes beaming. "It has changed my life."
A version of this story won the 2011 National Peace Corps Association's " Enterprise Solutions to Poverty " contest.
Photo by Esther Havens