Articles
The Music Class
With school funding slashed from coast to coast, a new program is aiming to do for music education what the Peace Corps did for international...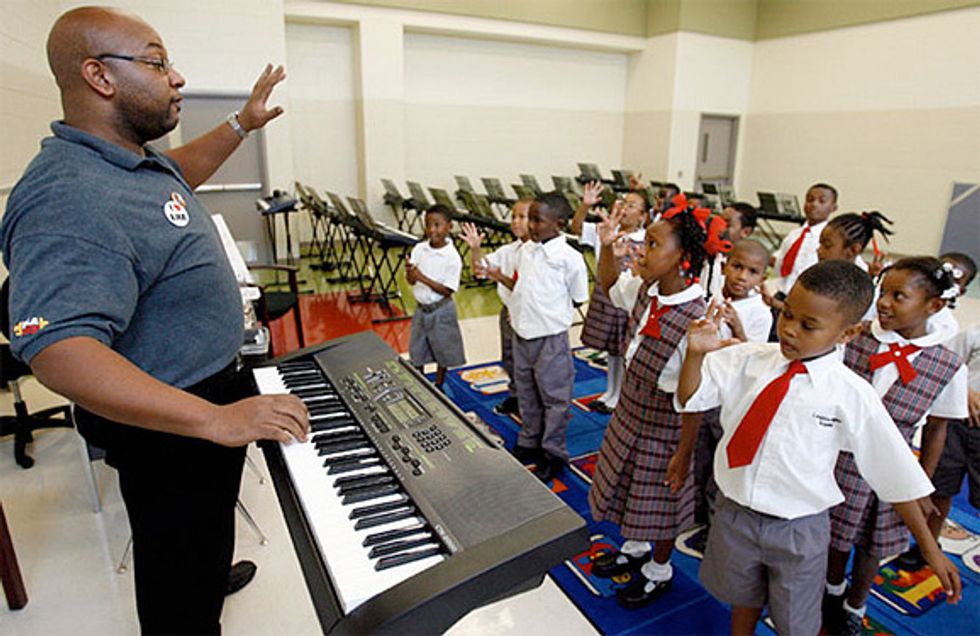 ---
With school funding slashed from coast to coast, a new program is aiming to do for music education what the Peace Corps did for international service. We visited New Orleans to see how the experiment is going.
Twenty third-graders file into a brightly lit classroom at Langston Hughes Academy in the Gentilly neighborhood of New Orleans. Though it is just one of the dozens of charter schools that now enroll 60 percent of the city's students, the just-completed $27-million academy is the first new school to be built in the city since Hurricane Katrina. The gleaming glass-and-brick structure towers over the modest single-family homes that line the streets of the still-recovering area.Wearing uniforms of grey slacks, white button-down shirts, and red cardigans, the students take their seats on the floor, their eyes lingering on the electronic keyboards lining one side of the room. Facilities and equipment like this are a far cry from what they're used to: over 90 percent of the school's students are African-Americans from households that fall below the poverty line.At the head of the classroom stands David Pulphus, a 36-year-old New Orleans-based jazz bassist who is serving as their music teacher this year. Pulphus is teaching at Langston Hughes as part of a new national service initiative called MusicianCorps. Created by a nonprofit called Music National Service, the project is designed to be a "musical Peace Corps," offering musicians fellowships in exchange for taking year-long community service positions, mostly as music teachers in disadvantaged neighborhoods. And this fall, Pulphus and 20 other MusicianCorps fellows began working in New Orleans, Chicago, Seattle, and San Francisco."Tah-tah tee-tee-tah," sings Pulphus, holding up a placard showing the phrase rendered in musical notation."Tah-tah TEE-TEE-TAH!" the kids roar back.
"A lot of social justice work is addressing problems associated with exclusion: poverty, injustice, racism. And music is about connecting people and bringing people together."
Pulphus tries to lead the students in basic scales and simple rhythmic phrases, clapping and singing in a call-and-response. But he spends most of his time trying to get the kids to focus on him instead of rolling around on the floor, talking to each other, or fighting. He sends a few of the more rambunctious boys out of the room, but that doesn't seem to help much.The unruliness persists until Pulphus announces, "I'm looking for scholars to go to the keyboard." Suddenly the children sit up, ramrod-straight, and the room falls silent. Pulphus sighs and smiles. He's counting on reactions like that to get him through the rest of the year.
Music National Service
was founded by Kiff Gallagher, a musician and self-described "social entrepreneur." During the Clinton administration, Gallagher worked in the White House as part of a small team of advisers tasked with crafting the legislation to create AmeriCorps, the federal community-service program. But he left his promising career in public policy to move to the West Coast and focus full-time on making soul-inflected pop music. A few years later, still feeling unfulfilled, he decided to combine his passion for music with his commitment to community service.With his mussed hair and lopsided smile, Gallagher exudes a scruffy enthusiasm that makes him seem much younger than his 40 years. "A lot of social justice work is at its root addressing problems associated with exclusion," he says. "Poverty, injustice, racism-it's always one group separated from another. And music is about connecting people and bringing people together."In late 2007, Gallagher began putting together Music National Service. He pitched it to funders as an opportunity to help counteract budget cuts that are weakening arts and music education all over the U.S., and pointed to recent research suggesting that such programs have a positive impact on the development of children's cognitive and analytic skills. His first big break came when the Hewlett Foundation awarded Music National Service a $550,000 grant to launch MusicianCorps.New Orleans was an obvious candidate to host a group of MusicianCorps fellows. As the birthplace of jazz, the city's musical traditions run deep. "Music here is not separated from life-whether it's a christening, a funeral, a wedding, or whatever else might rain down from the sky," explains Bruce "Sunpie" Barnes, a harmonica player and music teacher who is widely respected in the local music scene. "Folks here need music to get through the day. So you need to keep the supply up, and make sure there are as many players as possible."Like so much else in post-Katrina New Orleans, that supply is threatened by a lack of resources and a diminished population. "In recent decades, jazz has emerged out of the schools here, because of great school-band leaders," says Randy Fertel, a writer and philanthropist raised in New Orleans. "But the school bands and music programs are being lost."Fertel is the president of the Ruth U. Fertel Foundation, named for his mother, who founded the original Ruth's Chris Steakhouse in New Orleans. He was impressed by Kiff Gallagher's plan. "This is a guy who knows how to get things done," he recalls thinking. His foundation provided additional funding to Music National Service, and Fertel set up a task force of two dozen civic, arts, and education leaders to help Gallagher partner with local institutions. One member was "Sunpie" Barnes, for whom the New Orleans tradition of mentorship is particularly important. "Most of the early jazz pioneers talk about the way they learned from elders," he says. "Louis Armstrong would follow King Oliver around during parades, and that's how he would learn a particular lick or tune. That's why the music sounds a certain way."In addition to David Pulphus, three other musicians were chosen to serve in New Orleans: Rebecca Crenshaw, a viola and violin player who gained extensive post-Katrina volunteer experience through stints with AmeriCorps and City Year; a multi-instrumentalist named Nathaniel Money; and Zack Feinberg, a guitar player who leads a popular local band called the Revivalists. All told, they are currently teaching more than 800 students at five different schools across the city.
"Folks here need music to get through the day. So you need to keep the supply up, and make sure there are as many players as possible."
Meanwhile, Kiff Gallagher has been busy in Washington, D.C. Relying on his knowledge of the legislative process, he was able to persuade a number of congressmen and senators to add language to legislation that became the Serve America Act when President Obama signed it into law in April. The law authorizes federal funding for a wide array of community-service programs, and the amendment Gallagher helped fashion calls for the creation of "a musician and artist corps program that trains and deploys skilled musicians and artists to promote greater community unity through the use of music and arts education." Federal dollars have yet to be appropriated for this purpose, but Gallagher is confident that MusicianCorps is well-positioned to receive the funding once it starts to flow.
Inside David Pulphus's
classroom, the high-minded rhetoric that surrounds MusicianCorps-the talk of "the reaching, teaching power of music" and its potential to teach "21
st
-century skills"-seems a world away. Once the students are standing in front of keyboards with headphones on their ears, it's nearly impossible for Pulphus to get them to focus on playing the basic phrase he is trying to teach them: the first three notes of "Hot Cross Buns."Being a disciplinarian isn't a natural role for Pulphus, whose easygoing manner has endeared him to his colleagues in the jazz world. Scolding impoverished children all day long doesn't quite compare to touring the world with major artists like Terence Blanchard, whose trio Pulphus joined when he was just 20. His upbringing, too, was quite different from that of his students, as was his musical education. His grandmother founded the Azariah Missionary Baptist Church in St. Louis, and his loving family was at the center of a tightly knit African-American community. "My brother and I would take turns playing the piano while the congregation sang hymns," he recalls during a break between classes. "That's how I learned to play by ear."But Pulphus embraces the opportunity to provide his students with a sense of discipline that is missing from their lives outside of school. "This is probably the only time they get this much structure in their lives-or even a male figure in their lives," he says.Deontre, a wiry boy, is often on the receiving end of Pulphus's admonishments, and today he'd almost lost his chance at the keyboards after a scuffle with another student. Once it is his turn, Deontre stands up straight at his keyboard, playing the notes and repeating the words each time Pulphus calls out, "One, two, three. Hot, cross, buns."As Pulphus makes his way through the room to work with each student work one-on-one, Deontre plays and sings the phrase over and over, looking up after each repetition to try to catch his teacher's eye. Finally, Pulphus reaches him. Deontre pounds the keys and shouts: "Hot! Cross! Buns! Hot! Cross! Buns!" Pulphus points at the boy's hand and says, "Use all three fingers. And don't sing so loud."Deontre tries again, this time more smoothly and without shouting. He looks up at Pulphus, who pats the boy's shoulder. "That's good," he says. "That's real good."
Photo by flickr user musicnationalservice.