Articles
The Patriots
How do you erect an entire museum to an idea as divisive and abstract as patriotism? A trip to Atlanta's newest tourist attraction invites the...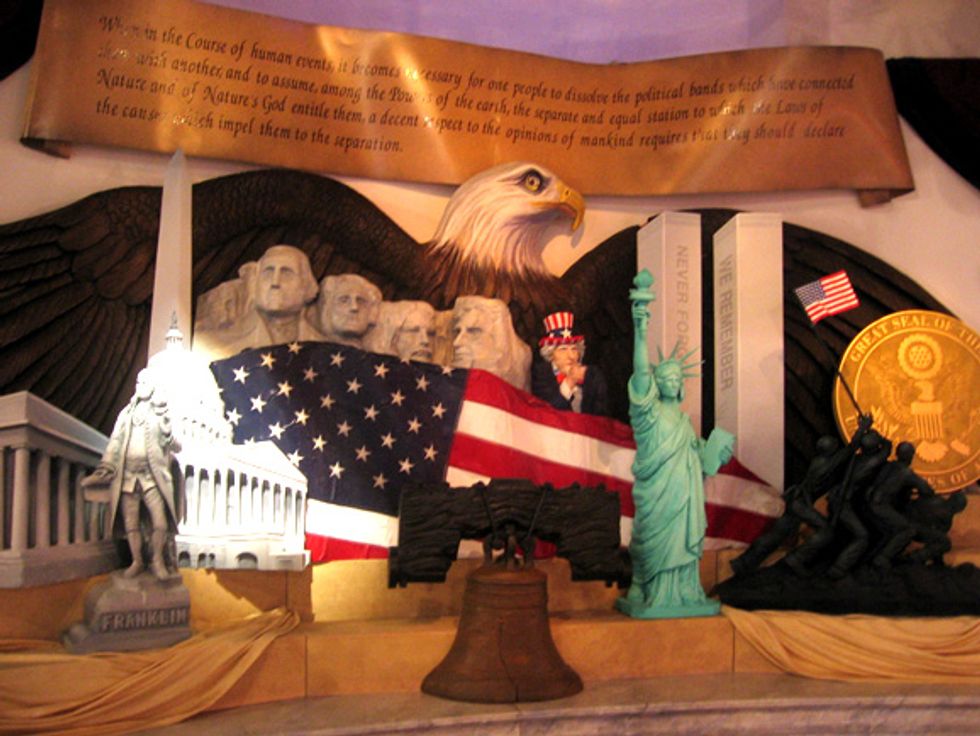 ---
How do you erect an entire museum to an idea as divisive and abstract as patriotism? A trip to Atlanta's newest tourist attraction invites the question.
Bob Hope,
Kenny Gamble, and Patti LaBelle smile from the back of a moving bus in Atlanta's Midtown neighborhood. Inside star-shaped cutouts, their faces beam from a billboard advertising "the only museum of its kind in America"-the National Museum of Patriotism, now open in its new home near the Georgia Aquarium. "I am an American," Gamble and LaBelle announce. Whatever that means to the drivers stuck in traffic behind them, the accompanying invitation is intriguing: "Come for a memory, leave with a mission!"Such a museum, were it to exist anywhere, seems like it should be in Washington, D.C., off the mall between the National Portrait Gallery and the National Postal Museum. That is, more or less, where the "national" everything is located. The National Museum of Patriotism, though, is on the street level of a Hilton Garden Inn in a 15,000 square-foot exhibition space amid Atlanta's biggest tourist attractions.The city has been steadily turning the once-derelict area into a tourist hub, and the museum fits the neighborhood theme of stuff-no-one-else-has: the World of Coke, the CNN Center, and the world's largest aquarium in a landlocked city are all nearby.But what could be inside? How do you turn an abstract concept, and one as complex and divisive as patriotism, into a physical exhibit you can knock off between lunch and the mall? How do you illustrate that patriotism means different things to different people and that we have often clashed in its name? How do you capture the gray areas between patriotism and nationalism, dissent and disrespect?And who-with what agenda-would create such a place?"I do suspect that some people have a tendency to shy away from the museum because they may think we are a right-wing zealot organization," says Nicholas Snider, who founded the museum.I admit: I thought it might be a right-wing zealot organization, but that says more about the tactics of recent elections and the tone of cable TV than the concept itself. Patriotism is, of course, not a right-wing creatio, but that meme reinforces my suspicion that the topic might be a fundamentally un-museumable one.Museums, after all, are generally about facts, or things you can touch, or things you can look at but may not touch; disciplines of the hard sciences or fine arts, of the variety where you could expect to find a similar display in every sizable city on earth. The National Museum of Patriotism in Atlanta, on the other hand, appears to be the only such place in existence.
"I do suspect that some people have a tendency to shy away from the museum because they may think we are a right-wing zealot organization." -Nicholas Snider
Snider, a 67-year-old
retired UPS executive, created the museum because he had amassed thousands of pieces of patriotic jewelry, once exchanged by soldiers and their sweethearts, and couldn't figure out how to share them. He'd called the Smithsonian. They were interested, but only in adding his collection to their 140 million items already stored in their never-to-be-seen-by-the-public warehouses.Snider thought about creating his own place to house the trove, until it occurred to him devoting an entire museum to the world's largest privately held collection of sweetheart jewelry might seem shallow. Mulling this problem one day, he heard a radio story about a bill that would introduce a "character" curriculum in Georgia's schools-teaching things like honesty, integrity, respect, patriotism."When they said 'patriotism,' the old proverbial light went off. It literally happened where I went 'Wow, that's it,'" Snider says. "It just made so much sense to me to develop a National Museum of Patriotism."He didn't just think the community might like such a place; he thought it needed one. In fact, now that his flagship museum-which originally opened in 2004-rolled out anew this past spring, he's been thinking about 17 or so other cities that could use a patriotism museum of their own.He and the executive director, Pat Stansbury, recognize that framing the idea for other audiences poses a challenge of imagination; there is probably a reason no one has ever made one of these before."It's so abstract," Stansbury says, "when you sit down to have a serious discussion with potential donors, you will be amazed by the huge array of ideas, sometimes so many ideas that it's hard to get back to the general focus. It takes incredible focus, a laser-sharp ability to hone in on a central message."When I ask her what the Atlanta museum's central message is, she comes back to a favorite phrase that the place offers "level ground" for people from any political leaning or background. "The most important thing about the museum," she says, "is we do not throw a flag in your face and tell you what patriotism is."They try, instead, to evoke an emotion. Snider figures that you can't inspire with objects or images, but only with stories about other people, like that of Rick Rescorla, the head of security for Morgan Stanley in the South Tower of the World Trade Center, who ushered almost all of the company's 2,700 employees to safety before dying in the building. Patriotism is an emotion, Snider says, and citizenship is what you then do with it.
What is patriotism?
muses the four-minute introductory video that opens the museum. Several images follow: George W. Bush yelling into a bullhorn at Ground Zero; that iconic statue of Saddam Hussein falling in Baghdad; Barack Obama speaking at his inauguration in January. The video never answers the question, instead inviting visitors to define their own responses inside.Before the clip loops back on itself, several famous quotes are projected onto the screen from leaders like Bush, Abraham Lincoln, and Theodore Roosevelt. The best, however, comes from John Updike. "America," he said, "is a vast conspiracy to make you happy."On the other side of the curtain, the exhibit hall opens into a kind of free-association on the theme: America in entertainment, America in the armed forces, America at the Olympics. This isn't supposed to be a history museum, although some of the exhibits offer history lessons. Nor is it really a military museum, even though America-at-war (at least some wars) is an obvious source of the emotion Snider wants to draw out.There are replicas, each several feet tall, of Mt. Rushmore, the Statue of Liberty, the Lincoln Memorial and the Liberty Bell. Interactive kiosks troll through the history and traditions of each branch of the military. Under the headline "Patriotism in Entertainment," a spread of photos and album covers centers on Lee Greenwood, a man who appears repeatedly in outfits made out of American flags. (A museum employee clarifies that he is a country music singer who "has pretty much made his career off singing patriotic songs.")This strikes me as a very Republican thing to do with yourself. But for every sign of encroaching conservatism, there is a liberal antipode. Off in one alcove is a Hall of Patriots, commemorating Americans who have variously "put service to others above service to self," including both Ronald Reagan and J.F.K. Helen Keller is there, and although this isn't mentioned on her plaque, she grew up to be something of a radical socialist. Martin Luther King, Jr., Rosa Parks, and Jackie Robinson are all included: a predictable cast of characters. Then there is one Georgia boy, named Desmond Doss, who was the first conscientious objector to receive the Medal of Honor (he was a medic in the Pacific during World War II).In other exhibits, even some of the harsher moments in American history are recast with optimism. September 11 is presented as the tragic event we rose above to become "One America." Ellis Island is evoked as the gateway of hopeful immigrants, as Neil Diamond sings "They're Coming to America" from a speaker nearby.The museum is so apolitical and feel-good, mirroring the dictionary definition of the word more than its messy application throughout history. There are no controversial Dixie Chick appearances, no scenes of civil disobedience as patriotism, no cautionary tales of past patriotic intentions gone awry. Visitors, the museum suggests, should fill in the details on their own. And then, Snider hopes, people will be moved to some kind of unspecified action."My one wish for everyone who comes through this museum," says a board member on the video that ends the tour, "is that you look inside yourself and examine what do you do, no matter how large or small that is, to celebrate America and make it a better place for all of us to live."This seems like a reasonable request. But what happens outside the museum when we disagree on how a "better" America should look? I think America would be a better place to live if it had single-payer health care, but I keep thinking about that woman at one of the town hall meetings over the summer who literally sobbed at the thought of such a thing. This country is becoming "not my America," she said. "I want my America back."
The museum is so apolitical and feel-good, mirroring the dictionary definition of the word more than its messy application throughout history.
The painstaking bipartisanship
in the place is intentional (Snider is registered with a party, but he wouldn't say which one), as is the "celebrate America" tone that, for the most part, stops shy of celebrating America at the expense of other countries.In all its inoffensiveness, Stansbury says, the museum isn't trying to define patriotism to mean nothing, but to elevate it above the fray. She's deeply sincere about the topic. She even signs her emails "your partner in patriotism." It's hard to argue with how pleasant her and Snider's interpretation of the word is, but I tell her what troubles me is more patriotism in practice.In practice, those who define it through dissent often collide with people for whom patriotism means giving government a permanent benefit of the doubt. In practice, we go through moments in history-maybe this is one of them-where our visions for a "better America" are so divergent there's nothing unifying about the quest at all.Stansbury says her first encounter with patriotism occurred when her older brother returned from Vietnam. "He came home in a taxi cab, without his uniform, by himself. He wasn't greeted by a parade, there was no fanfare," she says. "The taxi driver spit at him, threw his money back when he tried to pay, called him a baby killer and drove off." At 7 years old, she didn't get why he was not welcomed home a hero.Vietnam protesters may have been agitating for their vision of a better America, too, I suggest. But in the process we sometimes become each others' collateral damage. Stansbury agrees dissent is one form of patriotism (she points to the "tea party" movement as a model for peaceful protest). But in the world envisioned by her museum, we would always remain respectful where we disagree.This is hopeful but perhaps not terribly realistic. I try to imagine a museum that would treat the topic like a wholly dispassionate observer, one that would also explore unpleasant stories like Stansbury's about her brother. But such a place probably wouldn't accomplish what Snider and his National Museum of Patriotism are going for."Let me ask you this," Snider says to me. "When you left the museum, did you feel better?"Because this is what he hopes will happen.
Photo by Robert Kimberly.