Articles
The Race for the Most Ethical Water Bottle
The market for sustainably-branded products is more competitive than ever. Bring on the buzzwords.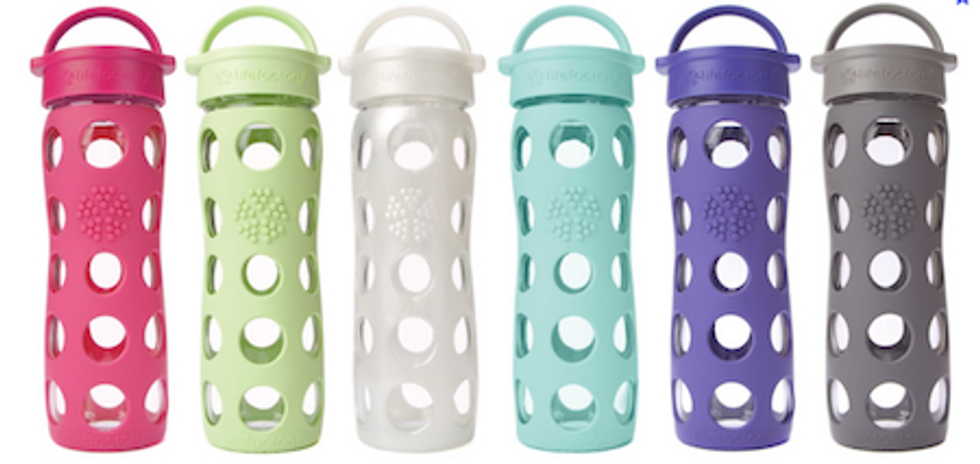 The recession has encouraged us to cut our frivolous spending. Environmentalism has encouraged us to cut our frivolous waste. The result? The market for sustainably-branded products is more competitive than ever.
---
Take, for example, your options for purchasing a sustainable water bottle. Consuming water may seem like one of the simplest human functions, but each hydration delivery system in the crowded eco market offers a different environmental pedigree. My Eco Can advertises its "reusable, earth-friendly can made from corn-starch based polylactic acid." The Eco-Canteen is a "BPA free, food grade stainless steel carabiner" that's "made in a sustainable manner in China." The Rive's glass water bottles "combine fashion, function and sustainability" and are free of BPA, phthalate, PVC, cadmium, and lead. A portion of H2OMG's sales go toward making "clean water a reality for families in rural india." Lifefactory cuts to the chase: It claims to make the "purest water bottle on the market."
When I get on the phone with a Lifefactory rep, she admits that more investigation may be necessary to anoint Lifefactory the definitive "purest." But that's the point—the sustainable water bottle market is so crowded, its terms advancing so quickly, that the consumer needs to be extraordinarily well-informed to keep up with who's on top.
Lifefactory, which is based in San Francisco, provides an extensive eco-resume to back up its claim. The bottle is "specially made in France." It's the "first reusable glass beverage bottle that is free of toxins and BPAs." Virtually "every part of its construction is recyclable—even the plastic cap," and is "designed to last a life-time." The bottle provides a "fresh clean taste, and absolutely no chemical leaching." Aesthetics come into play, too. The bottle has an "intelligent glass design." Its co-founders "explore the mystery of color" to help you find which hue "best matches you."

The company's "main priority is developing the healthiest products possible for families," a spokesperson tells me, and its "reusability is considered an ecological advantage over the many disposable options that currently dominate the bottle market." But in this sea of eco-friendly bottles, communicating Lifefactory's real advantage to consumers requires the company to deploy a host of increasingly complex buzzwords, from "toxin" to "BPA" to "chemical leaching" to "France."


"Our customers already understand the benefits of going reusable," a Lifefactory spokesperson says. They "tend to be very well informed and demand a high level of transparency from the brands they bring into their homes."
The more sophisticated the water bottle drinker becomes, the more eco credibility a sustainable company must lock down to win their business. It's not enough to claim to be "recycled" or "reusable" or "sustainable" or "eco-friendly" or "pure" anymore—the most informed drinkers want to know whether their bottles are made with "polypropylene (pp#5)" or not. Transparency is a positive trend, but full disclosure isn't for everyone. The risk is that more casual earth-friendly consumers may be alienated by the flurry of buzzwords and just end up refilling the same mason jar—a form of eco-consumerism they implicitly understand.