Articles
The Rise of the Agrepreneur
A talk with Ben Hewitt, author of The Town that Food Saved, about what your town can learn from Vermont agriculture. Hardwick is a former...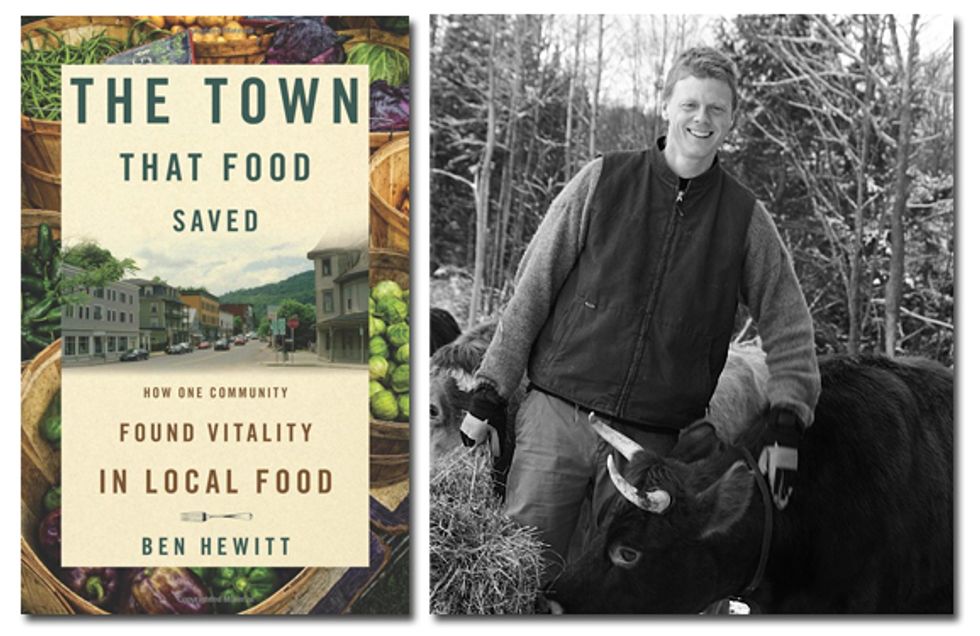 \n
A talk with Ben Hewitt, author of
The Town that Food Saved
, about what your town can learn from Vermont agriculture.
Hardwick is a former granite town with one-traffic light, a hardscrabble Vermont town of 3,200 with a median income well below the state average and a 40 percent unemployment rate. It's being rebuilt by articulate young agricultural entrepreneurs (who Hewitt calls "agrepreneurs"), who are rebuilding the area's economy with sustainable, local food production—at least that's what has been said in The New York Times and on "Emeril Green."

Ben Hewitt is a writer who lives a couple of miles outside town. His thoughtful new book, The Town That Saved Food, introduces the town's chatty cast of rising agrepreneurial all-stars—Tom Stearns of High Mowing Organic Seeds, Pete Johnson of Pete's Greens, Andy and Mateo Kehler of Jasper Hill Farm—and adds some healthy skepticism about local agriculture in a place where some locals opt for Chinese over the community supported restaurant.

I spoke with Hewitt from his farm in Vermont.

GOOD: Do you think Hardwick is really the town that saved food?
Ben Hewitt: In some ways, that's closer to the truth than the title of my book, The Town That Food Saved. I grew up on the periphery and Hardwick was always presented as this town that needed saving. When I start hearing about this food-based infrastructure and activity going on in town, I was like, "Wow! They're going to bring all these sort of vitality to town and yes, this is the town that food saved!" That has been the prevailing rhetoric in the national media. Then, I got into the story and realized it was more complex. People have a strong sense of community in Hardwick, there's a lot of interconnectedness and a lot of pride. Hardwick is probably the last place that needs saving.

G: The town also seems to be part of a larger trend, where people with a six-figure liberal arts educations want to get back to their land.
BH: The agrepreneurs were held up as saviors of the town. But people have started to push back. "What about all these other businesses—these small-scale farms and food businesses that's been going on here for years or decades?" And they've started to realize that the more they can connect themselves to what's been going on in town historically, it's probably just better for everyone if they don't talk about this as something new and different.

G: You write that two traveling butchers running around in their Chevy with guns and knives and Molson's may be a prime example of the local food ideal.
BH: We're in the midst of a real shift in terms of how we talk about prosperity. Historically, it has been based on this metric like unemployment or median income or GDP. I don't think they'd ever really done a really good job of telling us what a vibrant prosperous community really is. I'm intrigued by the way in which these communities like Hardwick struggled economically but are really, really tight knit and have that sort of sense of community that's lacking in some larger, more economically vibrant regions. I spent a lot of time thinking about these communities that, I think, from the outside, may look like they're impoverished, but are actually really, really rich.

G: Hardwick is very rural place. Won't the town that food saves be more integrated with an urban area?
BH: There's a really significant urban agriculture movement out there, but my whole life has been spent in rural Vermont. It seems clear to me that the greatest challenge and probably the most work is figuring out ways to import these rural systems to urban centers.

G: So Hardwick isn't the new agricultural utopia?
BH: The last thing I want to do—for reasons both personal and because it would be dishonest—would be to tell everyone that they should rush out and move to Hardwick because of this perfect thing that's going on. I think the real power in what's going on there is people pick up [from Hardwick] what they want to instill in their own community.

G: What will it take to sort of replicate these efforts?
BH: Every town should have some sort of composting program just like every community should have recycling depot and a fire department. The much harder question is how do you sort of foment the cultural atmosphere to create this. What happened in Hardwick was that the area is imbued with a culture of agriculture. Tom Stearns told me the biggest thing they are exporting is inspiration. I'm like, "Yeah, whatever, dude." But, I've come to change my mind on that. Inspiration is probably just as critical, if not more critical, than the actual people's understanding of what a healthy food system looks like. We've seen how the rug has gotten pulled up from under us. All of these things that we thought were real, like the eight percent returns. I think people are absolutely ready to do something that really feels tangible even it requires getting dirty and sweaty.


























---