Articles
From foraging to First Lady's anti-obesity campaign, the year in good eating, drinking, and thinking.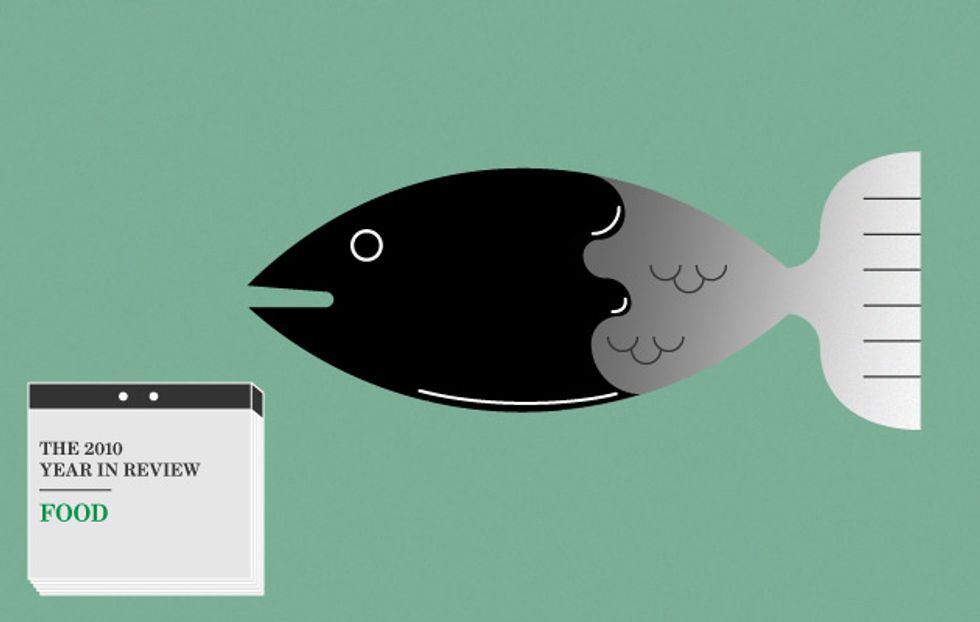 Looking back on 2010, many trends from the last
decade in food
continue—more food safety recalls, ongoing fights about raw milk, the country's ever-expanding waistlines, and the trend towards large farms getting larger and small farms getting smaller.
This year, though, food politics took center stage in Washington D.C. with Michelle Obama's Let's Move campaign and Congressional action on a long-awaited food safety bill. School lunch became a cause célèbre and the subject of some entertaining TV. Across the country, Happy Meals, salt, soda, and alco-speeds all came under fire. 2010 also marks the ascendancy of foraging and food trucks, molecular gastronomy's move to the Academy, and the end of mediocrity (I hope). Here are some of the events worth thinking about—and maybe even revisiting—next year:
---
January
Initial shots in the war on salt are fired, beginning with New York City's Salt Reduction Initiative.
Super Bowl XLIV pitted the Saints against Colts. Around the same time, Bon Appetit declared one the year's top beer trends: the micro-brewed can revolution.
Forbes releases its January issue with Monsanto named the 2009 company of the year, something the magazine regrets by October as the company's stock plummets and its newest seeds fail to perform as expected.
February
First Lady Michelle Obama launches Let's Move, an initiative to cut childhood obesity or, as Tea Partiers like to say, the plot to force children to eat green things, like salads.
The TED conference happens. Speakers include chef Dan Barber, designer Christien Meindertsma, livestock researcher Temple Grandin, and chef Jamie Oliver.
March
The United States passes health care reform, which has a provision requiring restaurants to post mandatory calorie counting.
Jamie Oliver makes his debut on ABC's Jamie Oliver's Food Revolution, wherein the celebrity chef attempts to makeover the nation's fattest city, Huntington, West Virginia, with his boyish charm, gross-out stunts, and home cooking.
Monitoring programs for certifying organic foods are a joke, or at least they're under-performing according to the USDA's Office of the Inspector General.
At a meeting of the American Chemical Society, scientists report that queso fresco is not being properly refrigerated.
April
The Deepwater Horizon Gulf spill closes down fisheries and oyster beds, putting a damper on Gulf seafood consumption and ushering in a yearlong marketing blitz.
Restaurant noma in Copenhagen becomes the world's greatest restaurant, at least according to the judges of San Pellegrino World's 50 Best Restaurants Awards 2010.
Amtrak tests out the Heartland Flyer, a train running on a blend of diesel and biofuel made from rendered beef tallow.
KFC introduces the Double Down, a bacon-cheese sandwich stuffed between two chicken patties in lieu of buns, which is actually dwarfed by the caloric content of other fast foods.
May
Washington, D.C. rejects a tax on sugar-sweetened beverages.
In the battle between Food52 v. Cooks Illustrated, the print publication comes away the winner in both the pork and cookie category.
About 150 people get sick in the first wave of reports leading to this year's big salmonella outbreak and egg recall.
June
Disgraced lobbyist Jack Abramoff is discovered working at a kosher pizza joint in Baltimore.
Police in California raid Rawesome foods, part of an apparent crackdown on unpasteurized, raw milks and cheeses.
July
Lindsay Lohan sets off her ankle bracelet. Simultaneously, kombucha gets yanked from store shelves. So while the two are initially conflated, they're not really related.
Scientists report that shrimp are dying en masse after mistakenly heading for light after ingesting trace amounts of the antidepressant drug Prozac.
Gourmet is back from the dead. Sort of. Now, the food magazine is an iPad app called Gourmet Live.
August
Kellogg recalls some of its cereals because of off-flavors.
The MacArthur Foundation awards etomologist Marla Spivak a genius grant for her work exploring Colony Collapse Disorder.
Sally Davies photographs a McDonald's hamburgers and finds that it didn't age for 137 days (although one chef says that's true for all-beef burgers made at home).
September
AquaAdvantage, a genetically engineered salmon invented in 1989, continues to make waves as the Food and Drug Administration nears approval of the nation's first transgenic animal approved for human consumption.
Lady Gaga wears a flank steak dress for Vogue Hommes and the meat-centric theme that would later manifest itself in a speech about equality being the "prime rib of America."
Harvard offers Science of the Physical Universe 27, a science and gastronomy class bringing a star-studded cast of speakers and mobs of curious cooks.
The Corn Refiners Association rebrands High Fructose Corn Syrup as "corn sugar."
October
An unattributed image of a ribbon of pink meat resembling strawberry soft-serve swept across the internet. It turned out to be a mechanically separated chicken, an ingredient in chicken nuggets and Slim Jims.
November
San Francisco requires meals to meet certain nutritional guidelines if restaurants want to include a toy, effectively banning the cheap plastic things that come with McDonald's Happy Meals.
Digital vigilantes kill off Cooks Source, a niche food publication that Regret the Error credits with bringing us the most regretable error of the year.
The New Yorker features fermented foods guru Sandor Katz, signaling the ongoing popularity of "high" meat and microbiology for the masses. Well, maybe.
December
Four Loko gets the Prohibition treatment on December 13 as the FDA cracks down on prepacked, caffeinated alcoholic energy drinks.
S. 510, the first food safety overhaul in 72 years gets approved after decades of recalled spinach, beef, peanuts, and eggs.
There's still time to nominate a journalist for a James Beard Award. In 2011, the foundation also introduces awards for healthy and sustainable food visionaries.