Articles
Ten food stories you should read this year (or next year).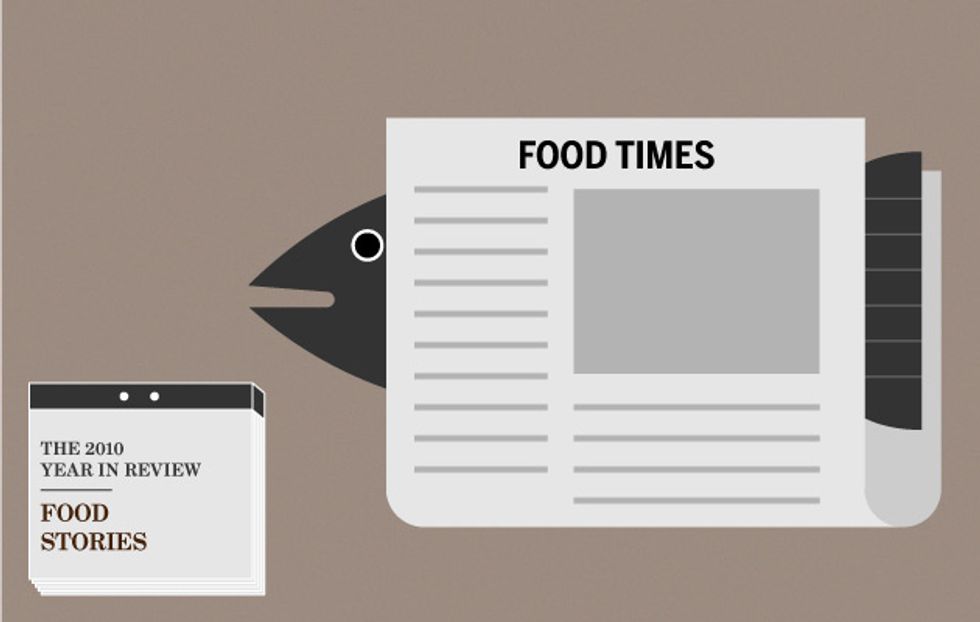 Recommended year-end readings about food. Goes well with
Instapaper
.
"Stung from Behind" by Nathanael Johnson in Conservation Magazine
Beside pesticides, cell-phone radiation, and colony collapse disorder, there's another problem lurking in the produce aisle. It's called the pollinator crisis.

---
"Secret of AA" by Brendan I. Koerner in Wired
The enigmatic success of Alcoholic Anonymous and its 200-word instruction set is especially impressive since no one is quite sure how the decentralized network actually works.

"Food Movement Rising" by Michael Pollan in The New York Review of Books
Food is no longer an invisible issue and the food movement's guru-in-chief rounds up the latest books. And issues a call to arms, of sorts.

"Consider the Oyster" by Christopher Cox in Slate
Since oyster farms don't have inflict much collateral damage and since it's extremely improbable the briny little bivalves feel pain, even vegans should consider eating them.

"Fire in the Belly" by Suketu Mehta in Saveur
A naga jolokia-laden batch of chili proves life-affirming to the Indian author in more ways than one.

"How French Laundry's Chefs Reach for the Stars" by Sophie Brickman in the San Francisco Chronicle
Behind the kitchen door of one of the nation's four-star kitchens, restaurants are Googling customers who make a reservation and cooks are careful not to waste fresh-picked baby zucchinis.

"Slowed Food Revolution" by Heather Rogers in Prospect
Farmers endure hardships, but organic growers face higher production costs when it comes to everything from laborers to land. And without meaningful support from Obama, they might not survive.

"Mystery Travelers" by James Prosek in National Geographic
Fish got their due this year in Four Fish, but the world's eels—and consequently, kabayaki—are also in peril. Scientists know they migrate from freshwater to open ocean, but no one has figured out where or how they spawn.

"Glacial Terroir" by Nicola Twilley in Edible Geography
Scientists who study ice cores sometimes drink melted ice cores and climate researcher Paul Mayewski explains the unique geographic time and place he can taste in an effervescent sample of 2,000-year old water.

"Eat No Evil" by Alan Richman in GQ
After a month-long journey into ethical enlightenment, the author discovers Mokum carrots, a possible alternative to compulsory military service (killing chickens), and just how difficult it is not to eat like an asshole.