Articles
A City Education: Going Back to Basics Is Key to Achievement
A City Year Los Angeles corps member discusses the importance of going back to basics with struggling readers.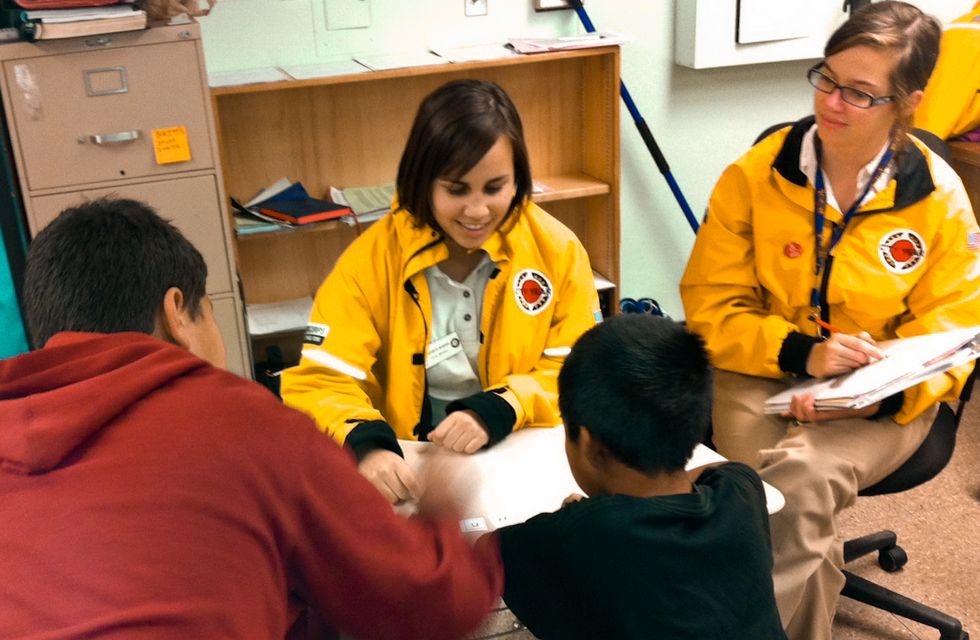 In our A City Education series, two City Year corps members share their experiences working as tutors and mentors in schools in hopes of closing the achievement gap and ending the dropout crisis
---
At the start of the school year I played the name game with my middle-school students. I remember trying so hard to remember all of their names and the animal they picked. I also used the animal choices to get a glimpse of their personalities. One student named himself George the Gopher—he stood out because he was so adorable, bubbly, and excited to be at school.
Three months later, I know more about each student's distinct personalities, work ethics, social lives, and home lives. Most importantly, I've been able to asses what each student needs help with academically. I just turned in a "focus list"—a list of the 10 students at Markham Middle School who I will be working with intensively this year.
We're planning interventions for our focus students on specific subjects and academic issues. We analyze student data, create a weekly tutoring schedule, and incorporate California state grade-level standards in our lesson plans. Finally we track the amount of time we spent with each student per week. I tutor these students both in and out of class in small groups or one-on-one. George is on my focus list.
It's overwhelming to think about how far behind George and his peers are—many are only reading at a third-grade level. I know they can't fully understand what they're being taught in class because they still need to work on basic academic building blocks like spelling and reading comprehension. Even though they have strong oral vocabularies, they can't use the words they know because they can't spell them
Since most of my focus list students speak Spanish as a first language, they confuse English vowel sounds and sometimes spell words based on Spanish spelling rules. That means when I work with them, I have to go back to basics so they can get a full grasp on the English language sounds and letters. If they can develop phonemic awareness, they'll be able to read faster and be able to comprehend what they read. But I'm not an English teacher, so figuring out the best methods to help them is a challenge. That's where support from City Year helps.
Last year my City Year team leader, Lauren, taught one of her second graders to read with a picture phonetics system she created after researching education theory. Lauren shared it with me and taught me how to use it. I show the students a picture and then they have to spell it with letter cutouts. So far, my students have been receptive to the puzzles. George gets excited whenever I take him out of class, asking, "Are we doing those word puzzles? I like those!"
His excitement and motivation to learn motivates me. I know that if we keep working at it, by the end of the year George—and the rest of the students on my focus list—will be able to understand what's going on in class, read more fluently, and spell words correctly.
Photo courtesy of City Year