A Little Goes a Long Way
Why microfunding may mean big changes for education.
06.05.10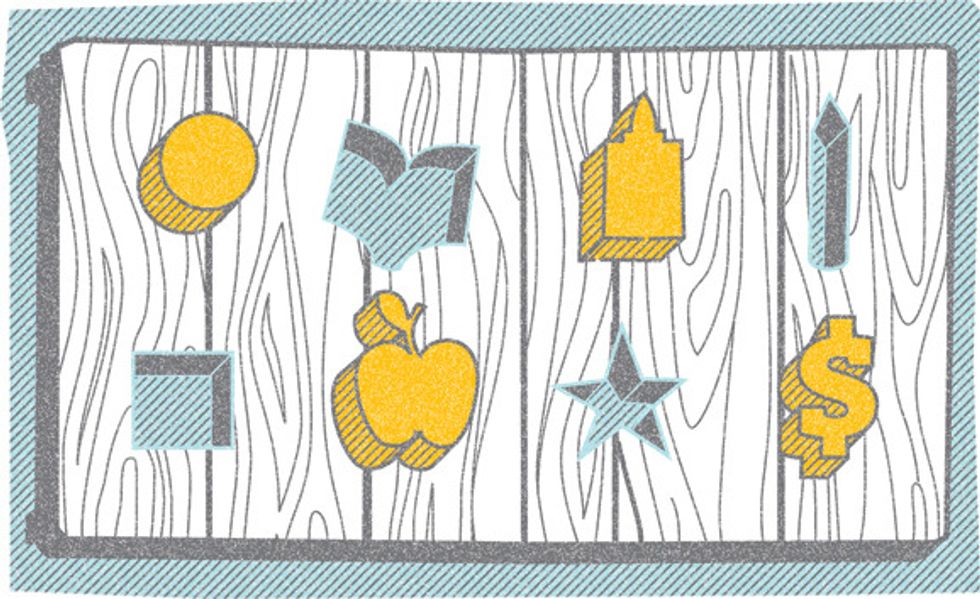 Why microfunding may mean big changes for education.
---
You might call it a hidden tax on teachers: In 2005, the United States' 3 million public school instructors each spent an average of $396 of their own money on classroom supplies, according to the National School Supply and Equipment Association. What could they possibly be buying for a combined $1.2 billion a year?

A quick visit to DonorsChoose.org, a website that connects teachers in need of learning materials with everyday people willing to make small donations to pay for them, reveals the answer: Books, balls, whiteboards, cameras, paint, pencil sharpeners, pencils—you name it, they need it.

In 2000, Charles Best founded DonorsChoose during his first year as a high school social studies instructor in New York's South Bronx. What began with requests from Best's colleagues, has since become a national nonprofit that handles $17 million in donations each year. For 2010, it expects to distribute gifts from 100,000 donors (or "citizen philanthropists," as DonorsChoose likes to call them), making it the most visible example of a new approach to supporting education in the United States—and one that has the potential to make every American an individual stakeholder in our nation's schools.

The website uses the same peer-to-peer approach that has made social networking sites like Facebook and Yelp such a success. Teachers begin by requesting supplies for a desired project and then the organization vets and posts them online, where visitors to the site help fulfill them. Once a request is fully funded, the nonprofit purchases the materials and delivers them to the teacher. The teacher then sends back pictures of the project in action, a cost report, and thank you letters from the class, all of which are passed along to the donors, whereby creating a nearly direct link between the classroom and its benefactors.

Called microphilanthropy, for the small amounts of money being exchanged, DonorsChoose's strategy is similar to that of other microfinance organizations that let ordinary people offer tiny loans to budding entrepreneurs. This model will soon be applied to education costs in the United States as well.

Kiva, a microfinance group best known for facilitating loans for people in developing countries, began serving the United States in 2009, and will offer educational loans to teachers, students, and schools in the second half of this year. And public schools aren't the only ones who will benefit: Last year the nonprofit UniThrive launched a beta website linking Harvard undergraduates seeking interest-free loans of up to $2,000 with the institution's alumni, as an alternative to supporting their alma mater. It plans to expand to other colleges in the near future.

The interactive experience is a key to their draw. For instance, at UniThrive, lenders stay in contact with the students they're supporting and can become mentors to them. At DonorsChoose, citizen philanthropists can create personal pages featuring their favorite causes. And to further widen its social web, DonorsChoose is now working on applications that weave its tools into Facebook—yet another way for donors to relay the impact of their gifts to friends and colleagues.

DonorsChoose has also succeeded because its platform makes raising money easy for other fund-raising initiatives. Over the past few years, nearly half the local chapters of Mustaches for Kids, an annual campaign based on the walk-a-thon model, where men leave their upper lips unshaven during the weeks between Thanksgiving and Christmas, have chosen classrooms on DonorsChoose as beneficiaries. "The site's web functionality makes it much easier to solicit donations," says Mitch Goldman, one of Mustaches for Kids' national coordinators. "The year our New York chapter started using the site and donations doubled to $60,000."

But the true impact on education of DonorsChoose and other models is by opening up the channels of philanthropy and microfinance to the masses, whose success may ultimately be measured in degrees of social transformation rather than dollars.

"When people get photos of the classroom and letters from the students that they've helped, they feel an almost familial relationship with them," says Best. He hopes this feeling will further inspire political change. The majority of the site's donors have never given to public schools before, and 60 percent say they are more interested in education reform as a result of their experience.

"For many, people this is their first vivid, tangible encounter with the serious shortfalls in public education in low-income areas," says Best. "We hope we're turning out hundreds of thousands of people who feel a personal relationship with students and teachers in these schools, have felt the power of making a difference, and will demand change from their elected officials as a result."

Illustration by Parliament of Owls.

Articles