Articles
A New Cafe on L.A.'s Skid Row Serves Crafts, Coffee, and Community
A new store and cafe in Skid Row houses the creative work of formerly homeless women from the Downtown Women's Center.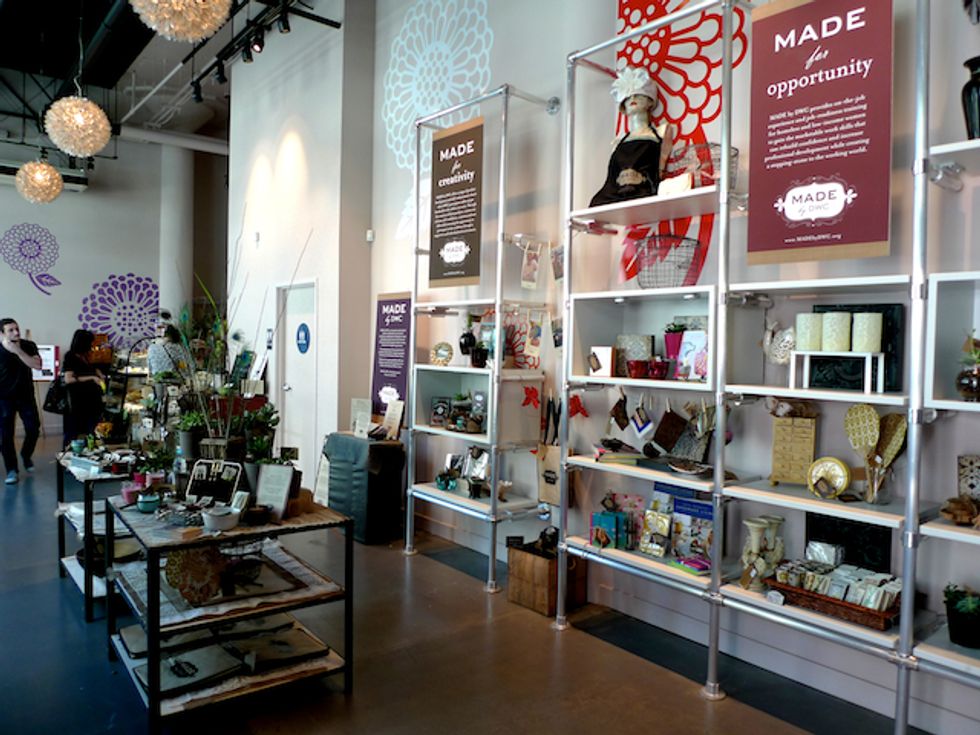 As they wait for their blended iced mochas, two Los Angeles women browse tables of dangly earrings made from upcycled beads, soy candles nestled in vintage teacups, and coin purses made from fabric remnants. But this charming retail scene is not unfolding in Beverly Hills, or Pasadena, or even Silver Lake. It's at MADE by DWC, the new retail initiative of the Downtown Women's Center, and it's happening among the shelters and missions in the heart of L.A.'s Skid Row.
---
The only organization that exclusively serves homeless women in downtown L.A., the DWC recently moved into a beautiful 1920s building with 71 new housing units and serious retail potential. Capitalizing on this new space, the DWC transformed the ground floor into a bright landmark for the block, with a cafe and store. A team of formerly homeless women make the store's unique handmade products, serve the cafe's food, and keep the shop running—and all proceeds go directly back to the center.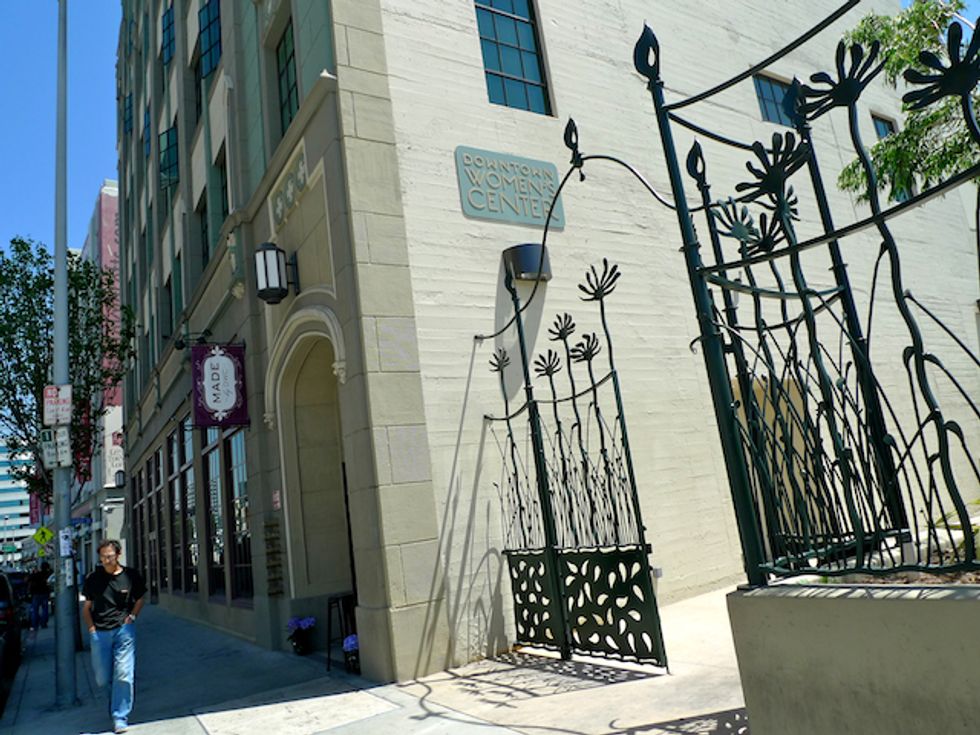 The DWC's social enterprise program was started five years ago to help the center's women develop business principles, a sense of social responsibility, and environmental awareness, says Annah Mason, social enterprise coordinator. Workshops taught by local artists and designers, like social design group Project H, help teach the women valuable skills and give them a creative outlet. In addition to creating the products, DWC women do the store's merchandising and inventory, thanks to training from Bloomingdale's Century City location. "They have work experience, they've just been disconnected," says Mason of the women at DWC. "It's amazing to see the light come back."
The store itself was designed by David Magid and takes advantage of the huge, loft-like windows and extra-high ceilings that flood the space with light. Attractively arranged among the creations by DWC's women are other items including housewares, stationary sets, craft books, and even antiques—all donations, says Mason. They're still looking for more donations, including products that will fit the boutique's DIY-market-meets-hip-thrift-store theme. In fact, she'll gladly take your grandmother's china that's gathering dust in the basement. "If you feel sentimental about something but don't need it anymore, we will turn it into something," she says.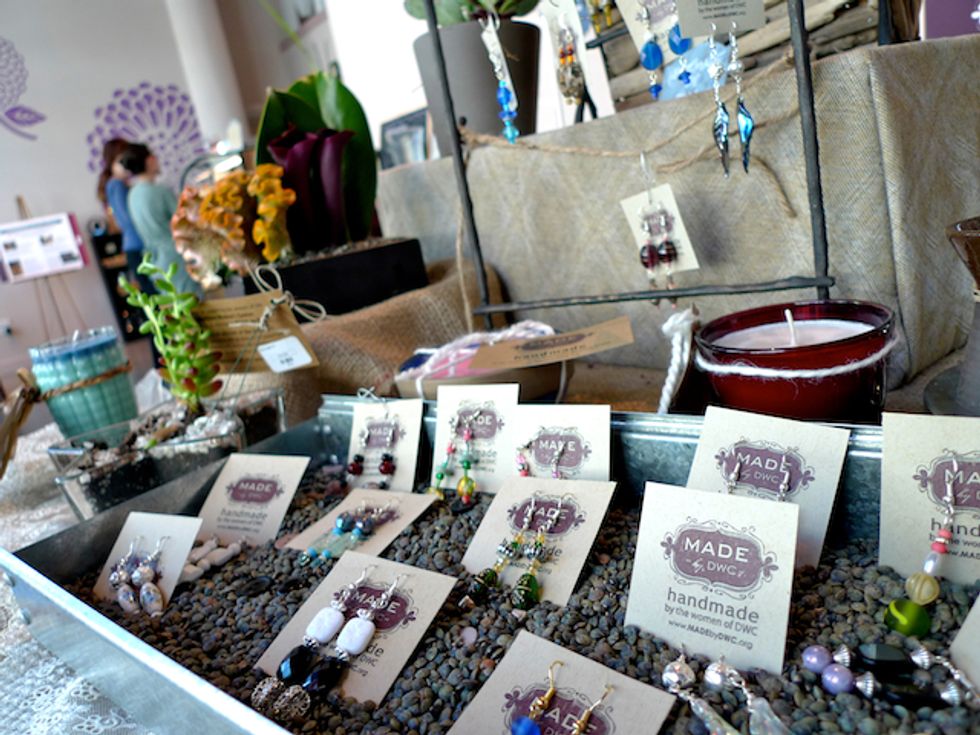 MADE by DWC also serves reasonably priced pastries and salads from Tiara Café and coffee from downtown roaster Groundwork—a bid to bring in a diverse clientele from the surrounding neighborhood. "There's good interaction between different socio-economic groups that wouldn't happen on the other side of the glass," says Mason. Surrounded by both artists' lofts and missions, MADE is uniquely positioned to make those connections. And although people from other parts of the city may be hesitant to come to Skid Row for coffee and shopping, the area is home to a real community, says DWC's director of communications Patrick Shandrick. "It's a lot more close-knit than other neighborhoods."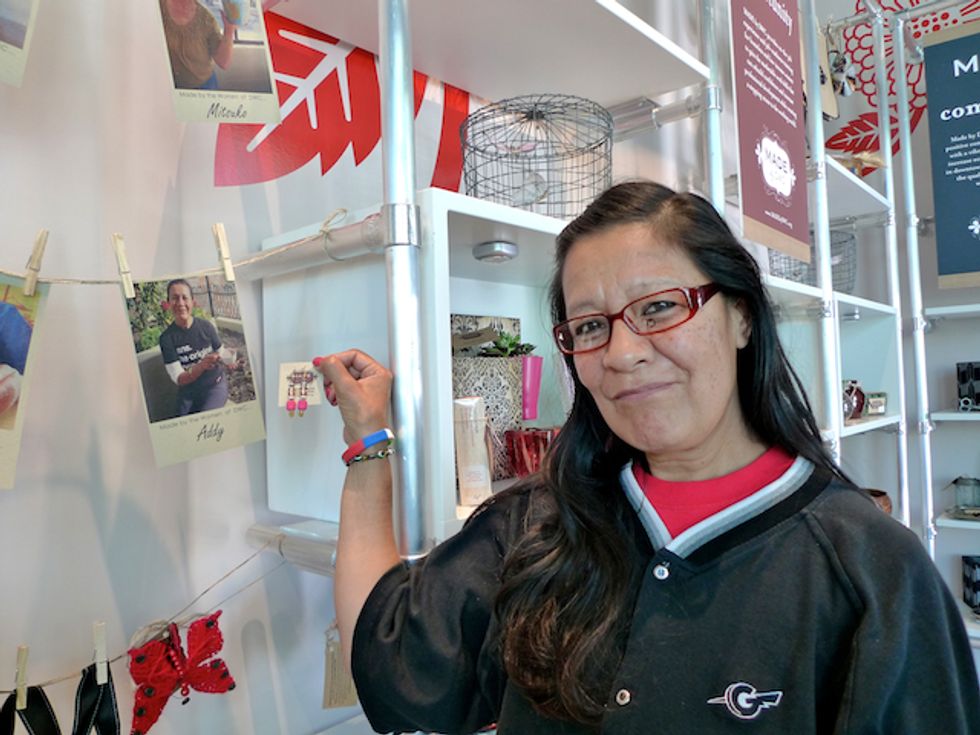 That sense of community shows as women and their friends start to wander into the store, admiring its wares. As a transplant from Chicago, Addy was homeless when she first started coming to DWC. "It really increased my self-esteem to take up something so analytic and challenging," she says of the workshops. Now Addy's off the streets and lives in a building nearby. "I am so grateful," she says. "It's a win-win situation." And while she's loved reinvigorating her creative roots, the experience has also helped her take steps toward her goal of eventually working in food—she's now taking culinary classes. "I want to train to be a barista," she says, nodding towards the cafe counter. "I love coffee."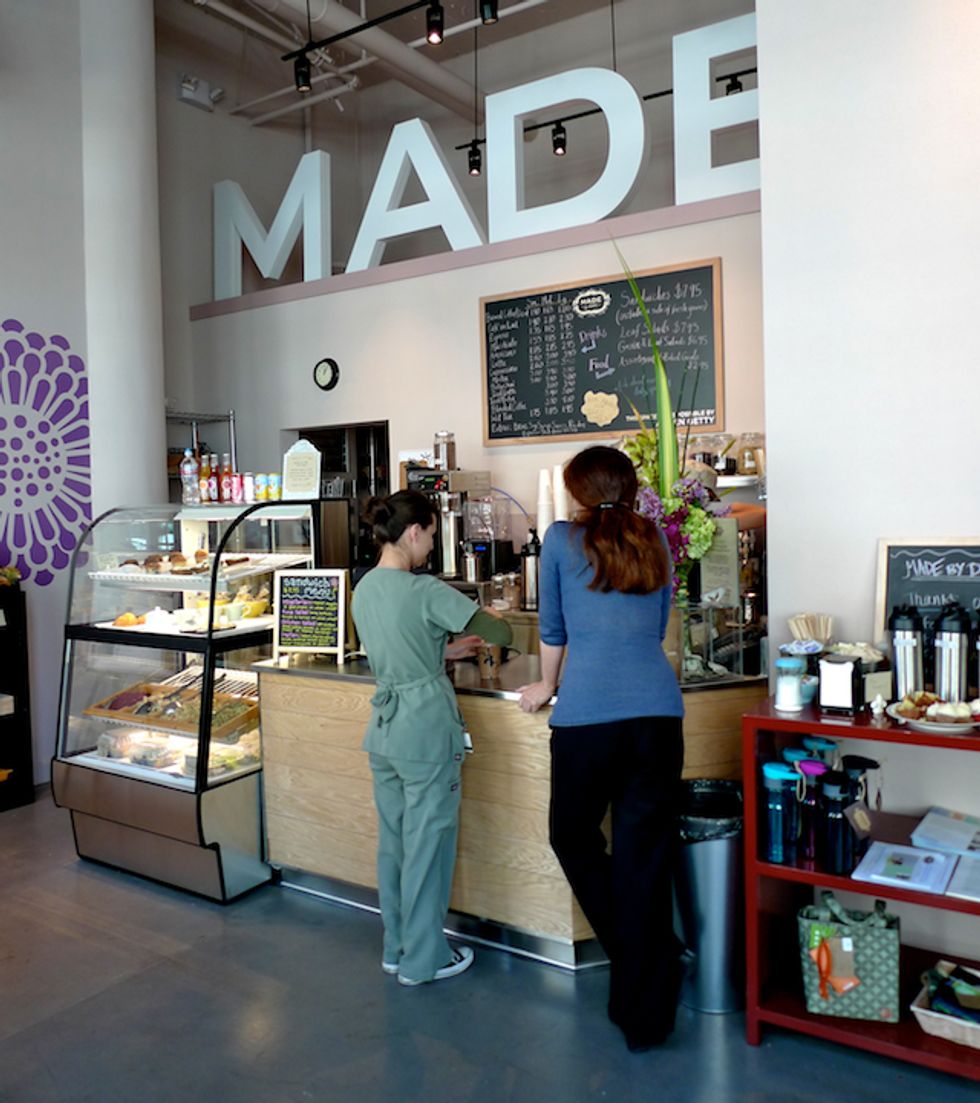 Still, not all the women at DWC believed they could create something attractive to outsiders. Diane, who has been charged with merchandising on the day of the opening, says she was doubtful of the creative potential of her fellow women at first—and unsure of her ability to confidently sell the products. Now she's convinced of both, she says, pointing to a pastel pink soy candle in a Fiestaware mug. "I am amazed by the wealth of artistic talent," she says in disbelief, shaking her head. "We're marketable!"
Live in Los Angeles? Sign up for our one-good-L.A.-thing-a-day email and become a member of GOOD LA. You can also follow GOOD LA on Facebook and Twitter.