Articles
A Relit Sign Heralds a Bright Future for Los Angeles's Highland Park
Turning the Highland Theatre's lights back on became a mission to restore symbol of neighborhood pride and a way to put this community on the map.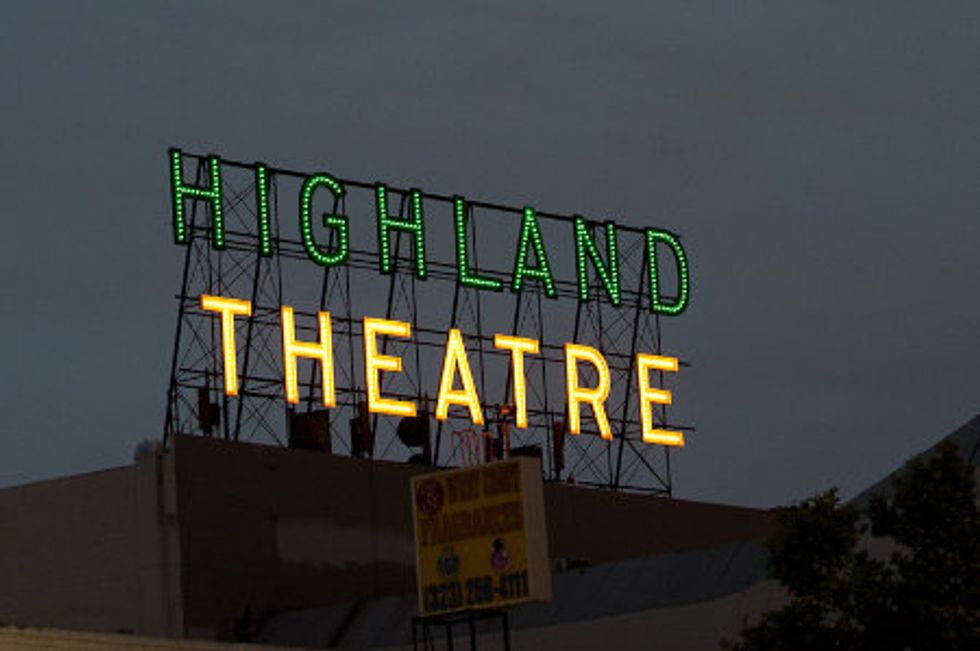 The sign had brightly proclaimed the location of the Los Angeles neighborhood of Highland Park since 1924, when the theater at its base opened. Seven years ago, however, the green and white lights flickered off, leaving the letters hanging dark in the sky in a slowly gentrifying neighborhood. To Amy Inouye, an artist whose studio is down the street from the theater, turning the lights of the Highland Theatre back on became not only a mission to bring back a symbol of neighborhood pride, it became a way to draw L.A.'s attention to this emerging community.
---
With other members of the North Figueroa Association, a business improvement district, Inouye looked for grants and city funding sources to bring the sign back, but they all fell through. The breakthrough came when they realized that the theater sat on a stretch of Historic Route 66. In January, they received a special grant from the National Park Service meant for preserving structures along the corridor, and came up with a plan for people to match the funds by "adopting" the sign at $19.24 per light bulb. "We raised the money so fast it was unbelievable," says Inouye, noting that the sign was funded by April. But it wasn't too surprising to Inouye. "That's how Highland Park operates. We're very community-oriented."
[youtube]http://www.youtube.com/watch?v=iBYsJXRX7kA
The sign might be lighting up the night now, but it still needs help. Maintenance costs will need to be covered, for example, especially to update the sign's antiquated wiring. Plus, there's a second sign covered under the grant, a neon sign for Manning's Coffee Store that sits atop Las Cazuelas restaurant. "We talked to a neon restoration guy and it's actually neon and opal glass—a very rare combination that dates back to the mid-1930s," she says. Currently a "T" and most of a "COFFEE" are still in need of adoption, at $66 per letter. Inouye says they hope to light that sign later this year.
Inuoye has her eye on a few more historic signs, which she thinks could help draw more urban tourists to explore the hidden gems in a neighborhood which is best known for its taco trucks. "Even if they just drive around and look at these signs, they'll start to see other things." Until then, Inouye suggests visiting the sign during Highland Park's Second Saturdays, when Figueroa's galleries and studios, including her own, Future Studio, are open to the public (and all accessible by the Gold Line). "People get the idea that we're this sleepy burgh but there's a lot going on here," she says. "We like it when people can see it's a fun, groovy community."
Live in Los Angeles? Sign up for our one-good-L.A.-thing-a-day email and become a member of GOOD LA. You can also follow GOOD LA on Facebook and Twitter.
Photo by Martha Benedict