Articles
A Video Series Giving a "Voice to the Voiceless" in L.A.
Filmmaker Sam Slovick wants to turn L.A.'s attention to the stories it might not want to hear about itself.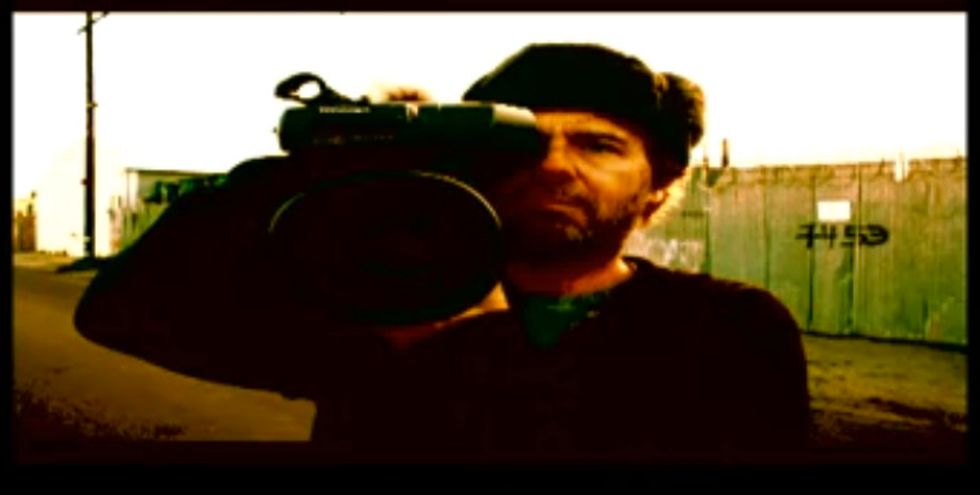 While most of us in Southern California stayed inside during the latest bout of unseasonably cold rain, Sam Slovick spent last weekend under a tarp. "I was with a lost tribe of homeless people in the Valley, a mother and son," he says. "They were shaking in a puddle, chilled to the bone. The police continually harass them. There was a guy with a bloody hole in his head, and stitches, trying to get a fork from his mouth to a styrofoam plate."
---
A writer and filmmaker, Slovick thinks it's important that people learn about Los Angeles' unglamorous side, too. His new series, Pavement, explores ignored communities across the city. "These are notes from the underclass and the opportunity for us all to take a look," he says. "If we're open to it."
Slovick has been giving a "voice to the voiceless" for years, covering underserved Los Angeles communities for magazines and newspapers, and producing GOOD's series on Skid Row, "Welcome to Los Angeles," in 2007. He may be the only person in Los Angeles who's telling these stories in quite this way.
For each piece, Slovick produces a video, writes a story published in the LA Weekly, and shoots a photo essay. "It's like I'm writing fiction but I'm not," he says about his rich, hyper-detailed language and visual style. Using an accessible, trans-media experience is how he gets the attention of people who are likely not thinking about L.A.'s hidden populations. "You have to seduce people into compassion," he says.
[youtube]http://www.youtube.com/watch?v=ZepSN1eW9TQ
In the fifth piece in his series, Slovick visited the Free Association of Anarchists, a youth justice group in South L.A. He met them at Chuco's Justice Center, part of Free L.A. High School, a school in the Inglewood neighborhood of L.A. that teaches social uprise and community organizing alongside science and math. "They know everything about the prison industrial complex and the war on drugs," says Slovick of the students. "They're empowered to take control and make change." But not in a violent way, he cautions. "These kids are 16 and 17 and they've read all the books," he says. "This isn't teens ranting, it's self empowerment."
Slovick, who now lives in Topanga, once lived in a loft on Skid Row, where he experienced firsthand the kind of treatment that L.A.'s invisible residents receive. "Skid Row is a scary place until you get out of the car and realize these are just people," he says. "When you approach them, you'll see how they're so disenfranchised."
He finds that his subjects are more than eager to share their experiences with others who might be willing to help. "The access is easy," Slovick says. "I show up with respect and say, 'I want to tell your story.' No one has ever said no."
Slovick hopes his work, as painful or uncomfortable as it can be to watch or read, can act as a go-between to help unify these disparate L.A. populations and spur both audiences into action. "There's a complete solution to homelessness,"says Slovick. "And it starts with awareness."
Watch Sam Slovick's latest Pavement video
Learn about the Free L.A. High School
Live in Los Angeles? Join GOOD LA and we'll introduce you to more people, places, projects, and events that are making Los Angeles work. Sign up here.