Articles
\r\nWhy aren't there more novels about America's workers?\r\nWhen I am looking for a smart discussion about literature in the books blogosphere, my...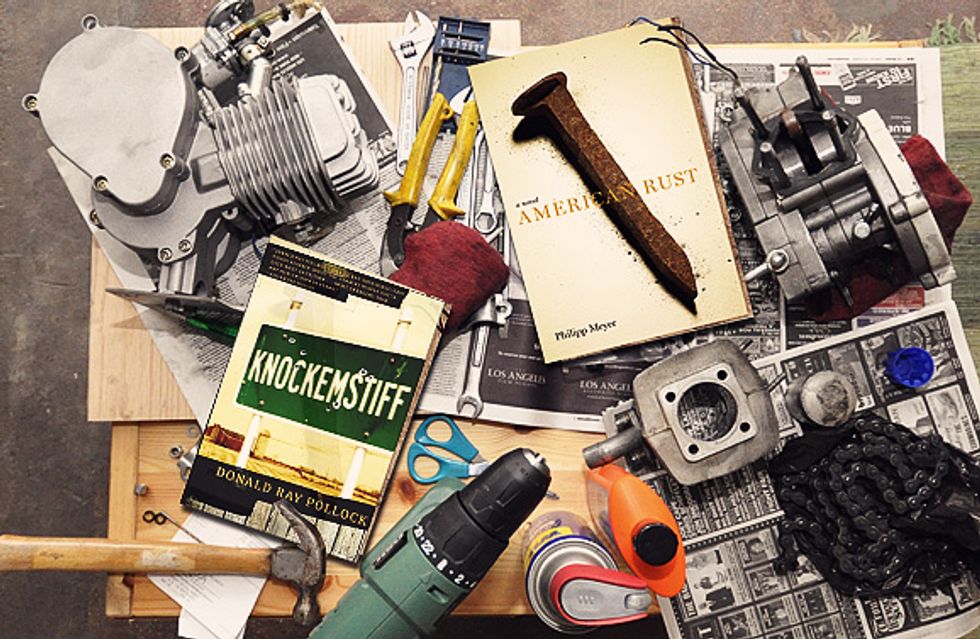 ---
Why aren't there more novels about America's workers?
When I am looking for a smart discussion about literature in the books blogosphere, my first stop is Mark Athitakis's
American Fiction Notes
. Earlier this week, Athitakis posted about an under-discussed topic in contemporary fiction, the role of class. In the brilliantly titled
"The Grapes of Mild Outrage,"
Athitakis wonders why there are not more depictions of the working class in contemporary American fiction. As he writes:
Perhaps it's not so much that there's a shortage today of good writers with working-class backgrounds-there's a shortage of good writers from any background, after all-as a shortage of writing about work itself, and about what 'working class' means today. Blame it on a hobbled American manufacturing base, or a fear that any writing about labor will become
The Jungle
; or, most likely, that work itself is a dull subject to write about. Regardless, American fiction about work is often fiction about finance and offices.
Athitakis notes some exceptions, including Stuart Dybek and Richard Price, and links to
a great roundtable discussion
by some notable authors from working-class backgrounds.
One the beauties of the blogosphere is that if you make a simple, smart observation like Athitakis has, one that follows the "Why are there so few X's in Y?" rhetorical template-you will garner examples of Xs in Ys. (Other examples of question that follow this model would include: Why are there so few women in Congress? Why are there so few movies about Jews directed by gentiles? Why are there so few low-fat doughnuts?)
A byproduct of pointing out a regrettable scarcity is a list of valuable resource. We turn the original question on its head, scratch our heads, roll the memory tape, and come up with items. Slowly, exceptions, which must be ancillary to the main issue-heck there are not enough books about working-class folks-get their moment in the sun. And thus without further ado (who could take it anymore?), here are three great recent novels depicting the contemporary American working class:
Last Night At the Lobster
, Stewart O'Nan. Set in a Red Lobster about to close down during a gray, cold winter.
Knockemstiff
, Donald Ray Pollock. An extraordinary book of stories about hard characters in a hardscrabble Appalachian town (Population: 0).
The Cleveland Plain Dealer
described it as a "great read about a bad place."
American Rust
, Philipp Meyer. About-you guessed it-a run-down steel town, and two men trying to figure out whether to stay or skip town.
Uh oh. This list, darn it, only makes me ask another "why are there so few x's in y?" question. You guessed it: Why are there so few working class novels about or by women? We are back where we started, but that's okay.