Articles
Apple's Brand at Stake as Customers Demand Better Labor Practices
Loyal Apple consumers call on the company to reform its supply chain before the launch of the company's highly anticipated iPhone 5.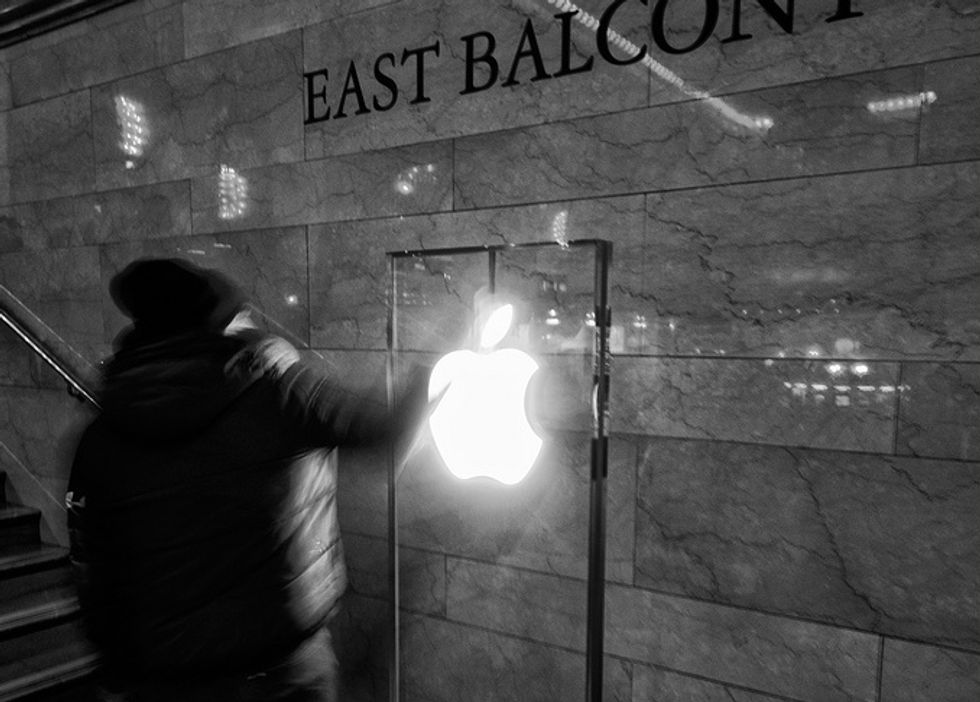 Even online activists get off their Macbook Pros once in awhile for real live action. Media coverage of problems with Apple's supply chain and labor practices in China, including child labor, worker suicides, and dangerous workplaces, has led to mounting pressure for reform. Online organizers from
Change.org
and
SumofUs.org
delivered over 250,000 hard copies of their respective Apple petitions to the company's new store in New York's Grand Central Station this morning.
At 10 a.m., wearing sandwich boards in the shape of iPads, Change.org representatives Shelby Knox and Sarah Ryan, along with playwright Mike Daisey, calmly climbed the terminal's east staircase—at the top of which resides one of Apple's most glamorous new stores. There, the three handed over several cardboard file boxes heavy with Apple consumers' discontent and disgust.
---
Apple ignores these demands at its own risk. Such assaults on a company's reputation—especially a company as brand-focused as Apple—have rattled powerful organizations before, from the recent controversy at the Susan G. Komen Foundation to Nike's labor rights failures in the 1990s.
Thursday's petition delivery was one of six such spectacles planned for the day at Apple stores in Bangalore, London, San Francisco, Sydney, and Washington, D.C. The petitioners—most of whom identify as loyal Apple consumers—are calling on the company to reform its supply chain before the launch of the company's much-anticipated iPhone 5, due out this year. Those boxes of petitions hold a troubling truth for Apple: The biggest danger now is not short-term damage to its bottom line, but the long-term degradation of the company's brand around the world.
Daisey, creator of the one-man play "The Agony and the Ecstasy of Steve Jobs," has emerged as one of Apple's most vocal and informed critics. He credits Apple for its covetable products and exquisite showrooms, along with the company's record profits last quarter and estimated $100 billion in the bank. But Daisey and a growing number of Apple loyalists believe those successes only underline the company's position of power and responsibility to aggressively push for supply chain reform. It's frankly the least one would expect of one of the most admired brands of our time.
Brands that have been painstakingly built can be irreparably damaged in an instant. The Susan G. Komen Foundation watched its carefully cultivated, seemingly impenetrable pink ribbon come undone last week as its own supporters and women's rights advocates raged online over Komen's decision not to renew its longtime funding for health provider Planned Parenthood. The news reportedly unleashed well over a million tweets and tens of thousands of Facebook comments, in addition to countless emails and phone calls. Komen's ability to rebut its critics proved fruitless, and within a few days a key figure behind the move had resigned.
Another industrial design giant, Nike, endured the same kind of public relations nightmare in the 1990s, when consumers and activists made the company's storied brand synonymous with sweatshops around the world. At a university convening on sweatshop issues in 2001, Nike representative Todd McKean bravely acknowledged, "Our initial attitude was, 'Hey, we don't own the factories; we don't control what goes on there.' Quite frankly, that was a sort of irresponsible way to approach this." Consistent with assertions about Apple's power and influence, McKean went on to say "We had people there every day looking at quality. Clearly, we had leverage and responsibility with certain parts of the business, so why not others?"
Like Nike in the 1990s, Apple is not off to a good start managing this PR crisis. In an internal Apple memo, leaked late last month, CEO Tim Cook vehemently denied the company's complicity in Chinese labor conditions. "Any suggestion that we don't care is patently false and offensive to us," Cook wrote. He failed to address, much less contest, any of the widely-documented claims being made against the company and its principal supplier, Foxconn.
Apple did publish and post to its sparse homepage a now heavily scrutinized Supplier Responsibility Report, but the company's target audience—young, hip, creative types who have long been identified with their brand—aren't buying it. Jeremy Heimans, Co-founder & CEO of New York-based Purpose, tweeted that the report "felt like North Korean propaganda, right down to the pictures of busy but happy factory workers."
Apple must come to grips with the fact that the petition delivered yesterday represents far more than the three official messengers who delivered it or its 250,000 signatories. It's a rejection of Apple's denial and a call for the company to hold itself and its suppliers accountable.
Apple consumers have yet to exert themselves in protest, but today's petition delivery could be the beginning. It was precisely this sort of consumer pressure—in the form of a massive social media campaign—that led the Komen Foundation to reverse its earlier decision. Apple could still face such a barrage. After all, much like the products that bear the picture of Komen's pink ribbons, Apple's shiny gadgets are close at hand. And those gadgets are loaded with apps to speak to the world. Apple's own laptops, phones, and tablets could become both the problem and the solution for conscious consumers awakened to the conditions that produced them.
Apple must not underestimate what it's up against. The Komen Foundation clearly never imagined its own supporters could be equally vocal critics, particularly when they felt their loyalty betrayed. Further complicating matters, hackers broke into key Foxconn computer servers yesterday morning, allegedly accessing a trove of data, almost assuredly including a mountain of correspondence with Apple. As more information about the company's production practices comes to light, it could ignite further protest.
Apple should publicly address the allegations. If Tim Cook were to speak candidly, passionately, and sincerely about the company's efforts and ongoing challenges, consumers will listen. We won't, however, accept denials or excuses. There is a limit to how much even Apple can depend on its customers to turn a blind eye.
Whether through online petitions or Twitter campaigns, consumers are increasingly owning their ability to speak out. Apple's imperative—and Tim Cook's in particular—is to hear those consumers, before an even bigger flood of criticism shifts the Apple narrative, and its brand, forever.
Photo via (cc) Flickr user Randy Le'Moine Photography