Articles
Are You On the List? SXSW's Party Economy
One woman's quest to get you and everyone else into all of South by Southwest's best parties.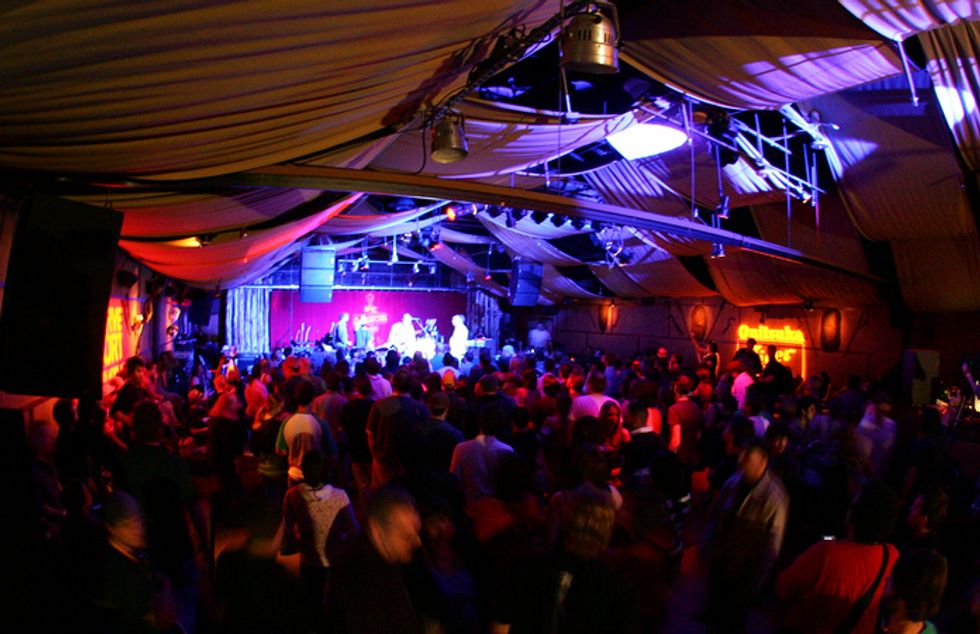 Jennifer Sinski takes parties seriously.
"I had always been the one to RSVP all my friends to all the events," Sinski says. "This is about spreadsheets. I like going out and I'm down to go anywhere, and I'll go to four or five different parties, [but] I kind of want to know what's going on."
---
Lucky for Sinski, she lives in Austin, where the annual South by Southwest conferences bring 20,000 people (and $167 million in 2011) to town for the purpose of having a good time. Thanks to the force multiplying power of the internet, hard work, and a little luck, Sinski launched a pop-up enterprise to take part in the SXSW economy.
Sinski, who freelances for the cool-hunting newsletter Thrillist, was telling an editor about her efforts to get friends into all the festival's free parties—the myriad drinks, meetups and "secret" shows that surround the official schedule of panels and concerts and for many people make up the heart of the "Southby" experience—when she realized she had a business opportunity on her hands.
Last year, 150 people paid her $30 a pop to get them on the list at all the best parties. Her business, RSVPster, was born. This year, she added a partner, developer Miles Dahmann, to beef up the services' website. So far, 1,400 people have asked Sinski and her associates to get them on the list for SXSW parties. If you want to join them, you'll have to sign up before March 1 for the company to make good on its promise to get you on all the right lists.
Still, 1,400 people signing up for everything sort of calls into question the whole concept the of RSVP—répondez s'il vous plait, the proper hosts' plea for information about who's coming to his party. It's clear that many of the people throwing parties at SXSW aren't worried about too many people overwhelming their intimate events. A line around the block—and all the hopeful partiers' e-mail addresses—are reward enough.
Except when people are planning an intimate event.
"We have some event planners who are very unhappy, those are the ones who are going smaller, interactive events, geared toward a specific subset," Sinski says. "There's a party, Drupal coders meetup, they don't want 1,000 people on their invite list who aren't interested in going to an event."
That creates a dilemma for Sinski, since she can't exactly ask her customers to start narrowing down their preferences: They're paying her to get them on the list for everything. Fortunately, most event planners e-mail the people on their RSVP lists for confirmation they plan to attend, and besides, Sinski says, 'secret' shows or events that really want to curate their audiences probably shouldn't post their announcements without any targeting—it's on them to make sure that attendees meet their standards.
RSVPster isn't compensated by event planners for driving attendance (and attendee data) to their parties, but attendees must agree to have their contact information distributed.
Sinski characterizes her service as a way to weed through the Southby experience, giving users the ability to find and attend different events on the fly; it's also good for those who attend the festival without full passes (such as the folks sent to work the festival who still want to capture some of the nightlife). Sinski, who's attended SXSW for the last six years, advises out-of-towners to get off the beaten path and check out the non-headline events, and suggests that locals get into the spirit of the festival, whether for fun, profit or both.
"I think Austinites get really jaded about Southby and people are upset that it's taking over the town, but the reality is it's a huge opportunity economically and socially for the city and we should all be happy that we can live in a city that can foster that," Sinski says.
RSVPster might not be the most likely candidate to scale into a full-fledged company, and Sinski's not sure what that would look like—maybe "some sort of concierge to events"—but she does want to up her company's game next year with a mobile app and better relationships with event planners.
"To be honest with you, I have a day job that I don't really like," Sinski says. "For me, this project can be 'how can I get better employment, can I start a business?' I'm 24, I live in Austin, I hang out with my friends and go to shows. Southby allowed me to start a business, one that's doing really well."
Photo via (cc) Flickr user IFC-the-Internet