Articles
Art Forum
Lauri Firstenberg is putting Los Angeles's public art in the spotlight.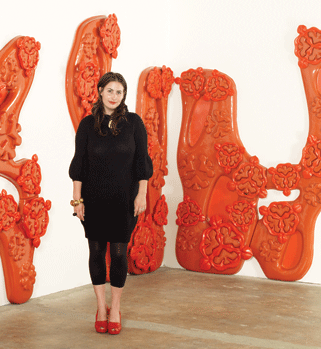 Wearing a smart
off-white shrug and standing at the bar of Mandrake, an art-crowd haunt in Los Angeles's Culver City, Lauri Firstenberg seems as much a member of the city's hobnobbing art scene as the rest of the bar's regulars-curators, gallery owners, and artists. But unlike her peers, she needs to return to her gallery to meet a deadline for a critical grant proposal. Firstenberg runs one of the city's only nonprofit contemporary art organizations, LAXART, a cross between a creative space for the city's nascent arts community and a professionally curated public-art initiative. As such, she's quietly helping to shape the city's exploding art industry, connecting the traditional commercial gallery system with a movement to bring more emerging artists into the public eye."L.A. is thriving with arts activity," says Firstenberg, 35, who studied at Berkeley and Harvard and held curatorial positions at nonprofit exhibition spaces in New York City and Los Angeles. "The cultural landscape is expanding." Though the city is home to numerous galleries, art schools, and museums, its art scene has long been ignored, but is slowly gaining prominence. Even so, many local artists continue to labor in obscurity, and Los Angeles itself has not embraced art on the same scale as a city like New York. Contemplating Los Angeles's struggling movement, Firstenberg realized that she could use public-art projects-formerly quite scarce in Los Angeles-to bring attention to local artists, giving them the opportunity to expose the city's entire population to new art in a public forum.Inspired in part by Deep River, a now-defunct artist-run space in downtown Los Angeles, and the alternative art spaces that populated New York City in the 1970s, Firstenberg began to envision a hub for public art in Los Angeles. "I asked numerous people in the field 'Is there a desire for a exhibition space that's responsive to the [artistic] needs of the city?'" Judging from the overwhelmingly positive response to LAXART, it seems there was not only a desire, but a strong demand.\n\n\n
Quote:
There's a level of access and intimacy [that our] artists have to their audiences.
Founded in 2005, LAXART (pronounced L-A-X Art-the first three letters stand for "Los Angeles exhibitions") features experimental site-specific works by artists who are largely located in Los Angeles, and whose work often addresses the city in some way. A recent installation, for instance, featured a box of glowing haze, a visual demonstration of the pollutants hovering in the city's atmosphere.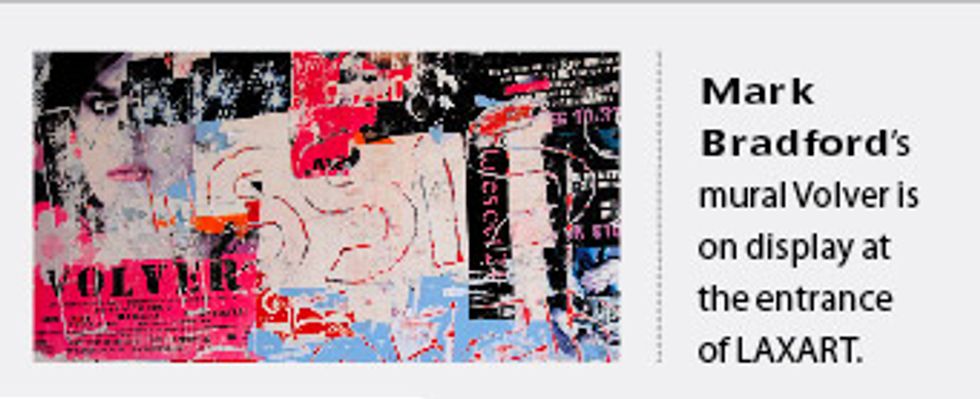 ---
"There's a level of access and intimacy [that our] artists have to their audience," says Firstenberg, whose organization has flipped the art-viewing experience inside out, showing pieces that can be seen by those who wouldn't normally walk through a gallery door. The LAXART window, viewable from the sidewalk, is curated as a part of the space, as are the exterior walls of the building. An ambitious online initiative called L'Art provides a new way for artists to produce, share, and promote their work, supported by the creative community website Uber.com. And LAXART also curates a space very familiar to car-bound Angelenos: It uses a billboard opposite the gallery as a massive canvas (most recently, the billboard featured a photograph of MacArthur Park), giving thousands of commuters on their way to bustling Interstate 10 a daily dose of art instead of the usual monotonous advertising.As proof of the art community's embrace of its efforts, LAXART's upcoming fundraiser-a silent auction and benefit presented by Hermès in November-will feature work donated by more than 100 artists. But even that is a small number compared to the ever-widening circle of the organization's supporters. "There are actually hundreds of people involved, from the artists to the founders, advisors, board members, members, staff," Firstenberg says. "LAXART belongs to the community."