Articles
UPDATE: B.E.A.T. Brings Hip Hop Education Home to the Bronx
B.E.A.T. and hip hop legends bring breakdancing and beatboxing back to the Bronx's high schools.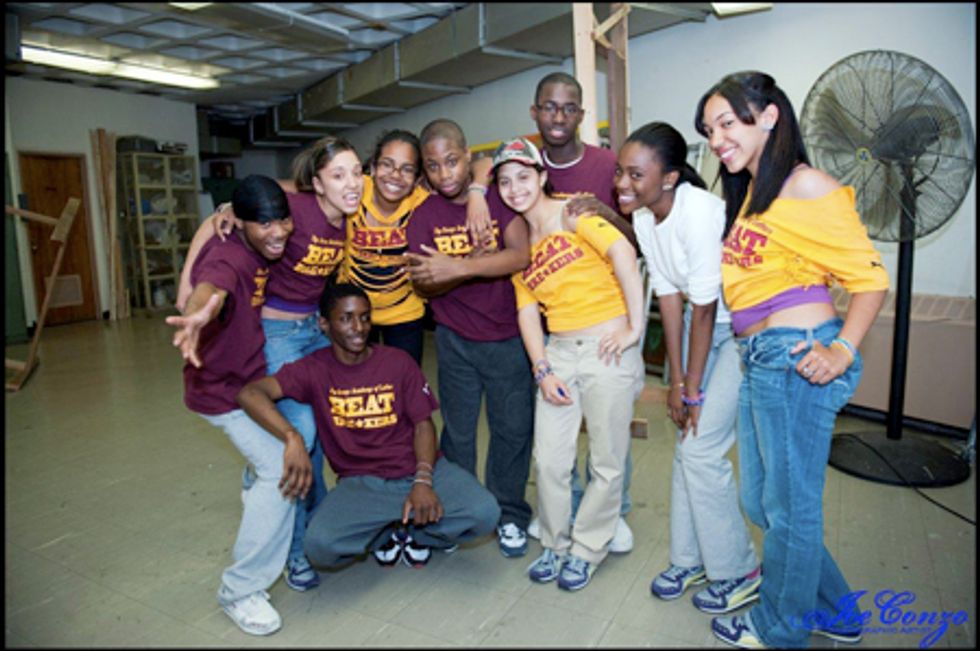 What happens when a successful, young marketing agency decides to harness its powers (not to mention time, money, and passion) for good? It births a successful, young nonprofit. Born out of the minds of
Catharsis
co-founders James Kim and Justin Kim and now program director Tonia Kim,
B.E.A.T.
(Bridging Education and Art Together) is changing the face of after school programs in the Bronx, New York. After nearly 10 years of hip hop producing and event managing, Catharsis got in touch with friend and iconic b-boy
Ken Swift
(former VP of The Rock Steady Crew and founder of the 7 Gems Dance Movement) and pitched an idea for a free after-school workshop that would bring breakdance education back to its birthplace.
"I realized there was a huge void in New York in terms of the kids being able to learn authentic b-boying," says James Kim. "He [Ken] was on board because nobody is taking it quite to the communities and directly to the kids."
---
B.E.A.T. teamed up with The Urban Assembly, a nonprofit organization currently managing 22 New York City public high schools, to begin Beat Breakers at the Bronx Academy of Letters. Students applied for spots in the program with short essays and videos explaining their interest in the program. Swift, now the program director met with students twice a week after school throughout the spring 2010 semester. The class culminated in a dance showcase in front of the entire school in June. By the fall semester, Beat Breakers had expanded to include a second program of 15 students at the Bronx Studio School for Writers and Artists, another Urban Assembly school. BBoy WaAak of The Breaks Kru, who has worked with students throughout the program, is now head instructor.
[vimeo][/vimeo]
In the fall, B.E.A.T. started Beat Rockers, a beatboxing program designed for blind students at the Lavelle School for the Blind in the Bronx. Beatboxer Taylor McFerrin had no teaching experience when he stepped up as program director and instructor, but connected quickly with Lavelle students. McFerrin's work with the students, with the help of other beatbox legends such as Adam Matta, ended with a showcase at Lavelle and an album entirely composed of samples taken throughout the semester.
For Beat Rockers students, the majority of whom have multiple mental or physical disabilities, the program meant more than a new hip hop skill set. In working with the school psychologist and speech therapist, Beat Rockers recognized an overlap in curriculum with the speech therapy classes many of the students attended. Now Beat Rockers is working with Lavelle to mesh the two curricula to the benefit of the students.
"We can take this music, something really fun and compelling—and not only use it for the kids to empower themselves and learn about music but so the kids can learn how better to communicate," explains James Kim.
[vimeo][/vimeo]
B.E.A.T. is looking to expand Beat Breakers throughout The Urban Assembly, using Swift's curriculum to guide other legendary b-boys as instructors. Beat Rockers is continuing work combining speech therapy and beatboxing to develop a "cookbook" curriculum to be spread to blind schools and beatbox legends interested in teaching across the country. While funding continues to be an issue (B.E.A.T.'s 501(c)3 status is still in the works), Catharsis is using its own financial and promotional resources to keep the programs up and running. A Kickstarter campaign, to start in the next month, should also work as a fundraiser.
For now, B.E.A.T. has proven to be a success for students, instructors and founders alike. James, who attended every Beat Breakers session in the spring and now stops in frequently to both programs, is learning to beatbox and breakdance, and calls B.E.A.T. the most rewarding program he's been able to work through.
"Our company really turned the corner when we realized that we could do a lot of the same things we do for profit but turn it around and help serve the communities around us."
photo credit Joe Conzo via BeatBreakersNYC
CORRECTION: Ken Swift is former VP of The Rock Steady Crew. Bboy WaAak is currently head instructor of Beat Breakers. Adam Matta was also a regular instructor for Beat Rockers. Photo credit to Joe Conzo via BeatBreakers NYC. B.E.A.T. Program Director is Tonia Kim. The post has been changed to reflect these corrections.
UPDATE: B.E.A.T. Launches its Kickstarter Campaign
B.E.A.T. recently launched its Kickstarter campaign to continue funding Beat Rockers (check out the great video above.) How it works: B.E.A.T. has until March 9 at 3:55p.m. EST to reach its goal of $7,000 in pledged support. Supporters are promised some great loot (depending on pledge level), including the Beat Rockers' first album and mixtape, books, albums and photos signed by hip hop legends and B.E.A.T. instructors, and, of course, plenty of merch.
The campaign is well on its way, with 44 backers, over $3,300 pledged and 22 days to go. Pledge away!
\n