Articles
Burned by Desire
Lea Thau and the Moth encourage regular people to turn personal moments into public performances.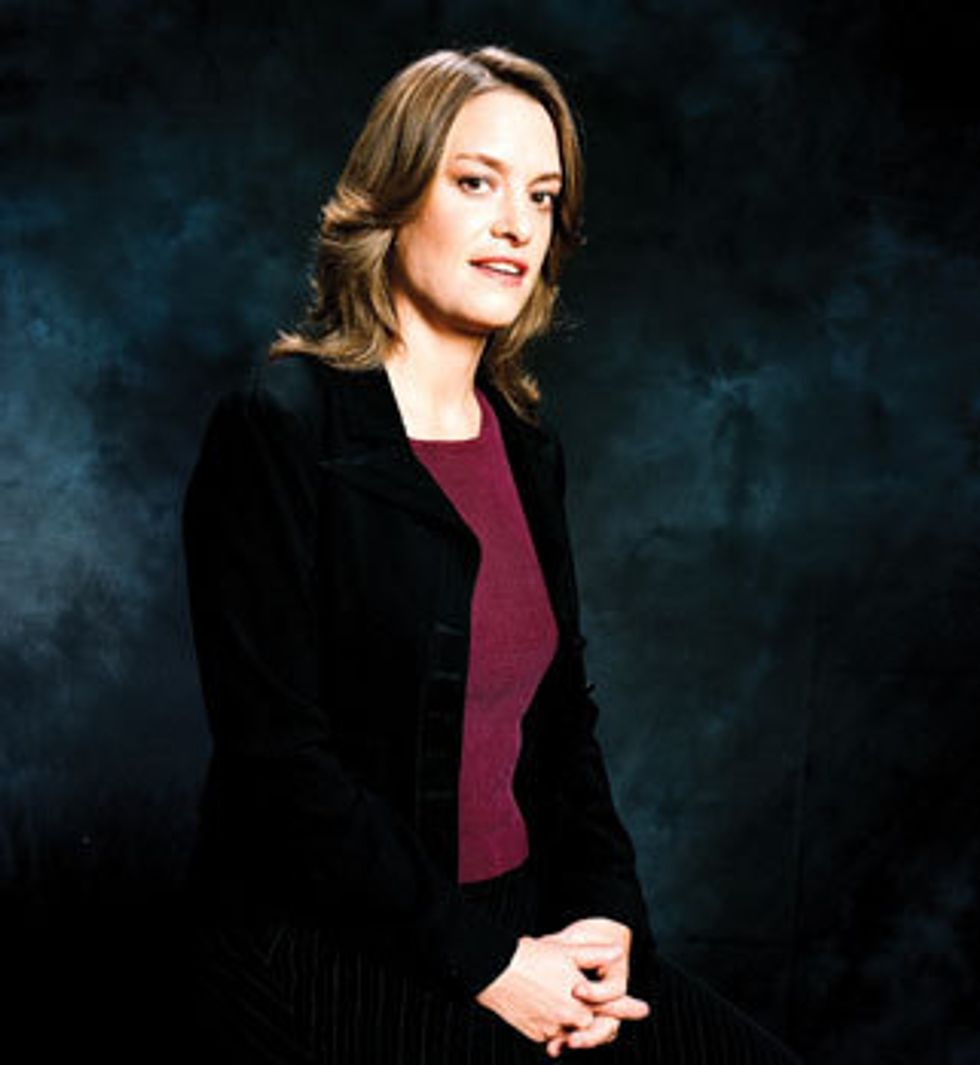 It takes a rare kind
of courage to live like a character in a story, and not many real-life human beings have the nerve to try it-perhaps because the elements that make a narrative compelling also make life miserable. Most people are too attached to the things that make them happy (honor, love, and friendship) to appreciate the subtle appeal of those things that might make them into more interesting protagonists (disgrace, heartbreak, and loneliness).Luckily, though, even prudent people will occasionally commit spectacular acts of mischief in pursuit of happiness. And when they do, the Moth is waiting-with an audience and a microphone. Since 1997, the storytelling organization has helped more than 4,000 people tell their tales of crimes, misdemeanors, and epic lapses in judgment. Few of the stories are downers-most, in fact, have uplifting messages-but it's hard to pull off a heartwarming finish without making at least a brief detour into misery."So there I am in bed with my future ex-husband...""I am 24 years old and I have never had sex...""My aunt Crissy always used to tell us, 'I've done it all-crystal meth, topless dancing, running guns through Mexico...'"This tension between desire and danger, between the things we want and the risks we'll take, helps explain how the Moth got its name. "We're always drawn back to that essential flame that fuels us and has the potential to destroy us," says Lea Thau, 36, who has been running the show since 2002, first as creative director and then as executive director. "The best stories are born from the moments when we got our wings burned or clipped a little."The Moth is best known for its monthly Mainstage performances in New York, during which five or six storytellers present personal tales on the evening's theme ("Loss," "Love Hurts," "Out on a Limb," to name a few). The shows feature a mix of high-profile headliners (writers or actors with a well-developed feel for narrative, like Malcolm Gladwell or Margaret Cho) and regular people who have had simply unbelievable things happen to them. Alumni from this latter group include a voodoo priestess, a retired pickpocket, and a guy getting squeezed by the Mob.\n\n\n
Quote:
The best stories are born from the moments when we got our wings burned or clipped a little.
Thau and her assistant directors work with the performers for weeks to help them find the emotional core of their stories. She jokes that this process can feel a little like therapy-and then what happened? And how did that make you feel?-but the purpose is very different. She's trying to coax out a well-rounded narrative, not a well-rounded person. Ultimately, says Thau, "it's about stepping out of the story" and figuring out what will make it connect with others. The goal is to draw people in, to provide a communal experience that goes beyond entertainment; something that you simply can't get through a blog or a BlackBerry. Every Mainstage performance since 1998 has sold out-usually in the first few hours.The stories are not scripted or memorized. They are told spontaneously-alive and in the moment. At the end of the day, performers have to get up on stage, without notes, and tell hundreds of people about one of the most personal things that ever happened to them. That, says Thau, is a terrifying prospect for almost anyone and the nerves and adrenalin can push the atmosphere to a sort of theatrical synergy. One storyteller gushed, "It's as if everyone in the room is holding hands under the table."Part of that connection lies in the fact that while the people in the audience are watching the person on stage, a little mothlike voice inside each of them is saying, "Maybe I could do this, too." For them, the Moth has created StorySLAMs, open-mic nights in which 10 people compete to tell the best story.\n\n\n
| | |
| --- | --- |
| --- | The Moth doesn't just stay in New York, it often takes the show on the road, to places like Boston, Los Angeles, and Seattle. The first international tour took place in Australia in February. |
At a recent slam, a straight, single woman got up to tell a crowd of New Yorkers about the time she ended up on a blind date with an off-off-Broadway dancer. He was very good-looking, very drunk, and very gay. After a number of cocktails, he suggested that they go back to her place. "What the hell?" she said, and you could already smell her wings getting singed. "This'll make a good story."
LEARN MORE
themoth.org