Articles
Acceptly wants to help high school students hack the college admissions process.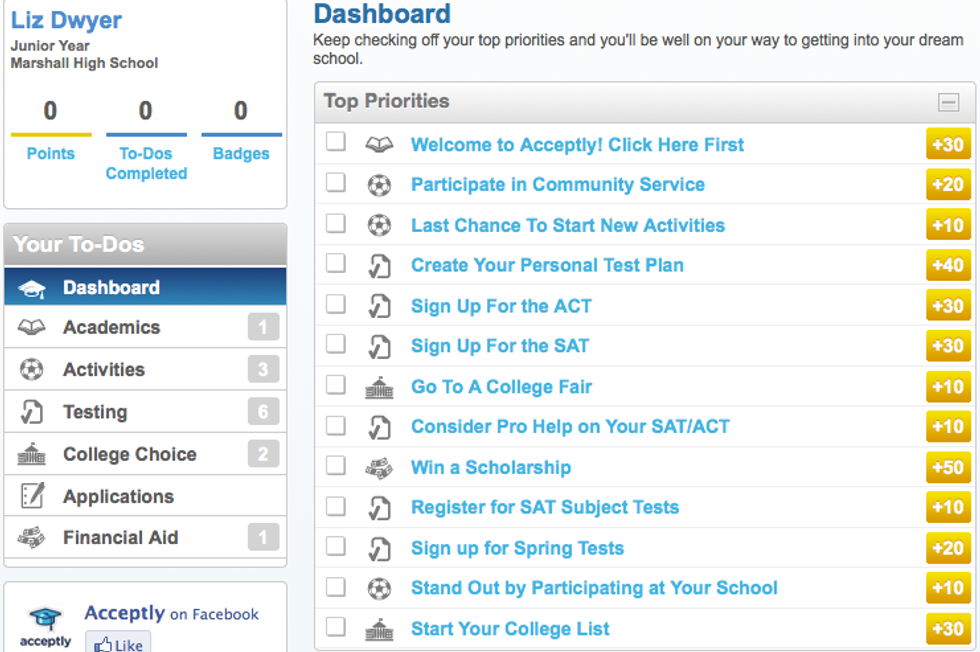 The college application process can be pretty overwhelming, and overworked high school guidance counselors often don't always have the time to give individual students the personalized coaching they need. So where can students get help without hiring a private college adviser? A free Facebook app,
Acceptly
, wants to "take the guesswork out of getting into college" by coaching students through the process.
Acceptly provides an organized one-stop hub for college prep tools and resources, tips for getting in, and connections to college admissions experts. Although the site is primarily designed for students, parents can also sign up their high schoolers. To test it out, I told the app that I'm a junior at the high school in my Los Angeles neighborhood. The first question it prompted me to answer was "What colleges am I considering?" I typed in three choices and I was immediately taken to a dashboard that clearly laid out "to-dos"—the steps you need to take to get into your dream schools.
---
To-dos cover six overarching categories: activities, testing, college, applications, and financial aid. Each item on the list is then broken down into "top priorities"—specific action steps that you need to complete in order to have a successful application. Acceptly helpfully uses text explanations, videos, and links to external resources to educate users about what each step means and the importance of completing it. In the "participate in community service" section, for example, the site starts users out with "learn the benefits of volunteering" section, and then refers users to resources like "Do Something" for more tips.
Acceptly also draws on the gaming trend—with each priority you complete, you receive points and a badge. If students want to share their college application journey with their peers, they can choose to have their badges shared on their personal Facebook pages.
The app also has a space to ask questions about the admissions process, and promises that an admissions expert will respond within 24 hours. Of course, if you're a high school senior without good grades, SAT scores, and extracurriculars, all the coaching in the world won't get you admitted to top colleges. But Acceptly could prove to be a smart way to get high school freshmen thinking from day one on about what they need to do to get in.