Articles
Can an Architect Save the Great Lakes from Asian Carp?
Architect Jeanne Gang has a utopian vision for stopping an insatiable predator.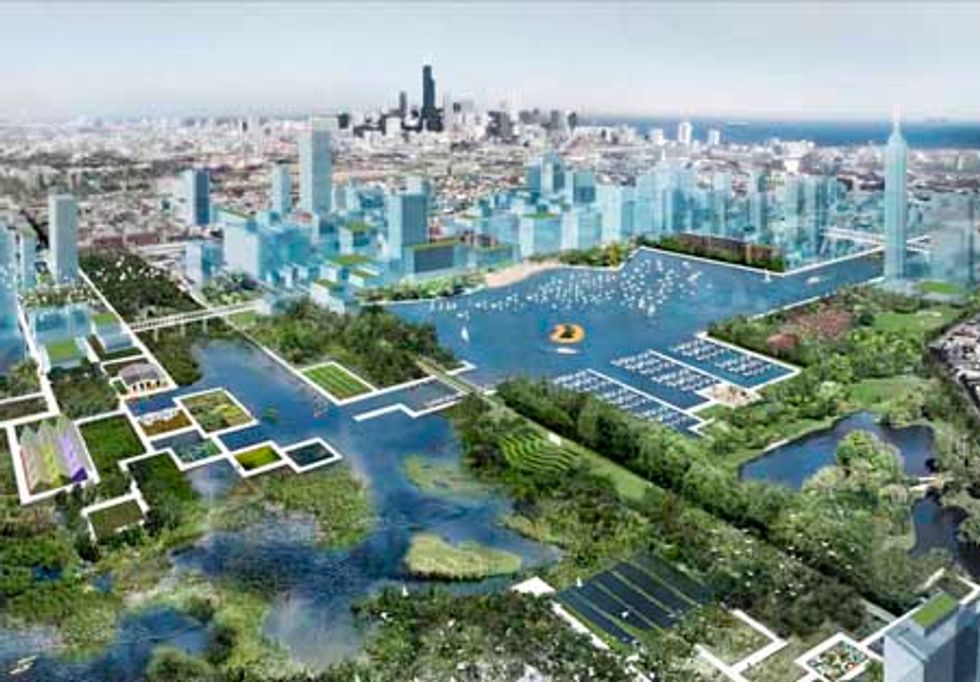 Jeanne Gang's vision for carp-free Great Lakes
The Great Lakes are facing an invasive species crisis. Asian carp, a group of foreign invaders with no known predators and a voracious appetite, are threatening one of the greatest fresh water resources in the world. Elected officials and the Army Corps of Engineers have failed to act, and the situation is dire. But architect Jeanne Gang sees an opportunity to clean up the river, to improve Chicago's water treatment system, and to revitalize a neighborhood.

Just weeks after becoming the first architect in more than a decade to win a MacArthur genius grant, Gang released a slender book outlining her vision of how to fix the Chicago River. Reverse Effect, which is the result of a yearlong collaboration with the Natural Resources Defense Council, advocates completely separating Lake Michigan from the Mississippi River basin and restoring the natural flow of the Chicago River. Not only would the separation prevent carp and other invasive species from traveling between the Mississippi and the Great Lakes, Gang's proposal would use a physical barrier as a catalyst to reimagine an urban neighborhood and to introduce green infrastructure to Chicago's South Side.

Back when Chicago was the world's hog butcher, animal waste from the stockyards and raw sewage were discharged directly into the Chicago River, creating a serious public health problem. So officials did what anyone with a backed-up toilet would do: they unclogged it and flushed it away. In 1900, work was completed on a 28-mile canal connecting the Chicago and Des Plaines rivers, reversing the flow of the Chicago River, and sending the city's waste down to the Gulf of Mexico. The canal created a vital shipping link between the Great Lakes and the Mississippi, but it also created a passageway for invasive species to travel between the watersheds. Now, the only thing preventing carp from entering the lakes is an electric fence that's both ineffective and expensive.

An architect is an unlikely candidate to solve this kind of problem, but Gang isn't your typical architect. The 47-year-old Chicagoan has a knack for engaging with the environment in unexpected and clever ways. Her most prominent work, the 82-story Aqua tower in downtown Chicago, uses wavy concrete balconies to create a unique, undulating form. And her design for the (still-unbuilt) Ford Calumet Environmental Center on Chicago's far South Side would be built largely out of salvaged materials from the surrounding industrial area, and it would use a "Living Machine" artificial wetland to treat wastewater.

In Reverse Effect, Gang and her collaborators follow in the footsteps of Daniel Burnham, who recommended in his 1909 Plan of Chicago that all of the city's lakefront property should be preserved as parkland. Gang's plan calls for constructing a second waterfront by damming the river at its natural terminus and creating an inland lagoon that would collect and clean storm water. Separating the river from the Chicago Sanitary and Ship Canal wouldn't just stop the free flow of invasive species, it would require the city to improve its wastewater treatment infrastructure so that cleaned water could be returned to Lake Michigan instead of being sent downstream.

The idea to separate the Great Lakes from the Mississippi basin was born out of a 2003 summit that was hosted in Chicago. Then, in 2010, NRDC issued a report offering some practical solutions for separating the waterways, and Studio Gang Architects hosted an event on the day of publication. At that event, Gang pulled up Google Earth on a computer and started thinking about some of the new city planning opportunities a hydrological barrier might present. In spring 2011, she taught a studio course at Harvard Graduate School of Design and asked students to imagine how a barrier between the river and the canal could serve as a catalyst for neighborhood revitalization and environmental remediation. (Student work takes up the bulk of the book, and much of it is quite thoughtful.)

A close look at Studio Gang's digital rendering of the barrier and the surrounding area shows a strikingly utopian vision of a 21st century city in perfect harmony with nature. A patchwork of urban farms, aquaculture tanks, artisan workshops, and bird-watching stations surround lush wetlands. Kayakers paddle around beneath glassy, green-roofed high-rises, and existing city streets are virtually unrecognizable. It's hard not to ask: Where would the money come for all of this? How would the city acquire all of that privately-owned land? And why would anyone build a dozen skyscrapers – or even a single one – in the borderland between two sleepy industrial and residential neighborhoods?

It's easy to poke holes in the idealized image or to criticize the plan's lack of depth, but as Gang explains, the book is a conversation piece, not a concrete proposal. "I present it here not as a formal, shovel-ready plan," she writes, "but in the hopes that its ideas will spark energy and enthusiasm among architects, designers, experts, policy makers, community members and all of the other people who will be needed if we are to successfully renew our waterways." But what will it take to move the plan beyond the realm of conversation, and to actually get some shovels in the ground? The Army Corps of Engineers has been dragging its feet on the issue, and unless the US Congress passes legislation prompting the Corps to act, Gang's plan will be just another pretty rendering.














---
Image courtesy of Studio Gang Architects.