Articles
Can Animation Help Stop Climate Change?
British filmmaker Simon Robson has assembled a crack international team of animators to make a collaborative, web-based film that advocates for...
\n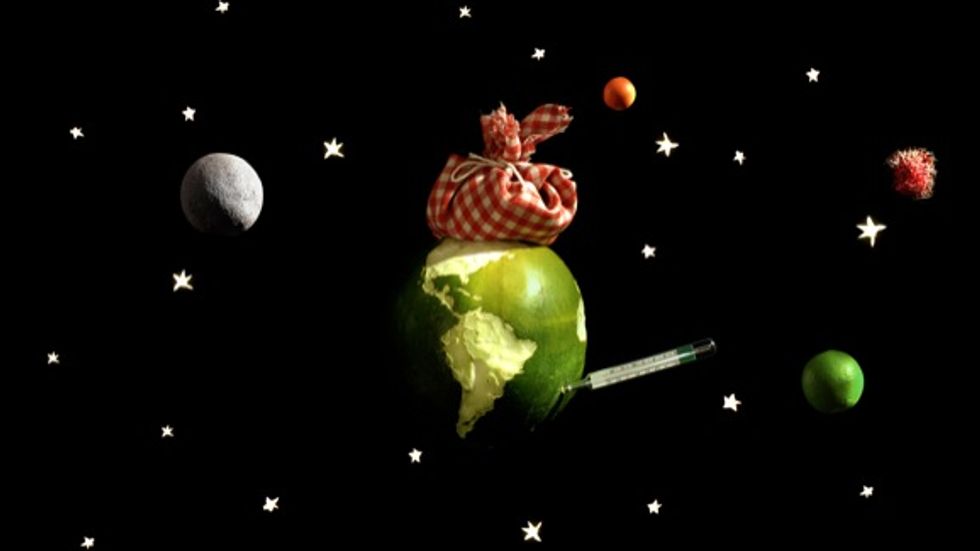 ---
British filmmaker Simon Robson has assembled a crack international team of animators to make a collaborative, web-based film that advocates for collective online action as a way to solve the climate crisis.
The British animator Simon Robson, who works under the
nom de filme
Knife Party
, specializes in what he calls "issue animation"-short-form polemics and parables that marry the perspectives of thinkers he admires, like Naomi Klein and George Mombiot, with evocative moving imagery. He came to the approach early in the last decade, after several years of developing his animation skills on behalf of big corporations with ethical credentials he found problematic ("including, to my eternal shame, some cigarette brands," he says). After listening to a neighbor named Barry McNamara-"a firebrand blessed with a really great speaking voice"-expatiate on the recent U.S. invasion of Iraq, Robson, who was also upset about the war, created the 2004 visual essay "
What Barry Says
," which sets a McNamara tirade about the Project for the New American Century and "war corporatism" to propulsive motion graphics that illustrate and expand on the narrator's talking points.
Robson's latest project, "
Coalition of the Willing
," started in a similar way. In 2008, his wife introduced him to Australian philosopher
Tim Rayner
, whose Philosophy of Change class she took during a short stay in Sydney. "My wife gets the full brunt of my ranting," Robson says. "She was trying to find someone else for me to rant with." After ranting back and forth a bit, the two men struck upon the idea of a project about climate change, though they had different ideas about what that should mean. Neither had any faith in government to provide real solutions, but while Robson leaned toward a "What Barry Says"–style polemic about how government had failed its citizens, Rayner wanted to propose something more proactive and hopeful: a global online change network based on 1960s collective action, swarm politics, and open-source culture, which could empower people to take the reins in fighting global warming. Rayner's approach won out as the duo developed the script-although their disappointment at the outcome of last December's Copenhagen climate summit prompted them to add a preface critiquing government irresoluteness.
Well before Copenhagen, however, "A Coalition of the Willing" had already gone into production, with animation houses throughout the United States and Europe donating their time to create imagery to accompany each paragraph of the script. The decision to make "A Coalition of the Willing" a group project was partly practical, partly philosophical. Robson had begun filming a few sections with in-camera animation techniques he'd never used before, and quickly realized that it would take him years to shoot the whole script, which runs around 12 minutes, by himself. Besides, the underlying message of "A Coalition of the Willing" cried out for a coalition of willing filmmakers to tackle the project together.
So last April at
F5
, a creativity festival in New York City, the duo put out a call for collaborators. After culling the responses and seeking out other creators he specifically wanted to work with, Robson wound up involving more than 20 different groups in the project. The styles range from stop-motion animation using potatoes, melons, and cauliflowers by New York's
Loyalkaspar
(working under the name Betterment Bureau) to 3-D animation based on a live-action shoot by Portland's
Decoy
to impressionistic watercolor-style animation by Knife Party. Though Robson prohibited contributors from changing the script, little other direction was given. "It was about taking off the brakes and seeing what happened," he says, comparing the results to "
PSST Pass It On
," an ongoing collaborative filmmaking experiment modeled on the Surrealist Exquisite Corpse, which was conceived a few years ago by "Coalition" contributor
Bran Dougherty-Johnson
. Unlike that project, however, no effort has been made to visually connect the different sections-"sometimes a clean cut is what you need," says Robson. Instead, the script is the connector, bringing together a wildly disparate set of individual aesthetics in the service of a common cause.
Viewers will be able to see the finished film in festivals, including this June's
OFFF
in Paris, and it's also slated to become a part of the global environmental network
350.org
's activist toolkit. But "Coalition of the Willing"'s primary platform, now and in the future, will be its own
website
, where segments of the film have been appearing, in small clusters out of sequence, since early February. There's no rhyme or reason to the order of release-"what you see on the website is just what's ready now," Robson says-but the effect is that the viewer who checks back often gets to watch the assembly of a visual manifesto over time (or "a box of chocolates filling itself up," to use Robson's more poetic construction).
Of course, the
script
is posted online too, for anyone who wants the whole story. But the 1,364-word text is, as Robson is the first to admit, less a comprehensive action plan for fighting climate change than it is a passionate call to arms. "You'll always be able to get more detail from a written article, a Naomi Klein book or George Mombiot newspaper column," says Robson. His point, however, is that getting the whole story does not necessarily mean getting the whole picture-that pairing a rhetorical argument with visual poetry can produce unexpected results. "We can go further in evoking a response in the audience," he says. "We can pair provocative visual sequences with the spoken polemic. We can spend a long time thinking about the voice we want to deliver our message. We can play with witticisms that work between the visual and the spoken. We can offer a second level of meaning."