Articles
Her message has remained consistent.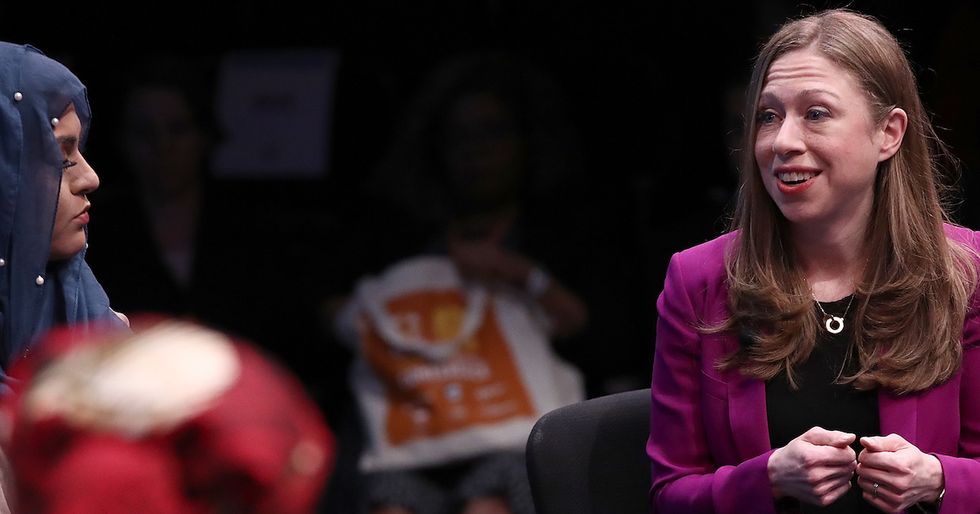 As personal indiscretions have recently come to the Trump family's doorstep in the wake of numerous alleged sex scandals and affairs by both President Donald Trump and Don Jr., Chelsea Clinton is speaking up to ensure the media doesn't drag the younger Trump children into the salacious discussion.
Clinton, having been the victim of personal attacks for no other reason than being the president's daughter, has a history of speaking up on behalf of subsequent presidential kids, regardless of their parents' political affiliations.
---
Last year, Clinton tweeted a message imploring the press to afford Malia Obama the right to pursue her college education in peace and privacy.
Malia Obama's private life, as a young woman, a college student, a private citizen, should not be your clickbait. Be better.

— Chelsea Clinton (@Chelsea Clinton)1511546151.0
In the wake of the Trump sex scandals, Clinton offered up a similar response to the media focusing on the Trump children to package the scandal in the most evocative manner possible.
Please respect the privacy of President Trump's grandchildren. They're kids and deserve to not be your clickbait. Thank you.

— Chelsea Clinton (@Chelsea Clinton)1521154811.0
The former first daughter's efforts have not extended to Trump's adult children, but she did speak up in support of his youngest son, Barron, who was the target of a controversial tweet from a "Saturday Night Live" writer following Trump's inauguration.
In that message, Clinton also managed to take a stand for the children hurt by Trump's proposed agenda, which includes the deportation of immigrant families based solely on their country of origin.
Barron Trump deserves the chance every child does-to be a kid. Standing up for every kid also means opposing @POTUS policies that hurt kids.

— Chelsea Clinton (@Chelsea Clinton)1485105701.0