Articles
Clinton Announces New Programs to Support Muslim Entrepreneurs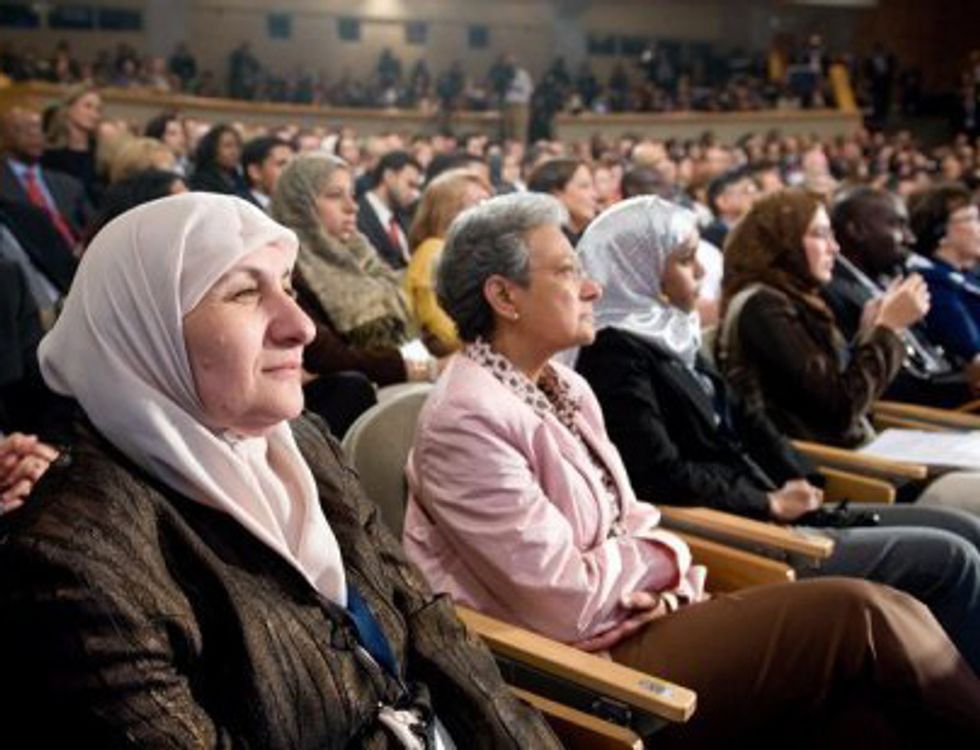 ---
GOOD is reporting from President Obama's Summit on Entrepreneurship, an event designed to spur business collaboration between Muslim-majority countries and the United States.
United States Secretary of State Hillary Clinton closed out the two-day Presidential Summit on Entrepreneurship yesterday by noting that "confidence, determination, and resources" can turn good ideas into real-world innovations—while acknowledging that this assembly wasn't the usual picture of a business summit.
"Thank you for being willing to take a little bit of a chance to see what was on the other end," she offered, prompting laughs.
Secretary Clinton shared a familiar story from her biography. She and her mother and brothers often worked silkscreening fabrics in her father's printing plant, she explained, which at times employed one to three laborers. She could be assured that the delegates—many of whom were not merely successful entrepreneurs but had pioneered entire industries for their countries—would relate. "Here with us today are people who would recognize this story," she said.
Clinton highlighted the efforts of several participants onhand: Daler Djumaev, the director of Tajikistan's only private energy company; Ibrahim Qureshi, who founded Pakistan's first computer hardware company; and Masooma Habibi, who started life in an Afghan refugee camp but at age 23 runs an electrical engineering company in Kabul.
Secretary Clinton said that she hoped that the meetings at the summit would generate new collaborations, observing that "the fullest measure of your impact will not only be in dollars or dinars or rupees or rupiahs, but in the lives you change and the progress you inspire and the better futures you help to create." To that end, she introduced four new initiatives.
The Global Entrepreneurship Program, she said, "will provide concrete support to new entrepreneurs, starting in Muslim-majority communities and eventually expanding to others worldwide." This initiative will support mentorship programs, business-plan competitions, and partnerships between business schools at home and abroad, as well as more direct forms of support to bolster entrepreneurship. Clinton announced a pilot program featuring Entrepreneurs in Residence from USAID in Egypt and said that a second was planned for Indonesia, with plans to expand to a dozen countries within two years.
Two new partnerships—the Global Technology and Innovation Partners, and the Innovators Fund—would couple American venture capitalists and angel investors with peers abroad in Egypt, Jordan, Lebanon, Turkey, and elsewhere.
Partners for a New Beginning, a third initiative, would assemble a team of "eminent Americans" in business under the direction of former U.S. Secretary of State Madeleine Albright to bring the U.S. private sector into contact with the Muslim community at a global level. This super-team will include Aspen Institute president Walter Isaacson and Coca-Cola Company CEO Muhtar Kent. The final initiative, called the e-Mentor Corps, would draw from Intel, Ernst & Young, the Kauffman Foundation, and other companies to build a network of mentors to provide advice and expertise online.
Clinton closed her speech with a specific call to action. "Now, in particular, we know that there are many obstacles to your doing business in many of the countries represented here," she said. "We need to encourage your governments to make the legal and commercial reforms needed to encourage trade, allow for the free flow of ideas, lower the barriers to launching new businesses."
No summit could conclude without a call for feedback. "You are the experts in where you live, where you work, where you are building your futures," said Clinton. "We need your feedback, we need your honest and constructive criticism, we invite it. We more than invite it; we welcome it."
See all of GOOD's coverage of the Presidential Summit on Entrepreneurship here.