Articles
College Unbound
How Big Picture Learning is revolutionizing what it means to go to college.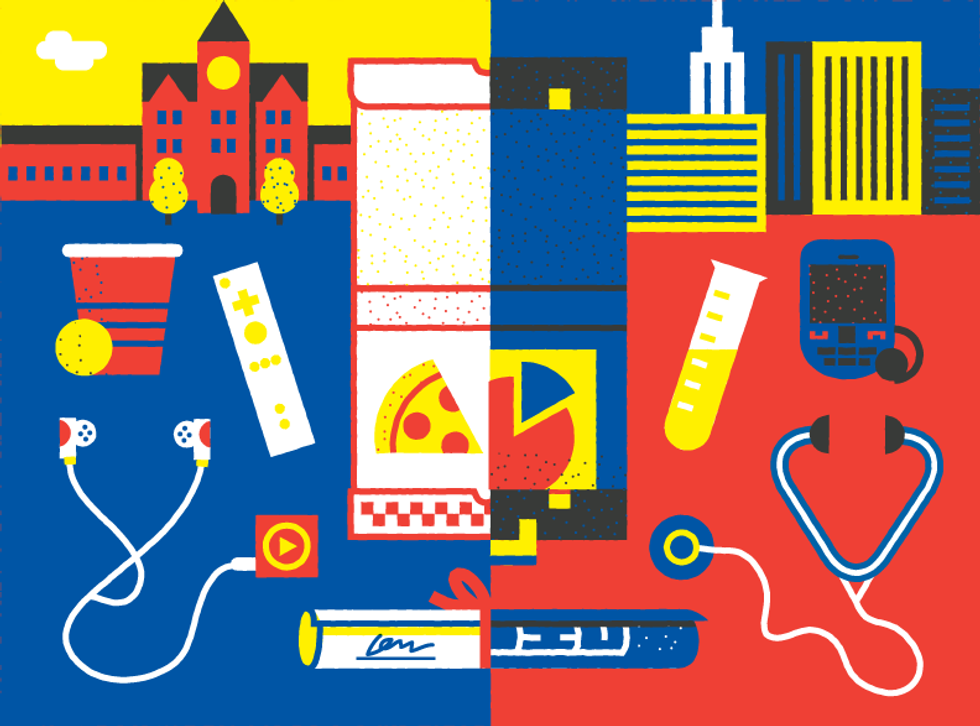 How Big Picture Learning is revolutionizing what it means to go to college.

---
John Legend, George W. Bush, and Arne Duncan may not have much in common. But all three have declared education "the civil rights issue of our time." Abysmal achievement and graduation rates have led students, parents, educators, employers, and politicians to demand better from our education system. And while the bulk of this energy has been directed toward K-12 education, much of the current impetus for reform comes from increasing concern about the lack of college preparation and post-secondary success, especially for students of color and those from low-income backgrounds.
But once students get to college, only a fraction thrive. Fewer than 60 percent of students that enter four-year colleges will graduate six years later. And less than 10 percent of students from the lowest socioeconomic background ever receive degrees.
These statistics—along with years of seeing enthusiastic high school graduates head off to college only to rapidly return disillusioned and in debt—troubled Dennis Littky. He has a successful history of shaking up high school education, as a principal and as one of the founders of Big Picture Learning, a nonprofit organization which has started over 100 schools internationally and influenced many more.
"Big Picture graduates complete college at a much higher rate than their counterparts," Littky explains, "But still, too many ain't making it. It's like giving half a vaccination. All the successes we've achieved on the high school level and so many students still not graduating from college. It haunted me."
Littky teamed up with public policy scholar Jamie Scurry-Fahy and they started by asking: "What do our students need to be successful parents, citizens, workers, changemakers?" After almost two years of research, conversations, and meetings with potential partners, Littky and Scurry-Fahy secured initial funding from the Lumina and Nellie Mae foundations and established a diploma-granting relationship with Roger Williams University. Last Year, they launched College Unbound.
I've been to three traditional academic institutions," says Bryan, a 26-year-old first-year student at College Unbound. "They see education as an externalized process. You're force-fed what they feel you need to know. What we're doing here is an organic process that comes from inside. We set our own course and follow our interests through internships and projects."
Bryan grew up in the Boston neighborhoods of Dorchester and Roxbury. After receiving his GED he attended various colleges, but they all left him wanting more, so he left them. As a first-year student in the program, Bryan now lives in a triple-decker house in Providence, Rhode Island with nine other students.
Like all 13 College Unbound students (about half of whom came to College Unbound straight out of high school and half of whom are of non-traditional age), Bryan spends Monday, Thursday, and Friday taking seminars. On Tuesday and Wednesday, he works at the International Gallery for Heritage and Culture, where he is helping the organization's founders develop programming. Faculty from College Unbound meet with Bryan and the International Gallery's founders every few weeks to ensure that he is learning and providing useful services to the organization.
All of his classmates have similar real-world learning opportunities. These experiences are the centerpiece of each student's studies, making everyone architects of their own curricula. Ariel Wilburn and Michael Reaves are at the Institute for the Study and Practice of Non-Violence, where they run trainings for middle school students. Talia Lundy is working with the producer of a new ABC television show being shot in Rhode Island. Alex Villagomez works on sustainable building projects at a rural camp. Mike McCarthy is doing outreach for the Providence Zen Center.
"Often for college faculty it's about creating a 'mini-me,'" says Scurry-Fahy, co-director of College Unbound. "We've got to let go of that. It's about finding out from students what they want to know and be able to do. Then it's our job to help them figure out what they'll need in their toolbox in order to learn those things." Faculty work with students during seminars, through frequent written correspondence, and in weekly one-on-one meetings to draw connections between seminar work and the experiences students are having outside the classroom.
Further, all students learn grant-writing and are responsible for crafting at least two proposals each year, one of which goes to support international projects, which College Unbound students conduct during the summer. Because students are engaged year-round, they save tuition and join the workforce faster by earning a bachelor's degree in just three years.
While the exact future of College Unbound is still unclear, Littky says that it is still in the pilot stage. He and his colleagues continue to explore a number of approaches for bringing the innovative design to scale. One possibility would be to establish a national consortium of colleges and universities that would offer College Unbound as an option within existing institutions. Along these lines, Southern New Hampshire University plans to launch a College Unbound program next year. Community groups from New Orleans and Detroit have also approached the organization about hosting programs. Another expansion model is to develop a partnership with the military that would allow service people to earn credits for military experience.
While it may sound like a wild mix of growth strategies, that's sort of the point. "We have the opportunity to provide disruptive innovations in multiple realms of higher ed at once," says Adam Bush, who directs College Unbound's curricular partnerships.
Students like Lundy, a second-year College Unbound student are hungry for the alternative: "When I think about traditional college it kills me. The loans, the boredom, I would have dropped out. I didn't see education as a valuable thing until I came here. Everyone should be able to have this."