Articles
Cricket Sticks a Wicket in the American Sports Scene
"There is a limit to what Americans can understand. The limit is cricket."   So says a character in Netherland, Joseph...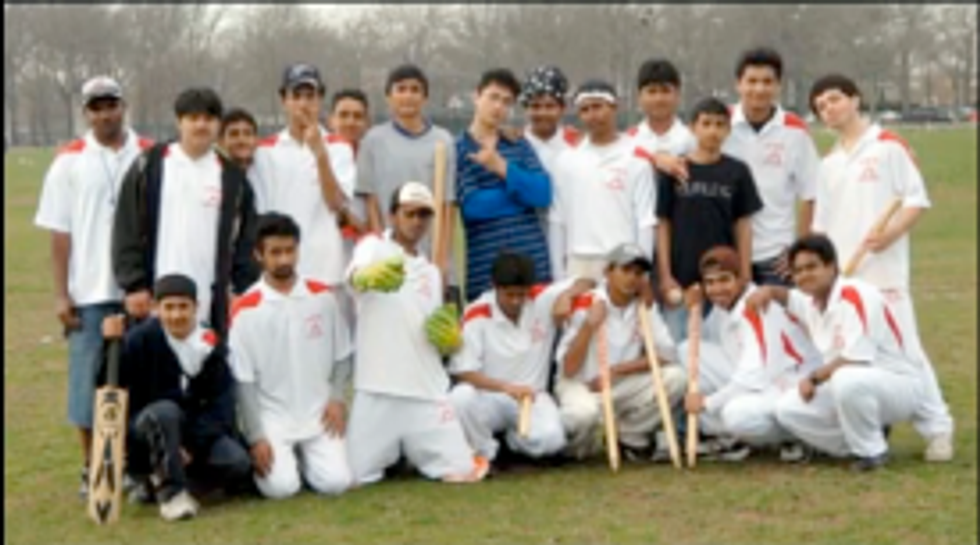 ---
"There is a limit to what Americans can understand. The limit is cricket."
So says a character in
Netherland
, Joseph O'Neill's acclaimed 2008 work which—along with providing a wrenching social and emotional portrait of post-9/11 life and one particularly creepy sex scene—just might be America's first great cricket novel. In O'Neill's immigrant saga set in mid-2000s New York, the world's most popular bat-and-ball game serves as a symbol of the divide between his international protagonists—Caribbean, South Asian, English and even Dutch—and their adopted land. Even the world's greatest melting pot can't metabolize white uniforms, wickets, and stumps.
But that was art. In life, never underestimate the appetite of American sports. Today, the old British Empire pastime has discovered a new, streetwise, polyglot, and decidedly all-American identity: as a high-school varsity sport. Two years ago, New York's titanic Public Schools Athletic League decided to experiment with a co-ed cricket program, to complement offerings like fencing, Double Dutch, and rugby. This week, as the current PSAL season wraps up with playoff championships, this seemingly rococo addition to the city's sporting menu can be considered a huge success. The number of participant schools has doubled. By the time this year's champion triumphs, the league will have staged about 300 matches around the city, packed into a hectic two-month spring schedule.
[youtube]http://www.youtube.com/watch?v=LuCghnv8gV8
Teams sometimes must travel hours to reach improvised fields in neighborhood cricket strongholds scattered across Brooklyn and Queens—New York cricket is pretty much an outer boroughs thing, though the Stuyvesant Hitmen do represent for Manhattan. The city has only three dedicated cricket pitches, with a fourth in the works. Still, PSAL organizers see many signs that cricket has moved well beyond novelty status.
"The first season, I can honestly say that I would see the kids play and say 'Man, there is a lot of work to be done,'" says Ricky Kissoon, the PSAL assistant commissioner for cricket. "But after two years, you can see the skill-level improving, and we have had some good rivalries between the top schools. If you go to the schools where we have programs, you can definitely say that the kids who are interested in sports are aware of how the cricket team is doing."
[youtube]http://www.youtube.com/watch?v=osjuldGfxXY
So far, the PSAL leagues remain a largely immigrant scene, drawing kids from South Asian and West Indian backgrounds. But as the Guyana-born Kissoon notes, the players on NYC varsity squads today will be the adult players (and, possibly, hard-driving "cricket parents") of tomorrow, and over a few generations, this now-exotic sport could fuse with America's "native" sports culture. "Most of these kids are American citizens," he says, "and we're starting to see some kids from the Dominican community get involved, as wells as a few Anglo kids. We've already had one of our players short-listed for the USA under-19 national team. So it's going to become part of the sports world here."
If a wider stateside following for this largely unknown—and, frankly, initially confusing—sport seems a far-fetched possibility, consider that pro cricket's cash-rich Indian Premier League is already scheming to stage games in the United States. A college national championship launched last year. And even mighty ESPN has decided that cricket is worthy of coverage on its newly relaunched online service, ESPN3.
Maybe there is a limit to what Americans can understand—and maybe that limit is cricket. But soccer and lacrosse were once largely unknown, too. Given those sports' rise to popularity, is it so hard to imagine that one day, the big man (or woman) on campus might be hitting for six?
Photo of the PSAL's FDR Cougars.