Articles
Design Explorers
The people behind Artecnica are combining high design with local talent.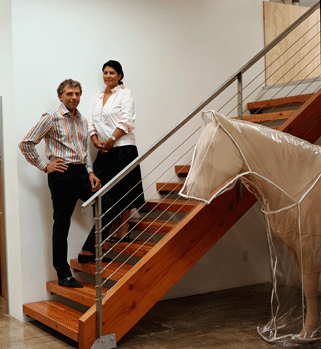 ---
The world is full
of well-designed objects of striking beauty or ingenious functionality. At Artecnica, a Los Angeles home-accessories company, co-owners Enrico Bressan and Tahmineh Javanbakht strive for design that means something beyond form and function, using it to make global artistic connections. To that end, they founded Design with Conscience, a program to develop cutting-edge consumer goods that create cash for artisans in developing countries.The Italian-born Bressan and the Iranian Javanbakht started Artecnica as an architecture and interior-design firm in 1986, but gradually transitioned to selling consumer goods. The firm is best known for its Garland Light, a strand of laser-cut steel flowers that wraps around a bare light bulb to create a lacy shade. Conceived by the Dutch designer Tord Boontje, the product was a runaway hit and can now be seen in the permanent collections of the Museum of Modern Art in New York and the Victoria and Albert Museum in London. Buoyed by their success, Bressan, 47, and Javanbakht, 46, set out to prove that good design can result in much more than pretty products. "Over the years, we've become more and more interested in sustainability in everything we do," says Bressan. "For us, the matter of sustainability is not just a question of the environment, but also of the humans within an environment."\n\n\n
Quote:
The process has resulted in unique products that merge high design with handicraft.
The objective of Design with Conscience, which launched in 2003, is to pair the world's top designers with communities of artisans in developing countries. Under Design with Conscience, Artecnica plugs into the networks of existing organizations-like Aid to Artisans and Craft Link-that help craftspeople in developing countries bring their products to market. The Artecnica team travels with a chosen designer to a targeted community where the designer meets with the local artisans, learns about their skills and resources, and then designs a product the artisans can manufacture while earning a fair wage. The program aims to develop new, environmentally responsible objects that not only appeal to consumers in the international marketplace, but also support financially self-sustaining communities.
Artecnica's TaTu tables are collaboration between designer Steven Burks and South African artisans.
The process has resulted in unique products that merge high design with handicraft. Collaborating with Coopa-Roca, a collective that allows women in Brazil's favelas to work from home while caring for their children, Boontje designed a billowy pendant lamp exploding with silk and cotton flowers. With wire weavers in a struggling South African township whose artists previously produced inexpensive tourist trinkets, the New York designer Stephen Burks developed tables and stools that would look perfectly at home in any modernist's garden. Unsurprisingly, the sale of these tables around the world generates far more income for the artists than their previous projects. For one stool, the artist takes home about $23. For the program's latest release, the renowned designers Fernando and Humberto Campana traveled to Vietnam to develop TransNeomatic, a set of wicker trays built around reclaimed scooter tires-which helps keep the material out of landfill sites while creating valuable work for the local craftspeople.The artisanal communities benefit from sales, but Bressan and Javanbakht say the program is no charity. "We want to prove we can grow even faster by embracing this concept," says Bressan. "We know we can't be very effective if we're not economically strong. Once that's done, the floodgates are open-and everybody will want to do it." Indeed, the partners say they've recently heard from bigger, more established furniture companies that are toying with the idea of following Artecnica's lead. Although their peers were skeptical at first, says Bressan, "when the top brands start to follow, you know you're definitely onto something."