Articles
Celebrity Twitter Blackout Fails at AIDS Fundraising Digital Life Sacrifice AIDS Fundraiser Falls Way Short
Lady Gaga is still dead on Twitter. The 18 celebrities abstaining from social media to raise $1 million for World AIDS Day aren't even close.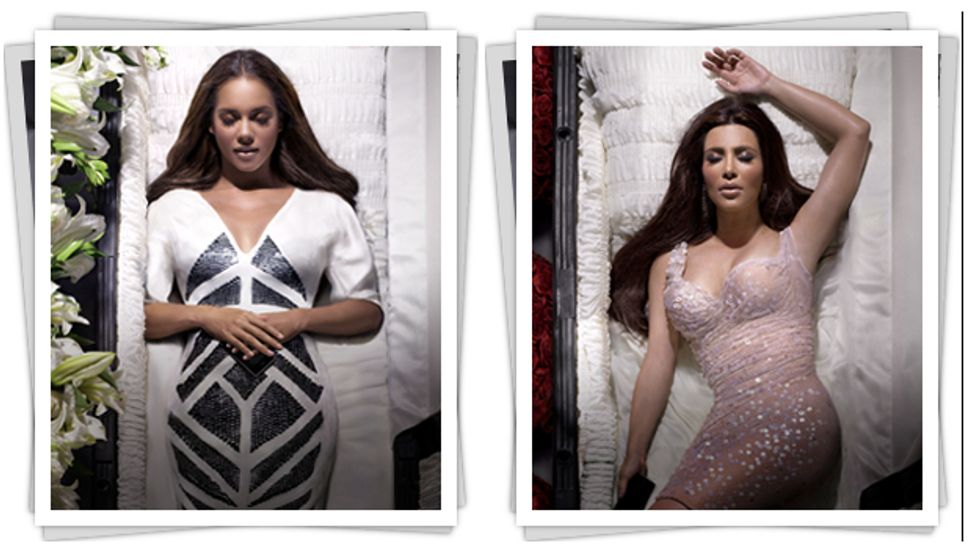 ---
Glam macabre doesn't bring in the dollars on social media.
Lady Gaga is still dead, on Twitter anyway. And she'll stay that way until her fans pony up, which isn't happening right now.
Earlier this week we covered a celebrity campaign to raise $1 million for World AIDS Day spearheaded by Alicia Keys' charity, Keep a Child Alive. The Digital Life Sacrifice fundraiser consists of 18 mostly A-list celebrities going silent on social media, including Facebook and Twitter, until their fans donate $1 million to the overseas AIDS outreach work of Keys' charity. The idea is Kim Kardashian, Justin Timberlake and friends die on Twitter to encourage you to help preserve the life of children with AIDS. But it's not working. More than a day after the campaign started and they are still well under 20 percent there according to the charity's website.
Maybe the message doesn't come across so well in 140 characters.
The only content for Lady Gaga's 7 million twitter fans over the past day has been different versions of this:
@ladygaga is dead. I will sacrifice my digital life to fight HIV/AIDS. No more tweets little monsters until we #BUYLIFE http://bit.ly/bQjboo
Or ...
@ladygaga is stil dead. She sacrificed her digital life to fight HIV/AIDS. So no more updates until we #BUYLIFE ht http://twitpic.com/3bwia7
To be exact, after almost 35 hours, Alicia Keys, Lady Gaga, Elijah Wood, Usher, and friends have raised $160,500, according to numbers posted on the charity's website. These celebrities could stay silent for a while; it will be four more days at this pace. Or one of them could just quietly pay the digital ransom money themselves to reclaim their social media presence.
Alicia Keys did tweet about some technical difficulties that may have dissuaded the fickle Twitter generosity her charity deserved. "@aliciakeys is dead. But due to historic traffic, so is buylife.org text ALICIA to 90999 to buy her life back http://bit.ly/hTvTT7"
Kudos to the campaign though for being transparent and posting the fundraising progress, as well as the number and names of tweeting participants who can choose to kill their social media status updates as well. See that list here. Representatives of Keep A Child Alive did not return calls for comment by time of publication. We'll update this if they do.
In the meantime, what's an online campaign without a little video? Here's the "last tweet and testament" from Alicia Keys. Most participants posted one of these as well as a glam shot of themselves in a coffin.
[youtube]http://www.youtube.com/watch?v=86nv_mTf0OQ