Articles
Environmental Activists Aim to 'Reclaim' Civil Disobedience
When pushing for climate change solutions through government failed, climate leaders decided to try a new strategy.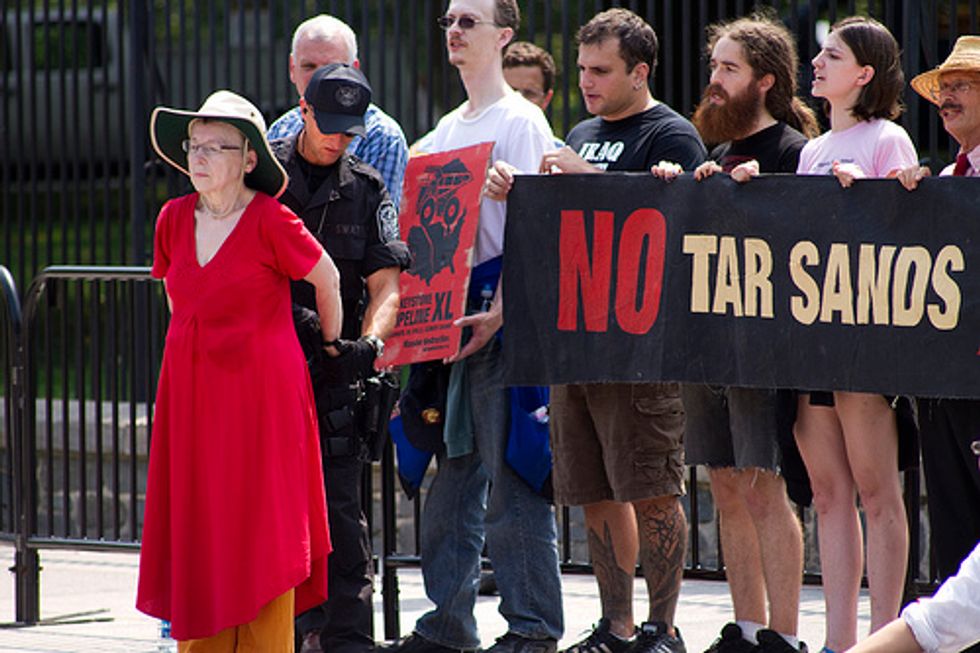 Back in 2008, environmental activists saw two possible paths to pressure the U.S. government on carbon emissions. The international climate talks at Copenhagen, the 15th time leaders had met to discuss the issues issues, posed an opportunity for a real agreement to restrict greenhouse gases. It also seemed possible that Congress would pass a cap-and-trade bill that would put a price on carbon and de-incentivize its use.
Now we know that neither path resulted in an agreement to cut down on carbon emissions and begin to address climate change. Activists began reconsidering their strategy, asking themselves what they could do in the absence of government action. In the fall of 2010, leaders including writer and climate campaign Bill McKibben and the Rainforest Action Network's Becky Tarbotton came up with one answer: "Mass direct action must play a bigger role in this movement,"
they wrote
.
This past weekend, they made
their first big push
in that direction. Starting on Saturday, protesters camped out in front of the White House in opposition to the Keystone XL pipeline, which will pump tar sands oil from Alberta, Canada, down to Texas refineries. Extracting and processing tar sands oil produces dramatically more carbon than conventional oil production: a Canadian environmental agency
has estimated
that in the next decade, carbon emissions from tar sands production will be equivalent to twice the country's total carbon savings. Protesters plan to sit outside the White House every day for two weeks in hopes of persuading President Obama to stop the pipeline. Over the weekend,
110 people
were arrested, and 2,000 people in total have committed to risking arrest over the course of the protest.
The protest organizers say part of the goal of the protest is "reclaiming civil disobedience," says Jamie Henn, who works with McKibben at
350.org
and is acting as a spokesperson for the event. "Breaking the law for something you believe in has become something it seems only far-out radicals or professional activists engage in," Henn wrote to GOOD.
The tar sands protest is meant to demonstrate that people fighting against climate change aren't members of fringe groups, but average citizens. Organizers asked participants to wear business clothes in order to set the tone for the protest.

The arrests over the weekend showed that authorities are taking this action more seriously than a routine protest. The U.S. Park Police originally told organizers that anyone who was arrested would be fined $100 and released, as per usual procedures, but dozens of protesters arrested on Saturday remained in jail on Monday morning, waiting for a 2 p.m. hearing.

Over the next two weeks, more groups of unconventional protesters will take their turn at civil disobedience. Today, landowners and farmers in Nebraska, who would see the tar sands oil pipeline cut through their home state, will risk arrest. Activists from Montana, Appalachia, and the Gulf Coast are slated to protest as well. At the end of the two weeks, organizers are planning a larger rally for people who'd rather not risk arrest. As activists' frustration with government leaders mounts, "we think a mass sit-in like this is the most pragmatic thing we can do," Henn says. And given the overall goals that McKibben and Tarbotton have outlined, the Keystone XL protest may well be the first of many.

Photo (cc) via flickr user tarsandsaction








---