Articles
Ethical Style: Where Do My Used Clothes Go?
Should carting our discarded clothes off to Goodwill make us feel better, or worse?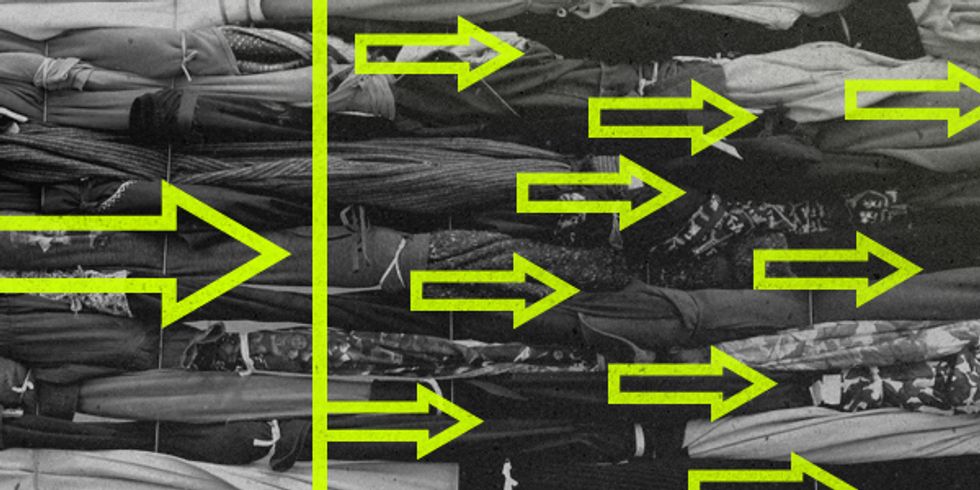 ---
\n
Every Thursday, your
Ethical Style
questions, answered.
Modern dressers buy new fashions faster than we ever have before. That leaves us with an uncomfortable predicament: Closets filled to the brim and nothing to wear. In order to make room, we pick through, mull over, and discard last season's styles, then shop for more. Today, we only hang on to about 21 percent of the clothing we buy every year.
What happens to the pieces that don't make the cut? Most of them end up in landfills—only about 15 percent of discarded clothing is recycled or reused, whether by individual or industry. Globally, we trash roughly 2 billion pounds of clothing and textiles a year. Piled onto a football field, the waste would stretch more than two miles high. The textile industry has hooked us so completely on the accelerated fashion cycle that we feel we find ourselves with more and more stuff and few options for ethically discarding it.
Still, we feel like we can assuage our residual guilt with annual trips to the Salvation Army or Goodwill—when we drop off our blue Ikea bags filled with used clothing, we believe that the evidence of our disposable income is being put to good use. From there, only 15 to 20 percent of worthy waste is resold in thrift shops domestically, as the U.S. market simply doesn't house the demand to absorb more secondhand clothing. The remaining T-shirts, skirts, and jeans follow one of three paths: 30 percent of it is cut and repurposed for industrial wiping rags; roughly 25 percent is recycled into fiber for reuse as stuffing and insulation; and the remaining 45 percent continues life as clothing on a different continent.
Before it heads abroad, so-called "processors" buy charity overages in bulk. These processors used to be in the business of recycling garments for their fibers. But with the decline in quality of the fabrics we wear, this kind of recycling has grown comparatively expensive, and is no longer lucrative. Instead, thousands of pounds of clothing are taken from charities and sorted by category in various facilities across the U.S.
This is big business: The U.N. estimates that the global used clothing trade generates about $1 billion annually. Rag cutters pay about 8 cents a pound for (preferably white) T-shirts with enough clean surface area to cut a 12-by-12 inch square. Remaining tattered or excessively printed clothing becomes what is called "shoddy" in a shredding process—companies pay the processors between 2 and 4 cents a pound for these goods that wind up in carpet pads, mattresses, or as insulation. But your used clothing is most valuable if it is fit to be reworn. Pricing varies, but select closet rejects can be bought for anywhere from 24 to 80 cents a pound. Processors sell them in bales from 500 to 1,000 pounds.
If your clothing is deemed ready to wear again, it's categorized into one of 300 different groups to figure out where it's most likely to find a new home somewhere around the world. Collectible items like vintage denim and Disney T-shirts are typically sold to Japan. Winter coats and other heavy winter items are shipped to Eastern Europe or South America. But the bulk—up to 80 percent—of reusable clothing winds up on ships to Africa. Middlemen there buy heaps of clothing from U.S. processors, then resell them to local market stall owners or straight to the costumer in their own retail outlets. In Africa, demand is high for these goods—in 2007, second-hand clothing placed in the top 10 import categories for 15 African countries. In Namibia and Uganda, our secondhand clothing becomes sought-after fashion apparel once it reaches the market. A well-fitting T-shirt can go for $1.20, and a durable coat can cost well over $4, even if the Goodwill tag in the back reads just $1.
As our old clothes transition from American tax write-off to Namibian splurge of the month, a lot of money changes hands. Critics call the clothes donation process the "dumping" of our unwanted clothing, comparing it to food aid handouts and the dependency that comes with them. African textile and garment manufacturing has all but vanished in most countries. Traditional African dress has become reserved for the upper tiers of society. Meanwhile, our donated clothing is converted into the free raw material of someone else's thriving—and perhaps exploitative—business practices.
Still, it's difficult to truly place the global effect of American used clothing within the context of broader economic difficulties and changing social norms. Should carting our discarded clothes off to Goodwill make us feel better or worse? Perhaps it's time to start asking a new question: Why do we have so much junk that we are in the position to inundate the world with our reject piles?
Send all of your ethical style queries to asktabeakay@gmail.com.