Articles
Fallen Fruit's Tree-planting Dreams Are Uprooted In Madrid
At the Spanish contemporary art fair, ARCOmadrid-the highest-attended European art fair-Los Angeles was chosen as this year's...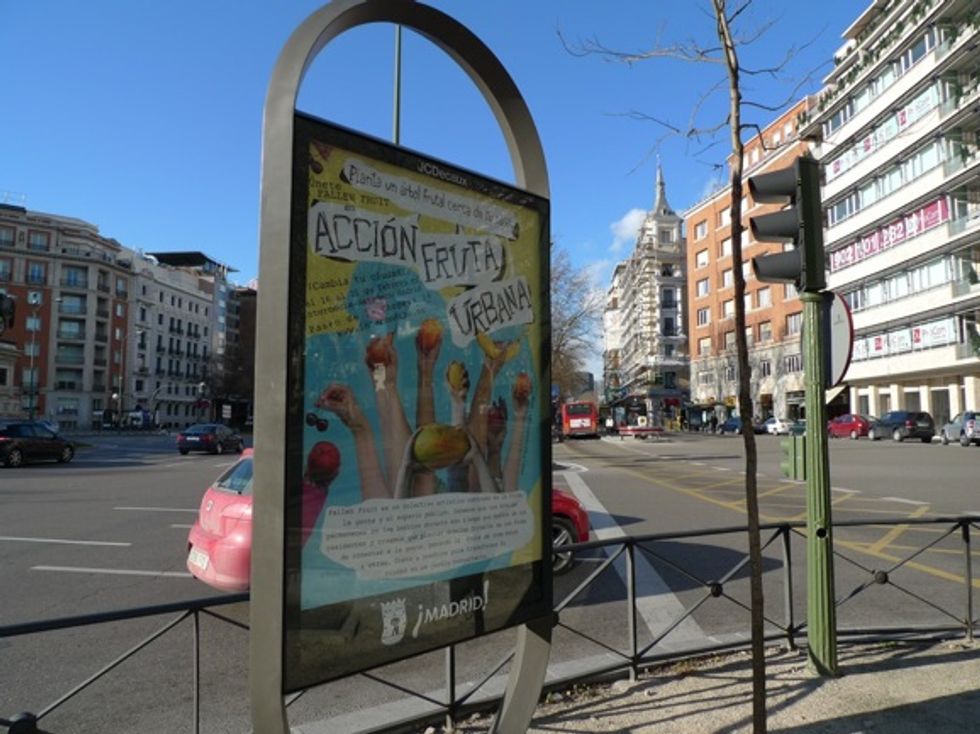 At the Spanish
contemporary art fair,
ARCOmadrid
-the highest-attended European art fair-Los Angeles was chosen as this year's featured city. This meant many things, but especially it meant that on the Saturday night of the fair last week, hundreds of artists, curators, and gallerists could be found all over the city, clinking flutes of
cava
and tossing back
pinchos
in celebration. But in south Madrid, at a former slaughterhouse slowly being converted into the city's-and maybe the world's-largest municipally-funded art complex, the L.A.-based collective named
Fallen Fruit
held an event where the tone was slightly bittersweet.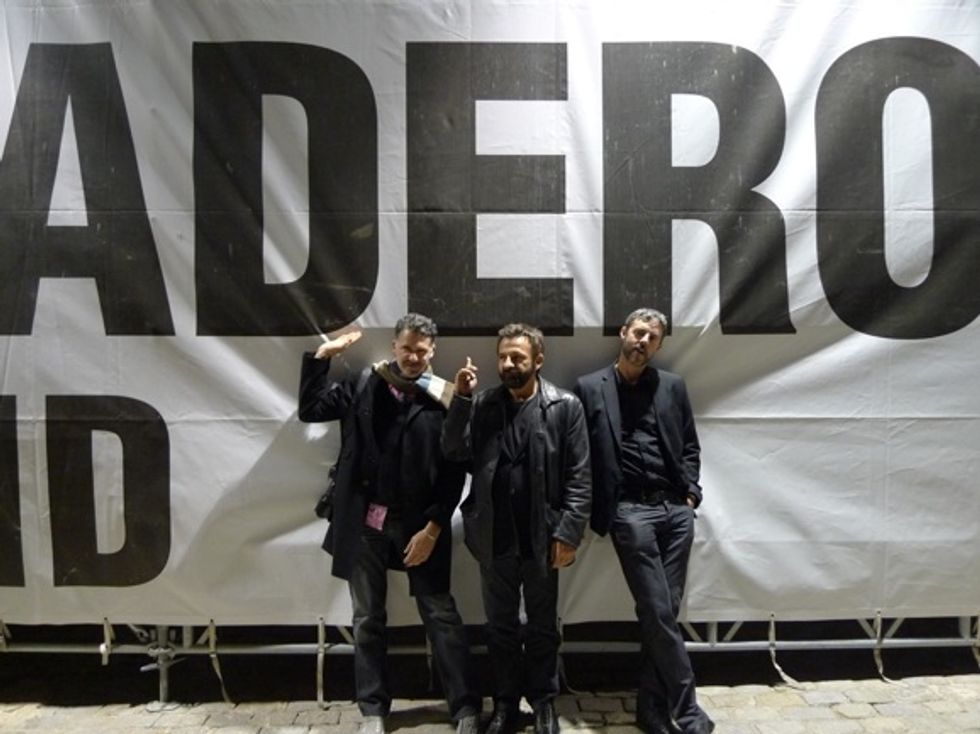 ---
The trio-Austin Young, Matias Viegener, and David Burns, above-was invited to participate in a large-scale urban intervention that included the planting of 60 public fruit trees. But on the day before the trees were supposed to be distributed in the mostly working-class neighborhood, they received a message from the city that they hadn't expected to hear: No.
An email late Thursday telling Fallen Fruit to cease and desist had been followed by a reprimanding call from the wife of the former president. "They told us that she's the Margaret Thatcher of Spain," said Burns, with a bit of a bemused smile. Although she held no public office, she was supposedly an authoritative member of a city beautification group, which was even more telling, said Young. "Here, trees are used like architecture, they're decoration," he said. "We asked, 'Can they be used for more?'" Viegener thought the whole situation was pretty ironic, seeing as the city had already given its unofficial approval for the trees: "They bought them for us!"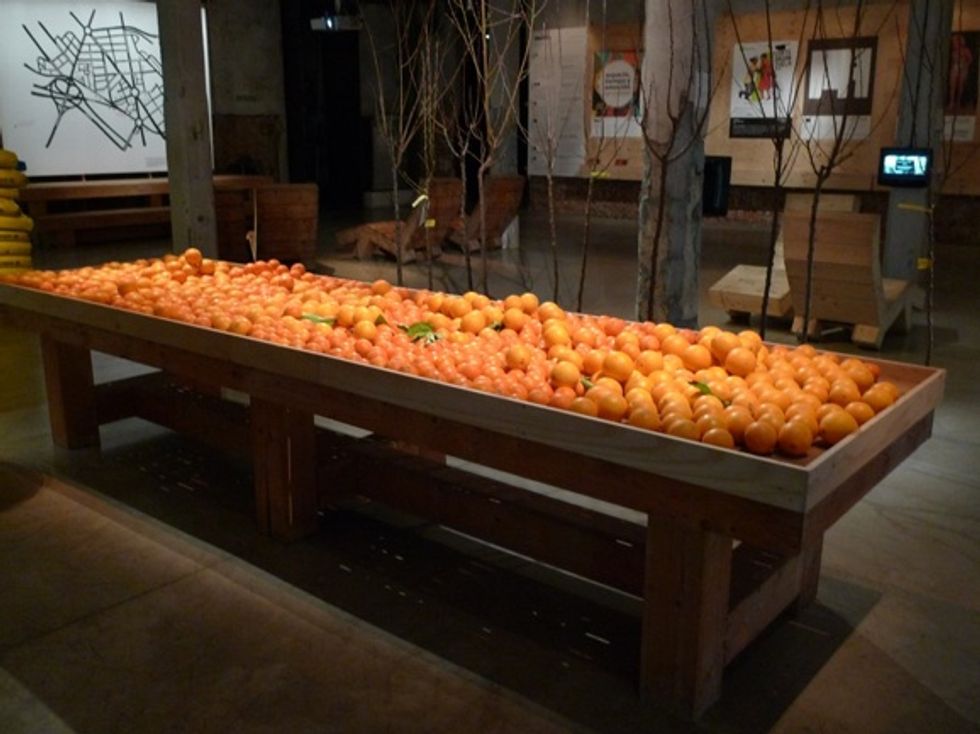 For the last 10 days Fallen Fruit had been scouring the area, leading urban foraging trips to find what other fruit-bearing trees existed in the neighborhood around the city-funded
Matadero
art space, plotting the best locations for future apples, peaches, plums, pears, and apricots. A large-scale map in the exhibition had served as a community sounding board, where people could plot good locations or other relevant information Fallen Fruit should know. The plan was to have the trees planted before their final presentation that night, giving the people of Madrid a map to all the public fruit they could eventually eat.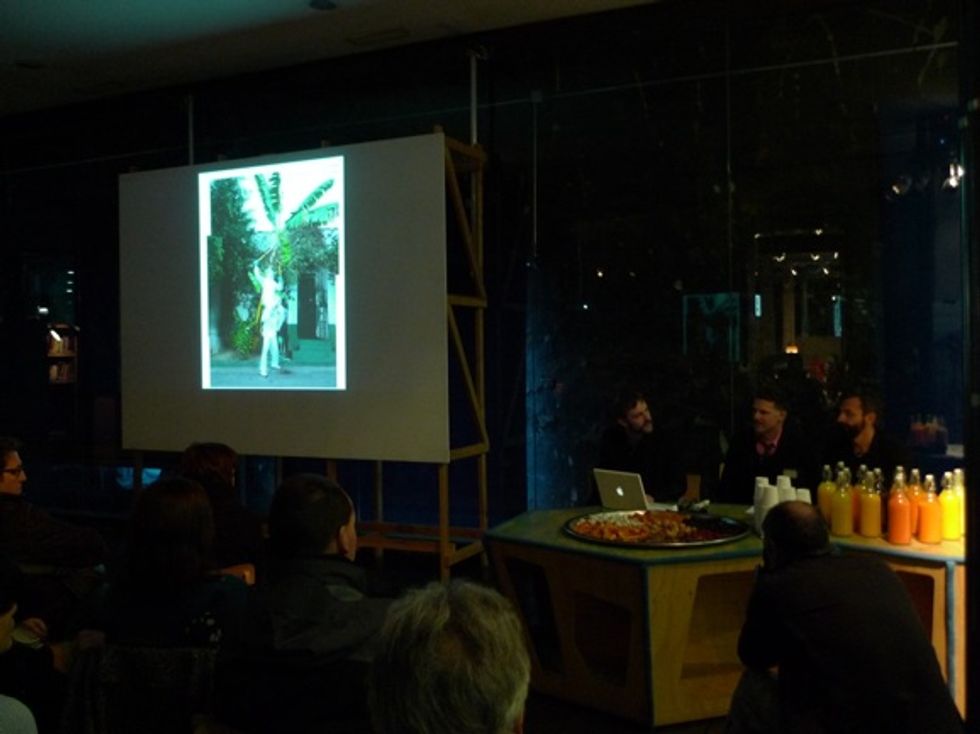 The collective presented their work-and delivered the bad news-to a rapturous Spanish audience on Saturday, but it was obvious the Madrilenos in attendance had already gotten used to the idea of free, public fruit hanging heavy on city streets. Later that night, when I talked to a group of locals attending another performance at the Matadero, they asked more about what it was like to live among Fallen Fruit's endeavors in Los Angeles–fruit maps, foraging trips, jam-making sessions, collaborating on infused "neighborhood" vodkas. Sometimes we forget in Los Angeles how commonplace it is to have avocados dripping from the trees like moisture.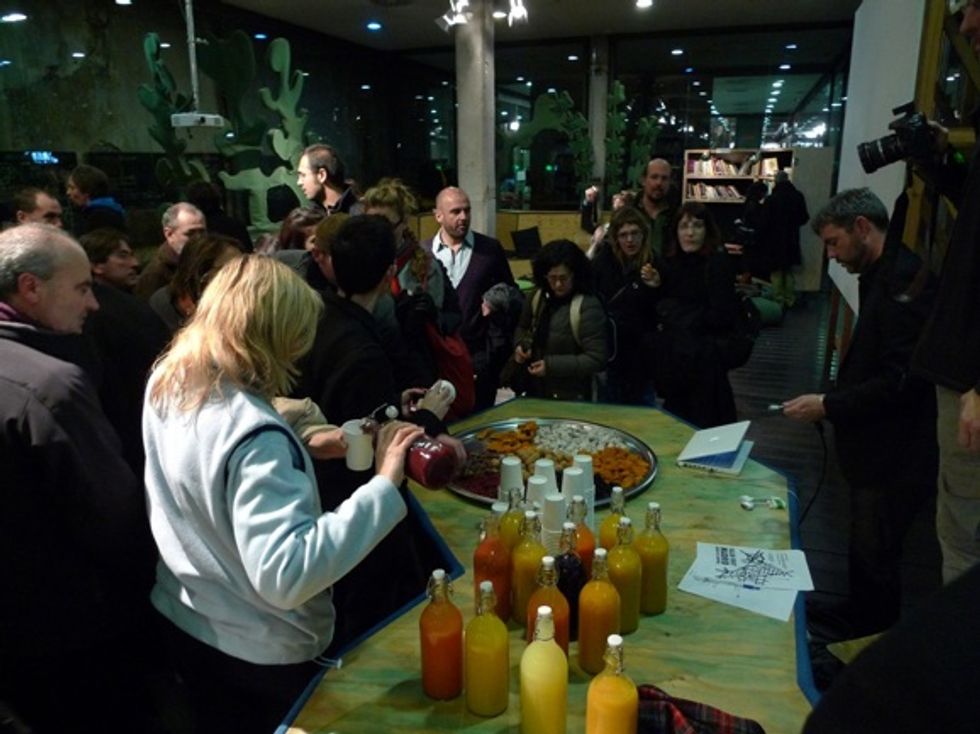 Afterward, any civic-induced woes were momentarily forgotten as the crowd swarmed what had to be the best post-talk snack spread I've ever seen. Pillowy dried apricots, sticky tart cranberries, whole walnuts for cracking. And juices! The juices! Jewel-tone lip-smacking combinations like white grape-pear and orange-carrot-ginger were sipped like top-shelf cocktails. Yes, even the refreshments were a collaboration with a Matadero exhibition designer. As guests swirled their fragrant quaffs, Maria Bella, director of
Intermediae
, the experimental, public-engagement arm of the Matadero, said she was optimistic, but in the meantime, they were surveying alternate locations like a large park surrounding the redeveloped riverfront. Bella told me later via email that an interesting twist had developed: The environmental department of the city now believed that the tree-planting fell under their jurisdiction, not under the arts department that had previously claimed the project.
[youtube]http://www.youtube.com/watch?v=27crKAVe0VQ
The fact that Madrid couldn't decide whether this work belongs in art or the environment is amusingly fitting because it's that tenuous line between art, landscape, health, and food that will be explored in Fallen Fruit's long-term project in partnership with the Los Angeles County-funded museum LACMA.
EAT LACMA
launched this month with a fruit tree giveaway-as long as people who took them promised to "plant their perimeter," or at least close enough to the edge of their property for fruit to be publicly-accessible. In June, they will begin planting a group of artist-designed gardens on the museum's grounds. Then, on November 7, Fallen Fruit will invite 50-60 artists to create interventions involving the fruit featured in the artwork. This includes the
SHOW US HOW YOU EAT
project where they're asking people to submit videos of themselves eating... anything, really. Screens playing videos at the Matadero show featured teenagers negotiating with juicy fruits, often giggling as they chewed. (Fallen Fruit has applied for a
Refresh grant
for EAT LACMA.)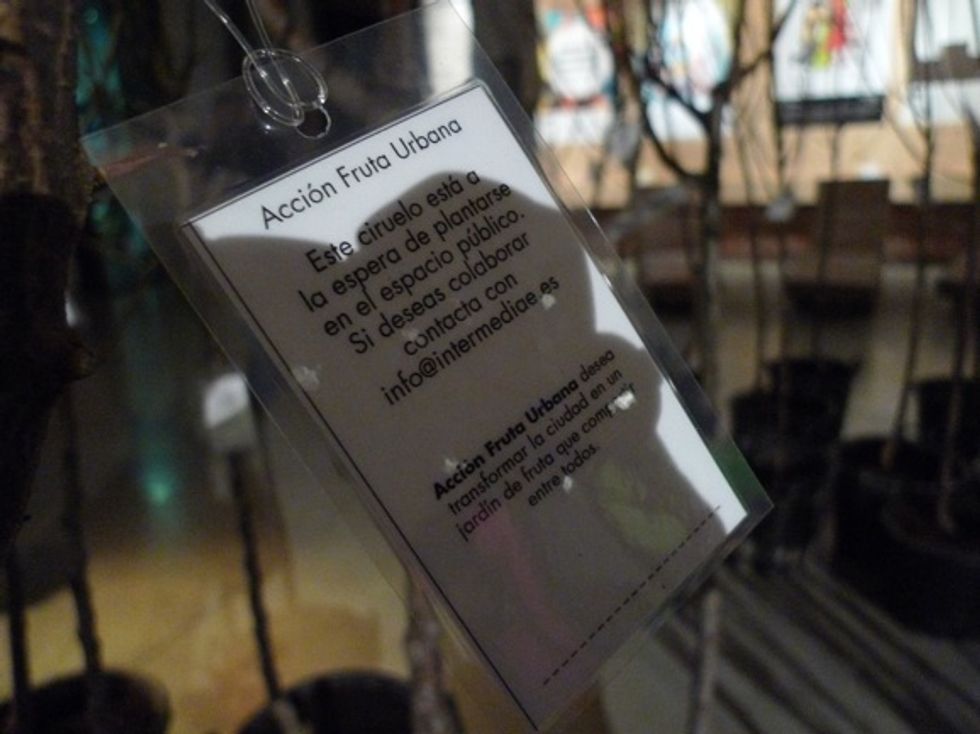 Like a lost forest in the center of the gallery, all 60 trees awaited their fate at the end of Saturday's event, planted in pots, each tagged with a plea for help. Interestingly, the perplexing battle with bureaucracy is not native to Spanish culture. Even in Los Angeles, where oranges can't help but cascade over people's fences, planting public fruit trees is not condoned by the city. Governments are universally concerned with lawsuits incurred by people climbing trees in search of snacks. "That's called an 'attractive nuisance,'" smiled Viegener. "We want to do a project on that." Meanwhile, Viegener was more concerned about nature's plans for the saplings. "The trees all have these little flowerbuds on them," he said. "They're all going to bloom soon."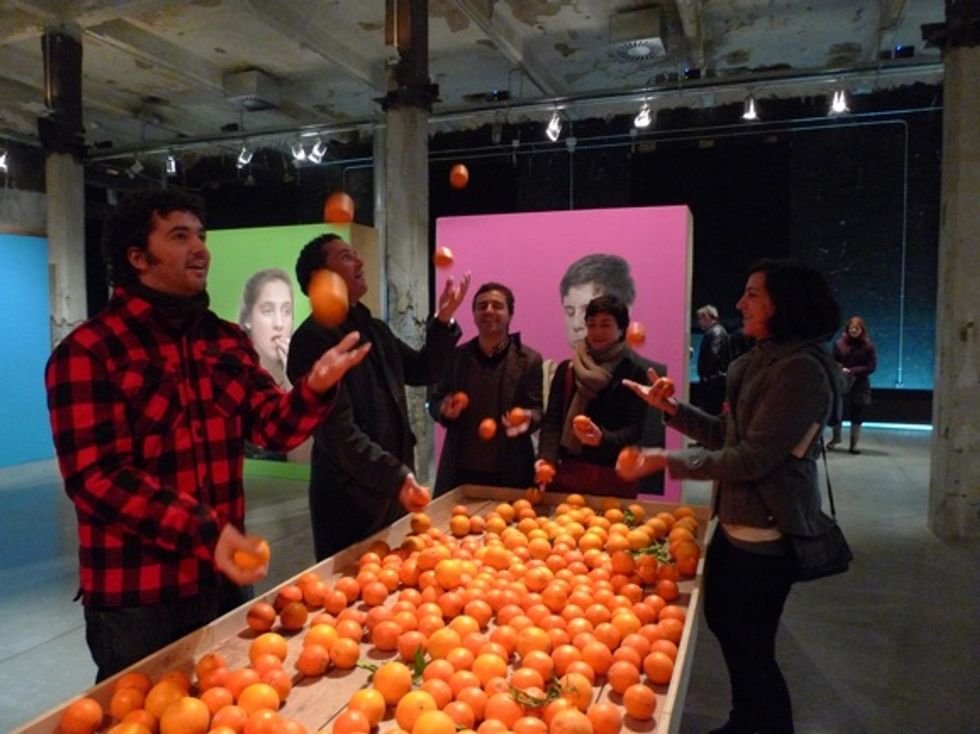 Luckily, the Matadero has quickly become a gathering place for the young and cultured in the city and it was obvious from conversations that buzzed around them that evening that Fallen Fruit was no longer alone in their quest. A group of attendees wondered if they might be able to adopt the trees to keep on their patios and terraces, as long as they promised to give away the fruit for free or put it in baskets in public places. A more guerrilla gardening-ahem, illegal-approach was also discussed, but Fallen Fruit wanted the project to be a cooperation with the government, and pledged to return to Madrid to plant the trees when a solution had been reached.
Besides, they acknowledged, getting the word out about how difficult it was to seed a city with what they call "useful plants" was drawing plenty of attention to Intermediae's role as an urban instigator-and has turned the project into a much more tangible process for their audience. Some of the attendees were getting downright riled up about their right to eat peaches. "The most important thing is that people engage with the fruit," Burns had said during his presentation. And that, as was made deliciously obvious, they did.