Articles
Father Figure
Father Greg Boyle wants to stop the causes of gang violence, instead of waiting to clean up the results.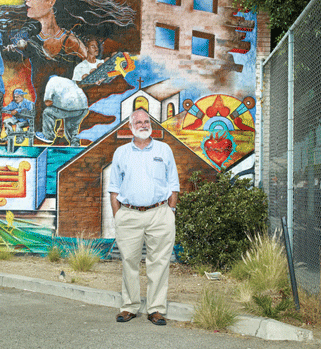 ---
Father Greg Boyle
buried his first gang member in 1988; on a Saturday last August, he buried his 156th. "I keep count," he says, speaking from the gang reintegration clinic he runs in Boyle Heights, a crime-plagued district just east of downtown Los Angeles. Dressed in a short-sleeved shirt bearing the logo of Homeboy Industries, the anti-gang organization he founded, the 53-year-old Boyle has the relaxed, affable persona of someone for whom life's harsh realities are tempered by understated compassion and virtuous zeal.Boyle, a Jesuit priest, was assigned to the Dolores Mission Parish in1986, and found himself caught up in a turf war among eight rival gangs who controlled the Pico Gardens and Aliso Village housing projects-the largest public-housing community west of the Mississippi and home to some 10,000 residents. "I would ride my bike and witness shootings," he says. He remembers1988 to 1998 as "the decade of death." After Rodney King's beating, in 1992, there were nearly 1,000 gang-related homicides in Los Angeles County alone. In the midst of this tragedy, Boyle found a mission. "Gangs are places kids go when they've encountered life as a misery," he says. "There often isn't a conflict-there's just no hope." In 1988 he founded the Dolores Mission Alternative School to get kids off the streets and into classrooms. This was quickly followed by Jobs for a Future, an employment service that currently places 300 people a year in construction, clerical, textile, health-care, and other jobs. In 1992, he founded Homeboy Industries, his multifaceted antigang organization, to offer hope as an alternative to gang life. "Nothing stops a bullet like a job," Boyle believes.\n\n\n
Quote:
Nothing stops a bullet like a job.
Though gang-related crime in Los Angeles had fallen for the past several years, it rose 14 percent in 2006-and 56 percent of all homicides were gang-related. In January, Police Chief William Bratton announced an "unprecedented collaboration" combining the resources of the FBI with the LAPD and other local agencies. The city's official plan is to pursue the most notorious gangs and hope for a trickle-down effect to curb the violence. But Boyle believes the issue is more nuanced. "Cops often overstate the problem," he says. "[The city's] treatment plan is bad because the diagnosis is bad. If you can fix what they're fleeing from, then you've done a lot. Our thinking is inside-out."It is this desire to understand gang culture, and to address its causes at their root, that informs Homeboy Industries' practical philosophy. Today the group offers a wide range of free services, including tattoo removal, employment and legal services, traditional twelve-step meetings, and essential educational tools such as classes in literacy, personal finance, and parenting. A thousand people-former members of some 600 gangs from 45 different zip codes---use at least one of these services every month. A series of for-profit ventures have also sprung up, most notably a Homeboy Bakery, and professional services such as Homeboy Silkscreen and Embroidery and Homeboy Landscaping and Maintenance. There is also a Homegirl Café that helps female gang members start new lives in the service industry.Today, Homeboy Industries has an annual budget of $5 million, funded by a combination of public foundations and private donors such as Ray Stark, the legendary Hollywood film producer, and Herb Alpert, the trumpeter who co-founded A&M Records. It recently moved into a brand-new 21,000-square-foot building in the heart of downtown Los Angeles. "It's going to transform the level of service we can offer," Boyle enthuses. "I'm excited to see where we go from here."
Photographs by Jeff Minton