Wheelchair-Bound Father Learned to Walk So He Could Walk His Daughter Down the Aisle
"It was like a miracle."
10.22.15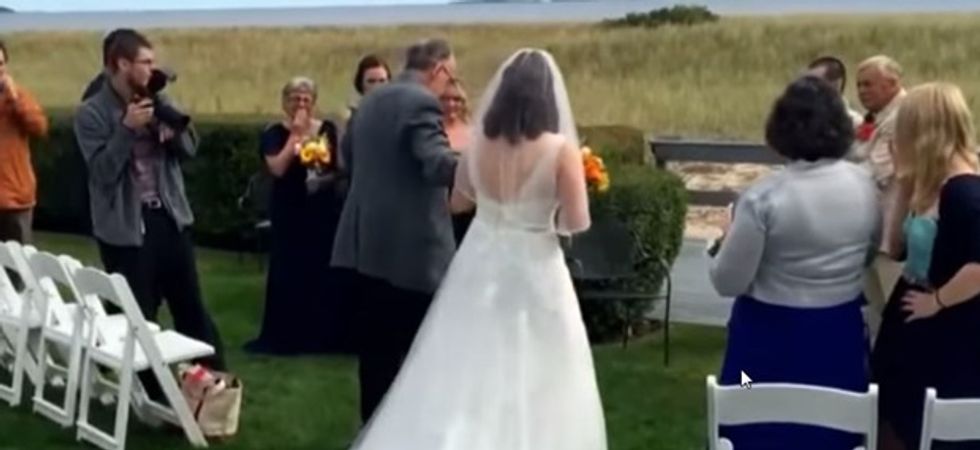 via YouTube
The last thing anyone expected at Heather Duquette's wedding was that her father, Ralph, would be walking her down the aisle. Ralph Duquette is a leukemia survivor who's had extensive chemotherapy and is still recovering from the effects of being in a five-day coma. He's gone blind in one eye and the illness left him confined to a wheelchair. But, as a dutiful dad, Ralph Duquette wouldn't miss his proud moment without a fight.
---
"When a father is presented with their daughter for the first time, they know how it's gonna end," he said. "That they'll have to give her away and I'd have to walk her down the aisle one of these days, you know? I've known that all my life, and when I got ill it was like, it's never gonna happen."
To build the incredible strength it would take for him to walk just 50 feet, Ralph worked out all summer alongside physical therapists so he could make it to the altar. "... [we] figured out the length that I had to walk from the stairs, like 50 feet down," Ralph said. "I fell a few times. We did that two or three times a day."
Finally, the big day came, October 10, 2015. As his daughter approached him on her way to the altar, he was lifted out of the wheelchair and then he gently wrapped his arm around his stunned daughter. "My dad was helped out of the wheelchair and walked over to me and I just started crying," Heather Duquette said. "I was scared and nervous and happy all at the same time."
Although it wasn't planned, Ralph felt so strong at the end of the ceremony he was able to do the previously unthinkable: dance with his daughter at the ceremony. "It was like a miracle," Heather said. "It was something that just made my day more than I could expect it to be."
(H/T ABC News)
Articles