Articles
Fed Up With Smog, Los Angeles Welcomes Clean Car Company
CODA Automotive is bringing jobs and green cars to Smog City.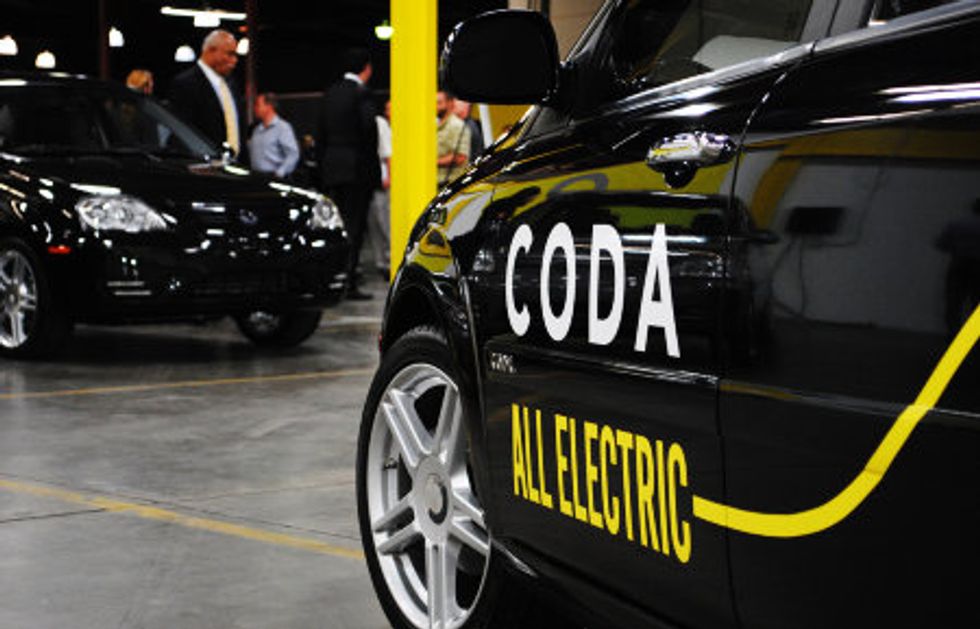 CODA, a developer of all-electric cars and advanced battery systems, makes its home in a town rooting for its automotive success—and it's not Detroit. No, CODA is located in the other self-proclaimed car capital of America: Los Angeles.
---
This week, the company officially opened its global headquarters in Los Angeles; it moved into the 100,000-square-foot facility from nearby Santa Monica in May. CODA's assembly plant is located in Benicia, in the San Francisco Bay Area, but all processing and research and development happen in Los Angeles.
While CODA's all-electric five-passenger car is impressive—it drives up to 150 miles on one charge, as good or better than most competitors—the company's potential for growth is what excites Los Angeles residents and leaders. In the fifth year of its existence, CODA increased its number of California employees from fewer than 100 to 225, and leaders expect to add more by the end of the year.
There are keys to CODA's success in an otherwise weak economy.
First, the company entered into a growing market. Californians are expected to buy fewer than 50,000 electric cars this year, but PikeResearch, a clean tech analysis firm, expects Los Angeles residents alone to purchase nearly 100,000 electric cars in the next five years. The race is on to bring the best electric option to market.
Second, CODA grabbed a chief executive officer with a killer track record in the industry. In January, the company announced the hiring of former GM China CEO Phil Murtaugh. In Shanghai, Murtaugh grew GM operations from 15 to 15,000 employees and increased that area's revenue from $300 million to $7 billion. The company also values Murtaugh's experience in China, where CODA's chassis and battery manufacturing plants are located.
Third, it found public sector partners with problems to solve. Governor Jerry Brown, Los Angeles Mayor Antonio Villaraigosa, Congresswoman Karen Bass, and Los Angeles City Councilman Herb Wesson all showed up for opening day to celebrate new jobs and the potential for clean cars. The city offered tax credits to the company and helped cut through red tape to make the move possible.
"We chose to place the global headquarters in Los Angeles ... because elected officials and business leaders have demonstrated their commitment to fostering a successful local clean tech industry," Murtaugh says.
Los Angeles' affection for electric cars—high-end electric vehicle manufacturer Tesla Motors opened its first factory store in Santa Monica—is about more than just job creation. Los Angeles is known for being the city with, as Mayor Villaraigosa puts it, "the dirtiest air ... a city that is addicted, frankly, to the single-passenger automobile." In April, Beth Jines, the city's director of sustainability, told Time that the city's apparent love for electric vehicles "stems from Los Angeles being out of compliance with federal clean air regulations" and fears that the city could lose federal transportation funding because of it.
While CODA's cars aren't cheap—a standard model costs $45,795—tax breaks could lower the price by $7,500. Then there are the savings that come from avoiding fossil fuels: If everyone in California went electric, the state would save $74 billion annually on gas expenses.
Photos by Nina Lincoff