Articles
For Many California Students, Harvard Is Now Cheaper Than State Schools
A 300 percent increase in tuition and lackluster financial aid from state schools is making elite private universities look more appealing.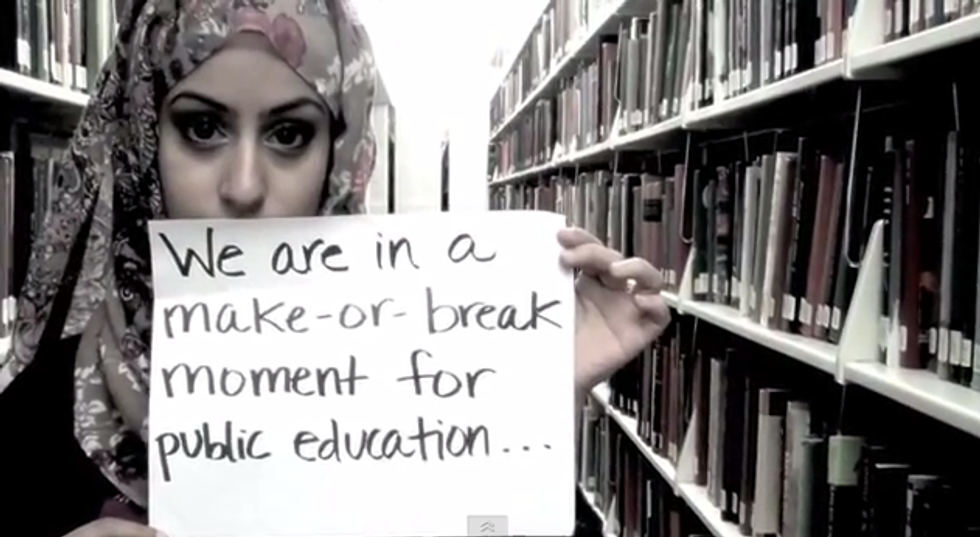 Thanks to a 300 percent increase in tuition over the past decade, California college students have a tradition of protesting education budgets—in recent years they've marched on freeways and held sit-ins on campus. Faced with a proposed 21 percent tuition increase for the next school year, tens of thousands of angry students marched on the state capitol on Monday to demand that lawmakers fully fund higher education.
As the state has cut billions of dollars from education budgets over the past few years, California's universities have begun admitting more out-of-state students, who pay triple the tuition. And like many other states, they've shifted a larger burden of the operating costs on to students. That means that increasing numbers of low-income and middle-class students are being priced out of state school.
---
While public universities are traditionally seen as a financial bargain, the San Jose Mercury News recently crunched the numbers and found that a family of four earning $130,000 a year will end up shelling out nearly $24,000 a year for tuition, room, board at the average Cal State campus, and a whopping $33,000 per year at the University of California at Santa Cruz. That same family will pay only $17,000 per year if their child manages to snag an acceptance letter to Harvard.
The nation's most elite schools can provide generous financial aid because they're sitting on cushy billion-dollar endowments. Princeton's $17.1 billion endowment, for example, ensures that less than a quarter of its students have student loan debt after graduation. In comparison, UC Berkeley's comparatively paltry $3.1 billion endowment means that 41 percent of students graduate with debt.
The disparity means that schools like Berkeley—arguably the best public university in the world—are increasingly losing top students to elite private schools that can offer more aid. Recognizing the gravity of the situation, faculty and administrators at several UC and Cal State campuses gave their blessing to the protests, and many made the trip to the capitol to march alongside students.
Even if innovative solutions—like FixUC, which would use a fixed-percentage repayment plan to fund students' education—are approved, it'll take years to make public higher education affordable for Californians. In the short term, protestors are pushing for passage of a Middle Class Scholarship Act, which would slash tuition for students whose families earn less than $150,000 by two-thirds.
The protesters also want the California legislature to increase taxes in order to restore higher education funding. The UC Students Association is backing a millionaire's tax that would be earmarked for public education. But with continued high unemployment and serious state budget woes, a tax increase seems unlikely. And that could mean a continued brain drain from California to elite schools out of state.