Articles
Thanks to budget cuts, college recruiters are wooing out-of-state students and their tuition dollars.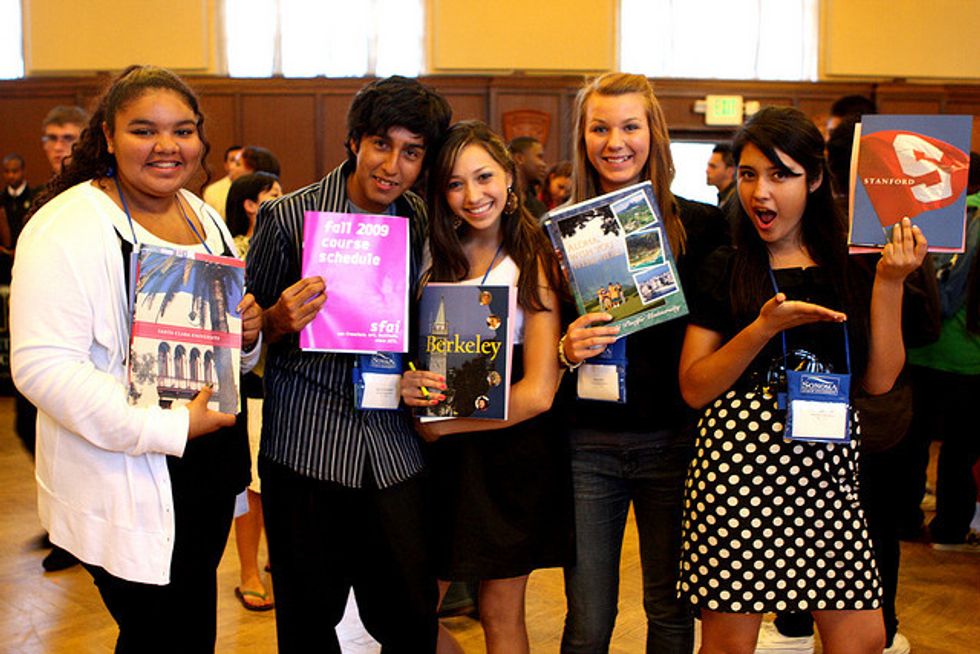 It's college application season, which means campus recruiters are racking up the hotel reward points and rental car miles. For recruiters at public state universities, that travel increasingly takes them across state lines. Driven by the need to boost their schools' bottom line, many admissions representatives are jet-setting across the country in the hopes of luring nonresident students—and their extra tuition dollars—onto campus.
Socked with $650 million in budget cuts for this year and facing hundreds of millions of dollars more, the prestigious University of California system has been particularly upfront about plans to bring in out-of-state tuition dollars. In-state students pay a little more than $12,000 in tuition and fees each year, while nonresident and international students pay around $35,000. As a result, in-state enrollments at the three most selective campuses have declined significantly since 2006.
---
The Chronicle of Higher Education charted U.S. Department of Education data on entering full-time students, and concluded that the number of California residents attending UC Berkeley is down 11.2 percent since 2006. UCLA's in-state student enrollments are down 8 percent, while UC San Diego's declined a whopping 15.8 percent. Unsurprisingly, the bulk of the decline happened after the recession hit.
So where are the rest of California's students heading? Both the University of Oregon and Arizona State "enrolled more freshmen from California than six of California State University's campuses." Some schools "have doubled or tripled the number of recruiters" heading to the Golden State to snap up students. Of course, California is not alone in experiencing budget woes. The University of Illinois' main campus in Urbana-Champaign has seen an 11.5 percent decline in in-state enrollment, and Indiana's Purdue University is down 19.2 percent.
Randy Hodgins, the former chief lobbyist for the University of Washington, told the Chronicle that he once joked with a colleague at a public university in another state that "the answer to both of our budget problems is, 'I take your kids and you take mine, and then they're both nonresidents.'" Of course, not every student can afford out-of-state tuition. But given that public universities generally can't increase enrollments, they're not likely to stop increasing the numbers of out-of-state students they admit. If students want to go to college, they're increasingly going to have to cross state lines.
Photo via (cc) Flickr user calmenda