Articles
Home Star Could Save Us 44 Deepwater Spills Worth of Oil
Here's a more real world perspective on the oil spill: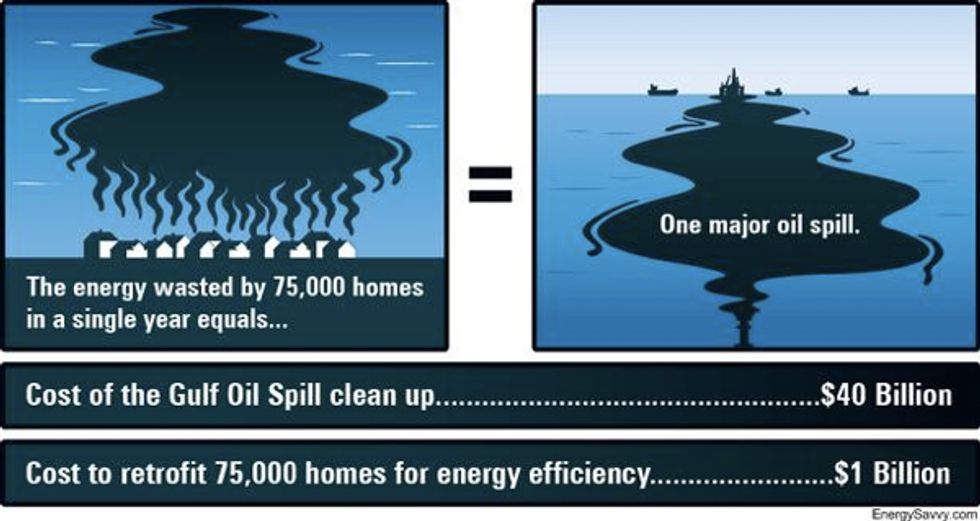 ---
This graphic is courtesy of the folks at
Energy Savvy
, and posted by
Dave Roberts on Grist
(which serendipitously came across the RSS-feed just as I started rooting around and researching some real-world equivalents of the amounts of energy represented by the oil in the gulf). Roberts smartly notes that besides holding BP's feet to the fire and all the blustery talk in hearings, there's actually something the Senate could do immediately to make use of this info: "Home Star legislation will spur the retrofit of 3.3 million homes, enough to save the energy floating in the Gulf 44 times over, at roughly one-40th the cost of mopping it up. As we speak, that legislation is languishing in the Senate."
Back in March, we called Home Star (aka "Cash for Caulkers") "long overdue." Well now it's ridiculously, absurdly overdue, and there may never again be as right a moment, as perfect an opportunity, to pass that legislation than right now.