Articles
It was started by Everytown for Gun Control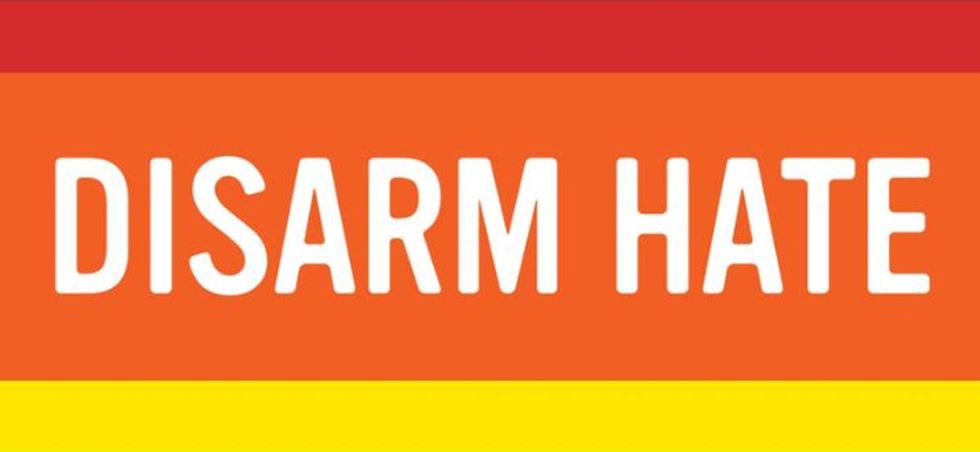 via Twitter
On Monday, four measures aimed at curbing gun violence went up for a vote in the U.S. Senate and all four were shot down. Even a bill aimed at closing a loophole that allows suspected terrorists to purchase semi-automatic weapons was voted down 47-53. Although Democrats will try to pass another gun-control measure this week, the issue may not see much progress until the November elections. But, given the fact that the House of Representatives looks to maintain its massive GOP majority well into 2017, substantive progress on gun-control legislation seems unlikely.
---
To inspire people to continue supporting legislation that curbs the never-ending saga of gun violence in America, Everytown for Gun Safety launched #DisarmHate. Its logo adds orange, the official color of National Gun Violence Awareness Day, to the center of a gay pride flag to memorialize the Orlando shooting victims while promoting measures to end gun violence.
Democratic presidential nominee Hillary Clinton and Senators Elizabeth Warren and Al Franken have rallied around #DisarmHate.
Why does John McCain not want to #DisarmHate? It could be the 7.7 million he's received from the NRA.
Ted Cruz' vote is clearly a lot cheaper to buy than McCain's.
Al-Qaeda is also very pleased that the terrorist loophole is still wide open.