Articles
Homeless Running "Hero" Tackles His Biggest Goal: A Full Marathon
Eric Fair lives in a homeless shelter. He's trying to get back on his feet after a history of drugs and prison. So, he runs ... a lot, a whole lot.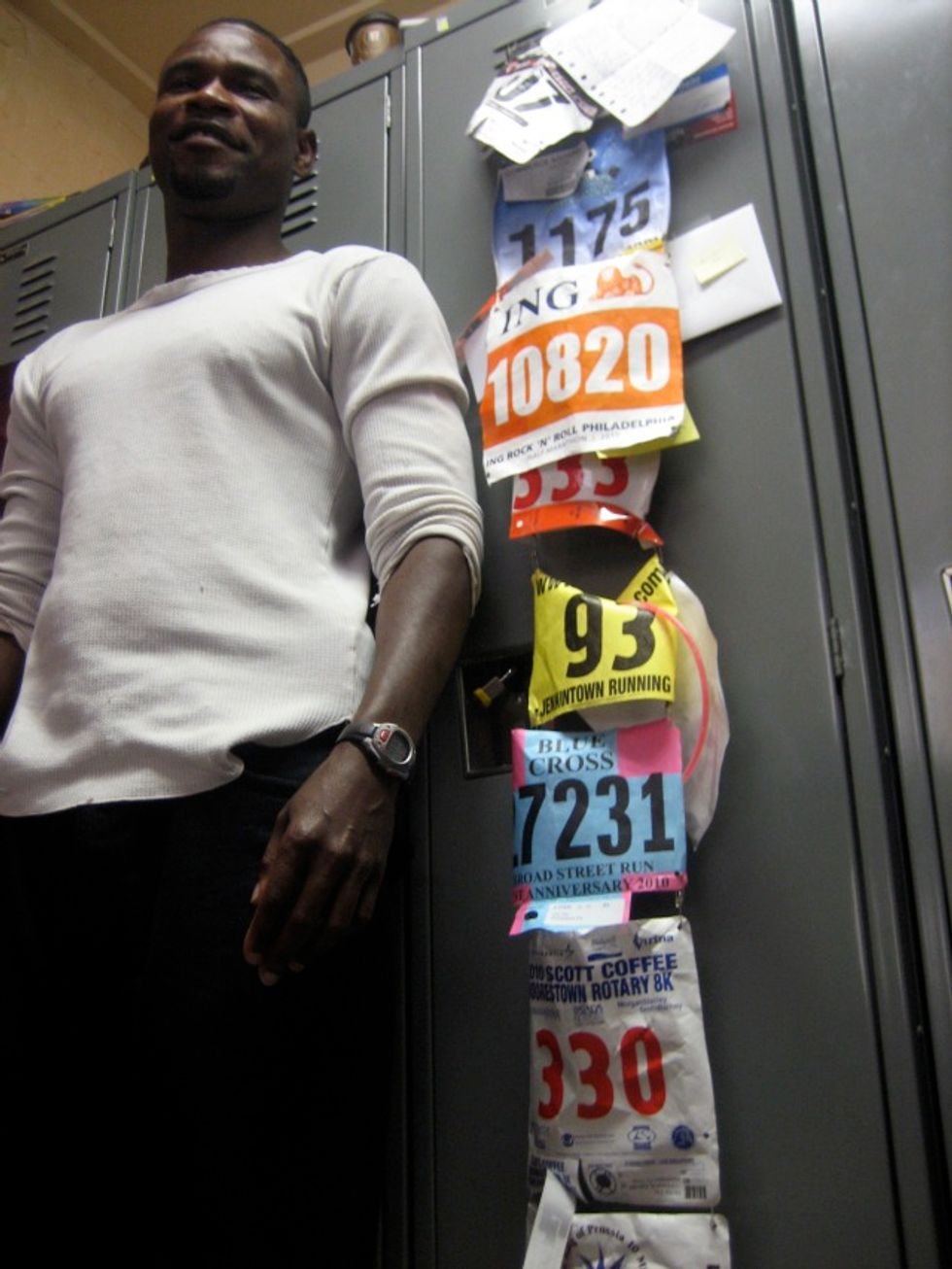 In the early hours of a recent Saturday morning, Eric Fair begins his 15-mile training run. A still-dark path that winds along the Schuylkill River in Philadelphia takes him further and further from his starting point on Race Street: Saint John's Hospice, the homeless shelter where he lives.
---
Fair has been on and off of drugs and in and out of rehab, but now he runs with a goal in mind: the Philadelphia Marathon, his first.
"I think a lot about my past," Fair says. "But that's the most peaceful time that I have, when I'm running. I'm in another world."
Fair began running last year with Back on My Feet, a nonprofit that uses regularly-scheduled team runs in five different cities to help homeless participants work toward self-sufficiency. Today, when Fair makes his final push down the Benjamin Franklin Parkway, he will be one of more than 450 Back on My Feet members who have completed a race since the organization's founding in Philadelphia in 2007.
"Running is a vehicle, it's not the end result," explains Wylie Belasik, the vice president of programming at Back on My Feet. As shelter residents consistently attend the tri-weekly runs, they also progress through a series of steps, including job training, education and housing support. "Once you have that success through running, then you apply that to working, going to school, getting a place," Belasik says.
Running has certainly been a vehicle for Fair, who just completed a six-month plumbing certification program and has begun working for his father's plumbing business. But his path from Saint John's to the marathon has not been an easy one.
Fair was once a promising athlete—a high school football star—but until recently, that seemed like a distant memory.

Before moving to Philadelphia a little over a year ago, Fair had been living with his mother in Wilmington, Del. and smoking crack regularly in her house. He was in debt from an old student loan and owed child support for children from two previous relationships. He had no job and a record that included three years in prison for a drug conviction. When Fair's mother died unexpectedly, he felt completely lost.


"I had nowhere to stay after that," Fair remembers. "I couldn't get my life together."
With nowhere else to turn, Fair moved in with his sister in Philadelphia. "I wanted to live. I wanted to make my mother proud," he says. Fair tried to get clean, but his sister lived in a crack house. He began an outpatient rehab program and managed to stop using, but as soon as a spot opened at Saint John's, he jumped at the chance to leave his sister's drug-filled home.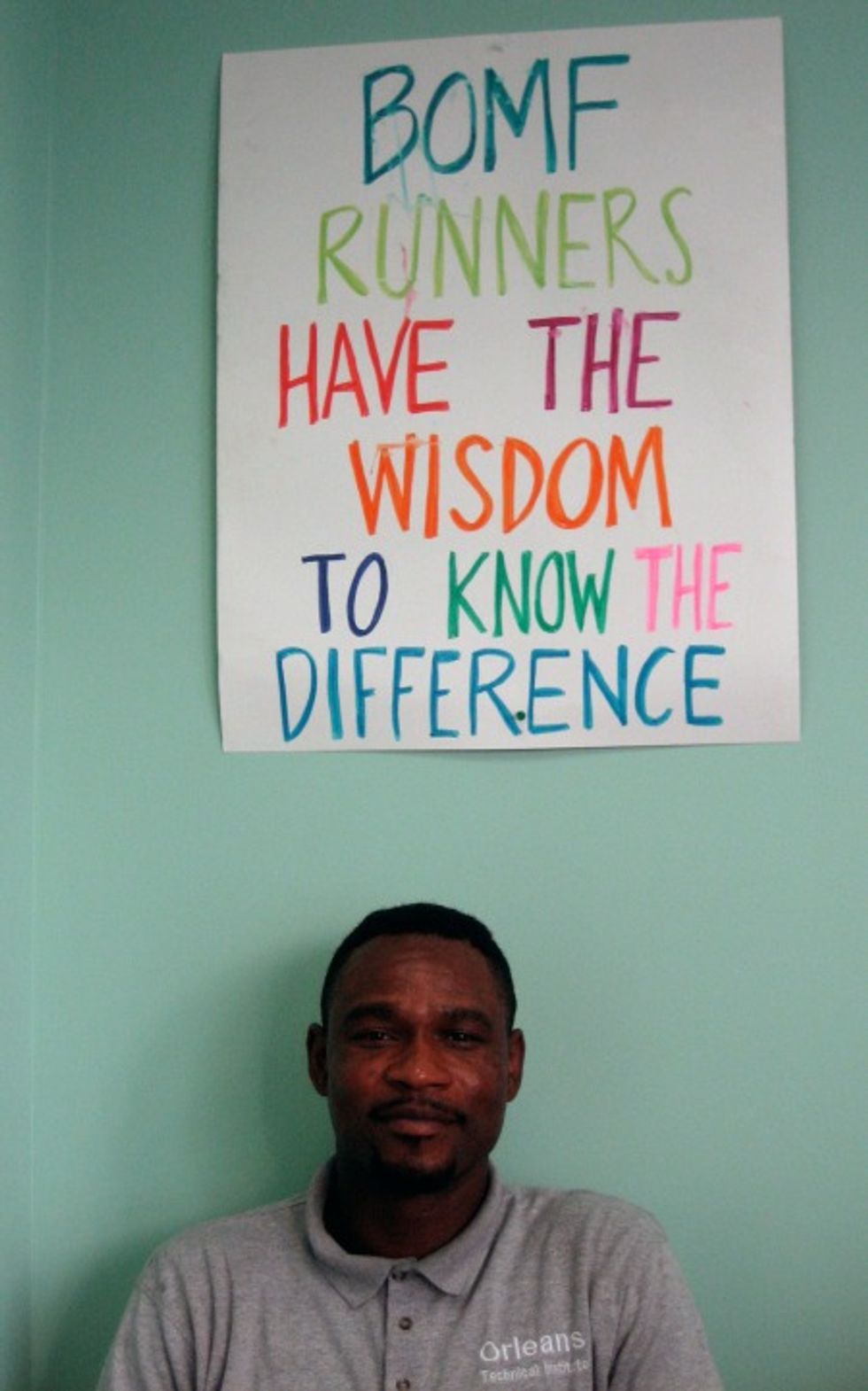 Saint John's Hospice is in a narrow, painted brick townhouse across from a construction site. Fair sleeps on a top bunk, in a maze of rooms filled with beds. Most of his belongings are in a tall, gray locker, which he has covered with running numbers from all of his races so far: charity races, the Broad Street Run, an 8K and a handful of half-marathons.
"The only one I don't have is the full marathon," he says. "You really can't call yourself a runner until you run a full marathon."
When the Back on My Feet team first started at Saint John's a year ago, Fair was not at all interested in joining. But eventually his counselor, Steve Wilenta, convinced him to give it a try. From the first run, Fair was hooked. In the past year, he has run over 500 miles with Back on My Feet.
On a recent Friday, Wilenta called out to him in the Saint John's dining hall: "It's the runner!"
"He didn't think he could run," Wilenta said. "But he has worked his butt off."
The next day, before the Saturday training run, Fair joins the other Back on My Feet runners for stretches. Everyone is rubbing their hands together and bouncing from foot to foot to stay warm. They go around the circle and say their names and their favorite superheroes. Two say their favorite superhero is Eric Fair.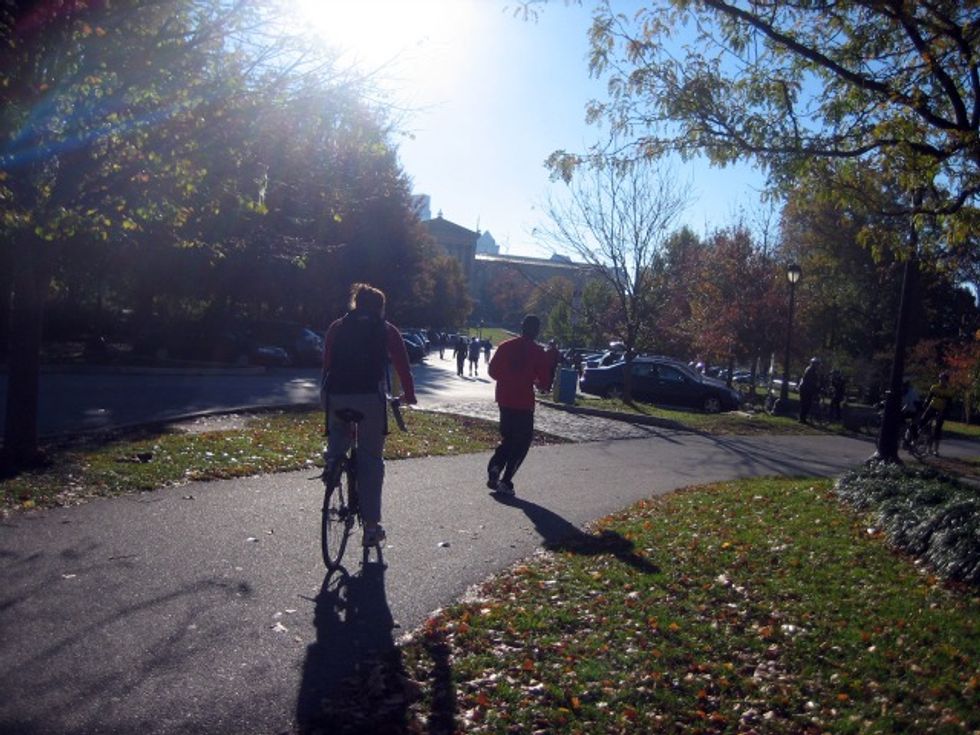 When the run begins, Fair dashes off, leading the pack. His years of drug use have ravaged his body, leaving him with high blood pressure, kidney problems and a slew of other health concerns, but he says he always feels good when he is running.
"Even if the doctor tells me not to run, I have to. After all that I've been through, I would rather die on my feet than sit on my butt," Fair says.
When the run is over, he is smiling. "Everyone seems real nervous about the marathon, but I'm not. I can't wait," Fair says. "I don't want to start doubting myself now, or turning back. I'm too close."
Eric Fair runs the Philadelphia Marathon today.